In Surrender to the Highlander (Highlanders #5) by Lynsay Sands, Knowing her family is under attack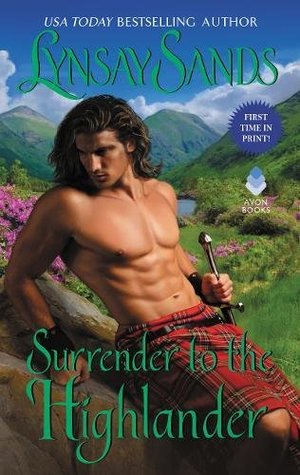 but not knowing where the threats are coming from, Edith Drummond evidently wasn't careful enough as she winds up being poisoned somehow. It will take all of her strength, mentally and physically, to deal with the new path her life takes when she wakes from what could have been her own deathbed. But with Niels Buchanan and his brothers protecting her at every turn, Edith knows she's lucky to have them on her side. Especially Niels. For she's never felt such a strong connection with a man before and wonders if it could be the start of something truly wonderful. But first they have to determine who is after the Drummond family and eliminate the threat to her people. Maybe then Edith can settle down with Niels instead of being forced into the nunnery.
"Tis obvious ye care fer yer people, and their uncertain future distresses ye."
Edith turned to meet his gaze and nodded solemnly. "They are me family. Every last one o' them. I grew up with them here, caring fer me and…" She lowered her head on a sigh. "I feel as if I'm failing them by not being able to protect them."
Niels is used to rescuing others and has waged his fair amount of battles over the years. But he can't explain why he feels so protective of Edith and so reluctant to let her out of his sight for a mere moment. He understands the desire he has for her. Anyone would be attracted to such a lovely young lass. But could there be more to his attraction to Edith? Niels is pretty sure there is, so when the attempts on her life begin again in earnest, he'll do all in his power to keep the lady from harm. With the aid of his loyal brothers and some trustworthy locals, they set out to find the culprit and put an end to it all. Along the way, Niels finds himself hoping that when their investigation is over, he'll have a beautiful bride to take care of and many years of happiness to look forward to.
'The very thought of Edith as a nun made his stomach twist. It seemed to him to be a sacrilegious suggestion; vibrant, fiery Edith as a nun, never experiencing love or loving, never having children or a home.'
Lynsay Sands' hunky Scotsmen were up to mischief as well as some swoon-worthy good deeds in Surrender to the Highlander. A bit of a mystery, some steamy chemistry, and the humor I count on from Sands, this historical romance was just what I needed.
"Remind me to write Saidh and thank her."
"All right," Niels said slowly, a little confused by the abrupt change of subject, and then he titled his head and asked with curiosity, "What do ye need to thank her for?"
"For you," she said solemnly. "Her sending ye to check on me was the greatest gift o' me life."
Possible Trigger Warning: Sexual assault, murder, suicide.
Okay, so I'm coming off of a bit of a book hangover and honestly, Lynsay Sands' brand of comical but ultimately heartfelt romance hit me just right. I have a great time reading her work, no matter the genre, but there's just something about the Buchanan clan that makes my day. Yes, some of the humor might have been fluffy and juvenile. But we're talking about a band of Highlander brothers here, so for me it worked. And it wasn't all cheeky fun. There was definitely a darker side to some of the issues they faced, as you can see from the trigger warning above.
Now Niels is not a new character if you've read any of the previous four Highlanders books and neither is Edith. But I loved getting to know them in greater detail. Niels was brave, smart and sexy like the rest of his brothers, but he also had a great way of solving problems, thinking them through instead of jumping in and acting first. (For the most part.) And I think that matched well with Edith's personality. She was also very intelligent and thoughtful. She earned the respect of her people by being kind and working alongside them as need be. I really loved that about her. Of course it could also turn out to be detrimental, as Edith found out later in the book. But she was someone who learned quickly from her mistakes, thankfully.
There was a lovely connection between Niels and Edith right away. One which was fun to watch grow and to see how they each would deal with those feelings. Their burgeoning romance was hampered by the threats on Edith's life and immediately put Niels in protective mode–I loved seeing that side of him. He could be a tiny bit grumbly here and there but overall he was so tender with her it made me smile. The secondary characters were great as well, especially young lad Ronson and Edith's dog Laddie, both of whom kept me in stitches but also had me worrying about their safety. Understandably, Niels fell just as hard for those two rascals as Edith (and I) did.
From the lively dialogue to the flawed and genuine characters to the focus on family, Surrender to the Highlander was a highly enjoyable read–as you would certainly expect from Lynsay Sands.
Book Info:

Publication: January 30th 2018 | Avon | Highlanders #5
In New York Times bestselling author Lynsay Sands' captivating romance, a lass targeted by an unknown foe is saved—and seduced—by a bold Highlander…
Edith Drummond owes her life to Niels Buchanan and his brothers. Waking after an illness to a castle overrun by rugged Highlanders is disconcerting, but so is learning that she's slowly being poisoned. Niels insists on staying by her side, and Edith soon discovers that even more dangerous is her wild attraction to the fierce warrior.
Niels has never met a more courageous—or enticing—woman than Lady Edith. The idea of such a bonny lass being forced to enter a nunnery is more than any red-blooded Scotsman could bear. He'll gladly marry her himself. But while sweeping her off her feet is easy, it'll take all his skill to defeat her family's relentless enemies, and convince her to surrender to his sweet embrace.