Wow, Take Two by Laurelin Paige is a great book. The story is top-notch and I found putting it down for any reason to be an unbearable hardship.
Seven years ago, film school graduate Maddie Bauers and aspiring actor Micah Preston, met for the first time at a local party and experienced a session of lust that was beyond mind-blowing. In fact, as they moved throughout their respective lives, they looked back on their heated encounter fondly, but with some regret because nothing ever came from it. Now years later, both Maddie and Micah work in the film industry.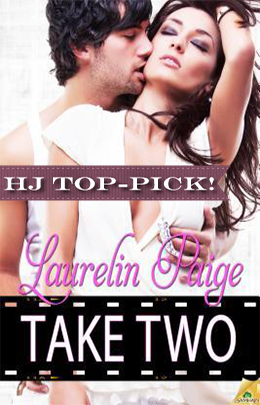 Due to an unfortunate incident with a successful, yet hoity-toity director, Maddie is blacklisted, so she is unable to secure a job as a film director. Fortunately her camera skills are excellent, so she makes a living as a camera assistant while creating her own films during any downtime. She is extremely talented and all she needs is a lucky break in order to share her passion with the world.
Micah has become a talented actor through hard work and dedication. The paparazzi follow him everywhere and his womanizing persona is legendary, which fits nicely into his hotshot lifestyle. Micah makes lots of money and has a bodyguard, yet still finds the time to bounce off new acting opportunities and ideas with his mother Lulu. In order to stay on target with his career, Micah has never had a girlfriend or a serious relationship. The one time he did let his guard down, the woman he was dating used him to get an introduction to a director he was currently working with. Thus, serious relationships are not possible as far as Micah is concerned.
Maddie and Micah find themselves working on the same film set, along with the director that had Maddie blacklisted. Their chemistry is hotter than ever and they end up spending every available moment together. Passion and heat is an understatement whenever they find themselves alone with each other. This time their connection is unbreakable, as they both work very hard to overcome obstacles, personal insecurities and jealousies, in order to build a future together.
Ms. Paige is a very accomplished writer. From the very first chapter I was captivated by the story and drawn to the characters. I couldn't wait to find out what happened next in the lives of Maddie and Micah. I found Maddie to be an extremely strong woman, especially because she was able to admirably work with a former director that crushed her spirit and almost ended her career. Within Maddie's strength is a softness and creativity just waiting to be encouraged, and Ms. Paige does an excellent job of making that happen. Micah's emotional growth and possessiveness is heartwarming to see evolve. In addition, Fudge, Micah's bodyguard, is a very interesting character and he adds constant levity and realism to the plot.
I know this may sound silly, but I already miss everything about this book. I was drawn to the story like a moth to a flame. And now, my heart is a little achy for more Maddie and Micah. In conclusion, if you are looking for a steamy romance that is well written and focuses on the entertainment industry, definitely give this book a read.
Book Info:

Publication: February 4th 2014 by Samhain Publishing, Ltd.
He's ready for his close up, but she's the one calling the shots.
On the night of her graduation from film school, straight-laced Maddie Bauers fell completely out of character for an oh-my-god make-out session with a perfect stranger. Complete with the big O.
Seven years later, that romantic interlude is still fresh in her mind. That stranger is now a rich and famous actor. And she's one very distracted camera assistant working on his latest production. She might consider another tryst…if he even remembers her.
Micah Preston does indeed remember Maddie. Too bad he's sworn off Hollywood relationships. He allows himself as much sex as he likes—and oh, he does like—but anything more is asking for trouble. For the woman, not for him. Yet knowing Maddie could want more than a movie-set fling doesn't stop him from pursuing her like a moth drawn to hot stage lights.
But as the shoot nears its end, it's decision time. Is it time to call, "Cut!" on their affair, or is there enough material for a sequel?
Warning: Contains a dreamy movie star hero, a focus-pulling heroine, off-the-charts instant chemistry, steamy sex in near-public locations, and a new use for lip gloss.