Tempted by Her Greek Tycoon by Katrina Cudmore:It can be awkward to be friends with your boss' family. Could it be worse to have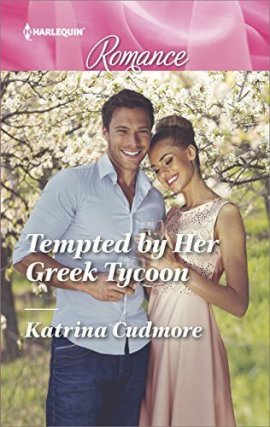 a crush on your boss? Or worse still when your boss warns you away from his family?
Georgie Jones had a job she needed. She needed the money to help complete her father's dreams. She also had found people she liked, people who were helping her stay grounded to a place she was learning to love. She needed to stay on top of her game, to impress her boss and not fall into lust with him. The problem is her body wasn't getting that message.
Loukas Christou had done everything he could to keep his family and his family's business together. He was falling apart though, and there was no one he could turn to. No one he could trust or even wanted to. For so long it was his sole responsibility and that was what he needed to be strong inside and out.
When an unwanted complication like lust enters the playing field two strong people feel like they have the ability to fight it. The problem is they seem to be fighting in two different ways. What will happen when the fight just gives out?
This is an interesting novel and what seems to be the start of a series for the Christou family. It's well written and definitely more a "friendly" take on a romance novel. It delves into some of the deeper family dynamics. It is a great kick off to what could be an amazing series to see how these four siblings manage to turn out.

Book Info:

Publication: January 2nd 2018 | Harlequin romance |
Resisting her boss's charms…
Loukas Christou needs a wife. For the luxury hotel tycoon, honoring his parents' memory by acquiring their dream hotel should be simple. But to complete the deal he must be married. Enter temporary PA Georgie Jones, who offers to be his matchmaker!
Georgie never stays anywhere long-term—her mother's abandonment proved that even the strongest relationships never last. She should be focused on finding Loukas a bride, but resisting the temptation of her Greek tycoon's kiss is easier said than done!