In Tempted by Her Single Dad Boss (Single Dad Docs #1) by Annie O'Neil, Physiotherapist Maggie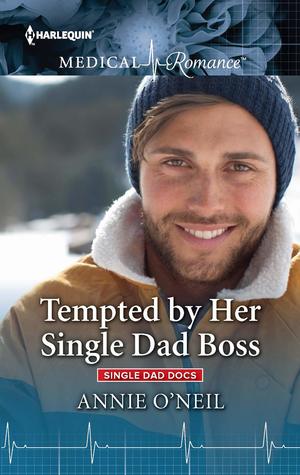 Green's first official introduction to her new boss, Dr. Alex Kirkland, makes one thing clear: that he's as reserved as he is handsome. And for Maggie, who tries to bring some type of joy into every situation, she knows she's got her work cut out for her if she's to teach Alex how to loosen up. But the good doctor isn't as immune to Maggie's positivity as he'd like her to think. He's sure her carefree ways are good for his son, who tends to be a bit too serious. Although, even with their undeniable chemistry, Alex isn't sure that he's ready to jump into a relationship with Maggie, considering he's still coming to terms with having lost his wife six years ago. But maybe the island's new resident is just who he needs to help him move forward in a positive manner, with a smile on his face for the first time in years.
"I don't know what's happening between us. But how about we admit that it's *something*?"
"Yes," she said. "It is something. I'm just not sure I know how to take the next step."
He shrugged, opened his hands up to the heavens. "For once, we are on the same page."
A Medical romance that started off with a harrowing situation and ended with the sweetest of HEAs, Tempted by Her Single Dad Boss was a great start to the Single Dad Docs series.
'It scared him because loving Maggie meant, for the first time in six years, he would be looking forward, not back. Hoping, not dwelling.'
I had a great time getting to know the cast here and fell in love with their quaint location on Maple Island (supposedly off the coast of Massachusetts). Like I said above, this is actually book one in a quartet of Harlequin Medicals that will each focus on a different single dad on or around Maple Island–and each book will be written by a different author. The next three will be by Annie Claydon, Karin Baine, and Susan Carlisle, respectively. It's already setting up to be a fun series!
Maggie and Alex tugged at my heartstrings with what they had overcome in their past. Between Maggie's previous medical issues and Alex's loss of his wife overseas, they'd both had their share of heartbreak and moments that showed their true strength. Maggie was a force of nature. I adored her and how she tried to focus on the positive after becoming a double amputee as a teenager. She was great with people, especially her patients–and Alex's son Jake of course. Alex went the opposite way after tragedy struck and he became "Dr. Protocol", clinging to rules and the adage of safety first. I think Maggie and Alex were the perfect match in this case as they brought out in each other exactly what each one needed: a sense of safety and security for her, and he remembered what it meant to have fun and let go a little. It didn't hurt that there were sparks aplenty between them either, making their scenes together filled with the best kind of tension.
Equally entertaining and touchingly poignant, Tempted by Her Single Dad Boss was a romance that had me breezing through the pages and cheering on the characters right from the start.
Book Info:

Publication: Published December 18th 2018 | Harlequin Medical Romances | Single Dad Docs #1
Her off-limits boss… is worth breaking the rules for!
Physiotherapist Maggie Green's instant attraction to her buttoned-up new boss Dr Alex Kirkland might be against the rules. But since becoming an amputee she's determined to live life to the full – including embarking on a fling! Only as their chemistry intensifies, Alex and his adorable son's acceptance of Maggie for who she is makes her long for something she never thought possible… a family.