The Best Man in Texas by Marie Ferrarella: Jason Eastwood has come to Forever, Texas to be the best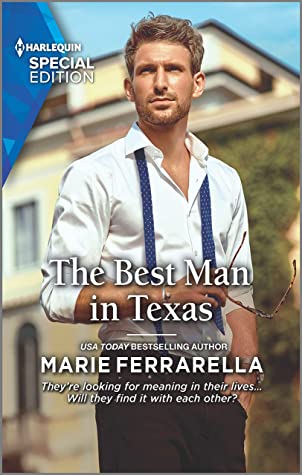 man is his cousin's wedding. After that, he will be staying to help build the town's first ever hospital. He has had his life revolve around giving his all to projects and then moving on.
Addie Montenegro is the maid of honor in the same wedding. She is working hard to establish her career and is not looking for a commitment right now. She is thankful that she still has her beloved grandfather who raised her. She does hope he can find someone since he has been a widower for a very long time.
Addie ends up working with Jason on the hospital project and helps him navigate the town and people in Forever. The most intriguing one is Miss Joan. She is the matriarch of the the town. She can be a bit prickly and even dubs Jason "Builder Boy". Underneath it all she has a true heart of gold who has helped so many. Besides the heroine and hero, she was my favorite character in the novel.
Small towns always add extra charm to romance stories. I have not read any of the previous books in this series, but I am sure they must shine a lovely light on this setting.
Addie and Jason have a special chemistry from the start that they try to suppress, but you just know sparks will fly eventually. The author develops this and the back stories just perfectly.
Besides Addie and Jason, there is a secondary romance between Eduardo, Addie's grandfather, and Zelda, Miss Joan's sister. It is equally charming.
Even though The Best Man In Texas is a long ways into the Forever, Texas series at #23, it is an excellent standalone. It is sure to make longtime fans of Marie Ferrarella happy and garner her some new ones.

Book Info:

Publication: October 26, 2021 | Harlequin Special Edition | Forever, Texas #23
They're looking for meaning in their lives… Will they find it with each other in USA TODAY bestselling author Marie Ferrarella's latest book in the Forever, Texas series?
He may have just moved there…
But he might be the best man in Texas for her!
Jason Eastwood was thrilled to be his cousin's best man—even better, it came with a job offer! But he didn't expect Adelyn Montenegro, the maid of honor, to end up involved in both. They may have hit it off at the wedding, yet neither of them is looking for love, not when they have careers and lives to establish. Still, as they work together to build the hospital that's meaningful to them both, the pull between them becomes hard to resist. But will they be able to put their preconceived ideas about relationships aside, or will she let the best man slip away?