The Billionaire's Trophy by Lynne Graham (A Bride for a Billionaire #3) When Bastian Christou is alerted to the fact that his intern moonlights as an escort, he sees a unique opportunity. Having recently broken up with his fiancee, he needs a date to his sister's wedding. It would kill two birds with one stone – it'd allow his sister to have her perfect day not worrying about him, and keep the aforementioned ex at bay. So he decides to confront Emmie, get her to take down her picture from the service's website, while he goes behind her back and hires her.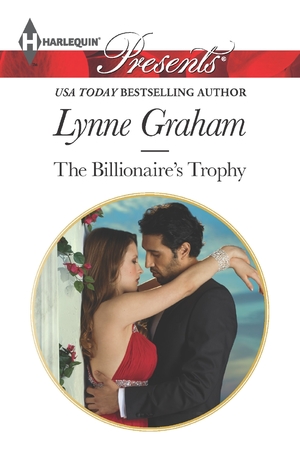 Complicated? Yeah, a little. Let's continue…
Emmie isn't really an escort. Her mother owns the company, and she's tried to pull Emerald in several times. Instead, Emmie took a night job as a waitress to try and pull her own weight. Her mother simply used her daughter's photo to 'sell' escorts. She doesn't encourage more than a superficial date, but if the girl hired decides to barter a bit on her own, who is she to say no? Bastian calls Emmie's mother and offers her an obscene amount of money – enough that she simply can't turn it down, so instead of sticking to the "she's all booked up" line, she takes the contract.
Bastian has seen Emmie at work. Oh, she does her job, but she's tired all the time, and she dresses like a little mouse. She even wears glasses, which – upon further inspection – are clear glass. What's her story? Is she trying to keep from getting recognized at work? And why does she seem a little familiar? Like he's seen her somewhere other than the office.
Emmie is almost blackmailed by her mother to go to the wedding with her boss, so she decides it'll be the best thing for everyone involved. She has no idea what Bastian expects from her – but she's going to find out.
I have to admit, I've liked the other books in this series – not loved, liked. But this one… not so much. The story sounds really good, and I enjoy Ms. Graham's books, but this book kinda skimmed over the surface of the plotline without delving in enough to keep me fully engaged. The characters are over-the-top melodramatic, Emmie literally goes from hot to cold in virtual seconds throughout.
Overall, I just didn't believe or invest in the characters or story. Great premise, not so great execution.
Book Info:

Published July 23rd 2013 by Harlequin
What is his intern's photo doing on an escort website? Bastian Christou doesn't know if he's more surprised by her double life, or her stunning photo – she's kept those curves well hidden! He has an ex-fiancee to keep at bay and Emmie Marshall might just be the best armor money can buy.
Emmie is outraged when Bastian, her uncompromising boss, confronts her. She had no idea her photo was online. But his check's been cashed and he's come to collect his prize; A weekend in Greece. With her. Alone. Their relationship might be fake, but Emmie's trepidation is all too real!