In The Bribe (Calamity Montana #1) by Willa Nash , Calamity, Montana sheriff Duke Evans hasn't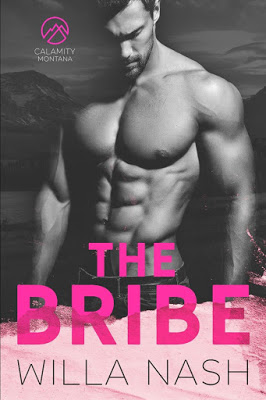 been able to get the beautiful face of hiker Jade out of his head since he came to her aid on the trails a short while ago. So when she shows up in his small town on the run from her country music career and a tragedy in her personal life, Duke is not impressed he didn't figure out she had lied about everything when they first met. But whether she calls herself Jade or Lucy Ross, he's still fiercely attracted to her. And that might pose a problem, given that she might not be sticking around in Calamity long enough for Duke's liking.
"I'm driving you home."
She arched an eyebrow. "Please?"
"That wasn't a request."
"Bossy," she whispered. "That's a new look for you."
"And?"
"It's not entirely unattractive."
Lucy had to get out of Nashville quickly. With someone possibly stalking her and her music career in limbo, she needs a breather as much as she needs a place to lay low. And Calamity seems like the perfect place to do it. Lucy was shocked to find out the guy who saved her on the hiking trails from territorial bison is actually the sheriff in town. They had great chemistry the short time they spent on the trail together. But Lucy isn't the casual hookup type. And it looks like Duke isn't either when he makes it known he wants a relationship. Even after she tried to bribe him out of giving her a speeding ticket and telling locals who she really is. Lucy doesn't want Duke to get tangled up in her messy life. But she might not have a choice in the matter.
'Calamity was making its mark, gathering up the little pieces of my soul that had been shattered. Day by day, those broken shards were knitting together, forming a new me.'
I fell in love with the fictional rural town of Calamity, Montana–and with its townspeople–in Willa Nash's The Bribe. Swoony romance, a heroine on the run, a touch of suspense, and small town drama started this series off in just the right way.
"In public, you're Jade. But behind closed doors, you're–"
"Lucy?" she breathed.
I shook my head. "Mine."
When I read The Bribe in the One More Step anthology, I knew Willa Nash, aka Devney Perry, wouldn't be able to leave it like that. There had to be more to Lucy/Jade and Duke's story–and boy was there! I'm happy to say that everything I love about Perry's writing is still prevalent in her work under her new pen name. It had the same flowing prose. The perfect blend of emotions and smart dialogue. And of course the romance was sweet, passionate, and super sexy. As were our main characters. Because when it came right down to it, Duke and Lucy/Jade stole the show.
Lucy Ross, the country star, chose well when she ran from Nashville and made her destination Calamity. She was a fiercely independent woman with tons of talent but sadly not a whole lot of people to trust in her life–aside from her best friend Everly. I loved watching Jade (her fake name while on the run) figure out what was important in her life as well as fall deeply in love for the first time.
Duke was everything Jade needed in a man. He was grounded and had a strong moral compass. His life was firmly entrenched in Calamity, something that she wanted so badly in her life. To start over in a new, small town and feel part of the community instead of people seeing dollar signs when they looked at her, like in Nashville.
Duke was simply an awesome hero. What else would you expect from Nash/Perry, though, right? He was a cop through and through. But even though he had his eyes wide open to the bad out there in the world and trusted his instincts, thankfully Duke wasn't jaded…or a crooked cop. I'd say he was wholesome but he was way too sexy to use that term. (lol) I think what I liked most, aside from his relationship with one local teen boy who needed a male figure in his life, was how Duke knew what he had with Jade was special. And he did everything in his power to let her know he was in it for the long haul. Sigh…
Willa Nash can do no wrong as far as I'm concerned. And The Bribe will have contemporary romance fans over-the-moon happy with its realistically-flawed cast and the exciting storyline that will keep you guessing till the end. Highly recommended.
Book Info:

Publication: Published October 15th 2020 | Pub: Devney Perry LLC | Calamity Montana #1
Duke Evans didn't expect to interrupt a beautiful woman in a staring contest with a bison on his favorite hiking trail. He also didn't expect to see her again after rescuing her from the surly beast. As the sheriff in Calamity, Montana, he's had his fair share of surprises but none as pleasant as pulling over a shiny black car and finding his mysterious hiking companion behind the wheel.
Only, she lied to Duke. She gave him a name as fake as her hair color. According to her driver's license, her real name is Lucy Ross, the famous country music singer whose sudden disappearance has been a hot topic in the media over the past two weeks.
He's not sure why Lucy lied about her identity or why she's in Calamity. And she's not talking. Instead, she offers him a bribe to keep her secret.
But Duke doesn't want her money. He wants to know why this woman is on the run. And as long as the star shines on his badge, he's going to find out.