The Christmas Baby Bonus by Yvonne Lindsay: We often punish ourselves for things we think are our faults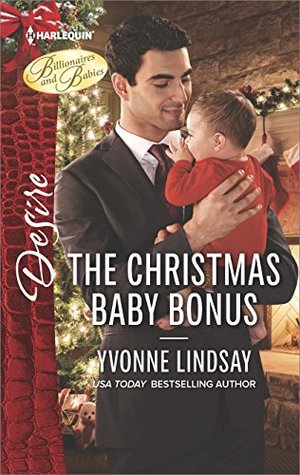 without ever fully understanding that they really aren't.
Faye Darby had been punishing herself for years. Her punishment wasn't for everyone to see, in fact she kept everyone so far no one could know. Or so she thought and hoped. The problems began when her boss came early, then she realized he was getting under her skin. Throw in a baby, a wrecked car and being snowed in and Faye was lucky she still knew which end was up. Or did she?
Piers Luckman didn't realize this Christmas would turn his world upside down. He had no idea that getting to the house a bit early would change his life forever, but he wasn't going to spit in the eye of lady luck. He may have been thrown by all the changes but he knew with Faye by his side he would get through. The only problem was keeping Faye by his side.
Piers and Faye were trapped by fate, by luck or by mother nature, take your pick, but they weren't as opposed to it as one might thing. Instead they were both figuring some things out, but when they are no longer trapped will they have their heads on straight? Or will they be left in a world of uncertainty.
This Lindsay novel is not like others, which isn't to say it's a bad thing. It touches deeply on a very scared heroine and a pretty scared hero, but really focuses on some mental issues both have in terms of coping with the lemons you are handed in life. This is a novel that will have you thinking, and have you wondering about what is important. It does have a hot "spot" but is not overwhelmingly spicy. As with every Lindsay novel it is well written and developed. This is one you shouldn't hesitate picking up.

Book Info:

Published: December 5th 2017 | Harlequin Desire |
Snowbound with the boss—and a baby! Only from USA TODAY bestselling author Yvonne Lindsay.
When his assistant finds an abandoned baby at his family's lodge, wealthy Piers Luckman takes full responsibility. He might be clueless about children, but being snowbound with his capable, sexy employee has its benefits. Except Faye Darby shies away from little Casey and wants nothing to do with baby-rearing, Christmas…or the smoldering attraction between her and her boss. For the first time in his life, Piers must fight for what he wants—this little family…and Faye by his side and in his bed.