The Cowboy's Easter Family Wish Lois Richer is easily one of the books I have most enjoyed this month. The main characters,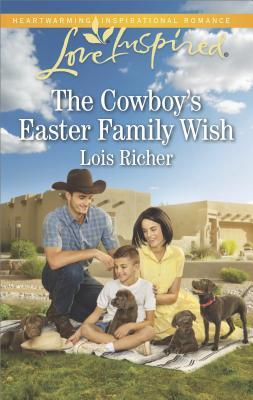 Maddie, Jesse, Noah and Emma all seem so true to life, like a family my family would love to spend time visiting with.
In "The Cowboy's Easter Family Wish", Maddie is newly widowed, raising her son Noah, who is autistic, and working for Emma in Emma's quilt shop. While Emma is traveling, her grandson Jesse comes into town to visit her, and when he meets Maddie in the quilt shop, an almost instant friendship is formed- they form such a strong connection. This connection grows stronger and stronger as the story progresses, especially in light of Emma's prolonged absence from town due to her hip fracture and subsequent hip replacement surgery, and related treatment. While helping Maddie to care for the stray dogs Emma took in, Jesse quickly grows to care for Maddie and forms a strong bond with her son, Noah. Noah is considered high functioning autistic, and he causes great concern to Maddie and Jesse due to his stubborn insistence of adhering to his late father's rigid rules of behavior. Jesse and Maddie consistently try to explain to Noah that such rules do not always mean the behavior required by the rules is appropriate. Noah becomes nearly hysterical when he feels he or Maddie are "breaking the rules".
Meanwhile, Maddie is anxious about the trust Emma has placed in her to manage the quilt shop in Emma's absence. On one hand Maddie loves the challenge, however she fears letting Emma down. Jesse is consistent in boosting her confidence which was badly shaken by her late husband. All the while Jessie is dealing with his own demons from his past as a youth pastor. Maddie and Jesse are frequently providing affirmation to each other to boost one another's confidence and faith.
This story is made all the more beautiful by the affirmations Jesse and Maddie give to each other and to Noah, and by the love and caring that Emma shows Maddie, Jesse and Noah. What is also beautiful is how Noah learns to show outward concern for others, and to connect with Maddie, Jesse and kids at the ranch. Jesse provides much needed male guidance for Noah, guidance which is kind and nonjudgmental.
I strongly recommend The Cowboy's Easter Family Wish to readers who enjoy reading about couples who connect first as friends and gradually grow into soul mates. It is also inspirational reading for people who have a child with special needs in the family. Fellow readers will not want to put this down!
Book Info:

Publication: March 21, 2017 | Love Inspired | Wrangler's Ranch #3
After a heartbreaking tragedy, youth pastor Jesse Parker stopped believing he had anything to offer kids. Working with the boys at Wranglers Ranch, he's slowly beginning to trust himself. And when he meets widow Maddie McGregor and her young autistic son, his connection with little Noah and his pretty mom is instant. Maddie's heart is as guarded as his own, but as he spends time with the McGregors–helping Maddie in his gran's quilt shop, caring for rescued puppies, and bringing mother and son closer together–he rediscovers his purpose…including an Easter holiday surprise of renewed faith and love.