In The Good Luck Sister (Wildstone #1.5) by Jill Shalvis , The first day of school is always nerve-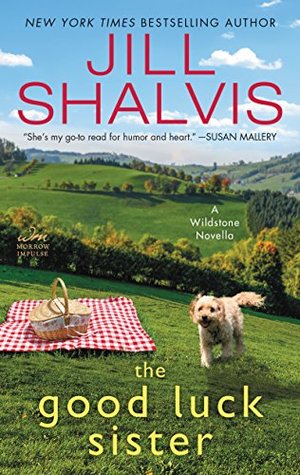 wracking. But typically it's the students who are a bundle of nerves, not the teachers. Or so Tilly Adams assumes. Her nerves take another hit when she walks into the local college on her first day of teaching and she sees none other than the first love of her life: Dylan Scott. The guy who held her heart as a teenager, only to shatter it when he cut and ran, leaving for the military without saying goodbye. These days Tilly already has a cute guy in her life, her foster fail pup Leo, who does not take an instant liking to Dylan, funnily enough. As she tries to get on with instructing her art class and ignoring the pull she still feels to Dylan, Tilly somehow agrees to work with him on a design for his new charter business. From there, the sexy pilot worms his way back into her good graces, but she is going to do her best to keep him from winning her heart again.
She stared at him. "Don't even try to tell me that after you left town without saying goodbye you pined away for me."
"I didn't."
Okay, ouch.
"I'm telling you that I moved you out of my heart so I could function," he said.
Ten years is a long time to be away from his best friend but Dylan knows it was for the best to leave Wildstone–and Tilly–behind for a while. The military taught him how to be an honorable man, to do the right thing at all times. Now that Dylan is back in town, starting up his own business with a couple of his military brothers, he sets his sight on making things right between himself and Tilly. He knows he'll have his work cut out for him as she was always more than willing to call him out on his crap. And boy is she still ticked about his disappearing act. But as Dylan slowly explains the reasons behind his quick departure, he feels Tilly's resolve melting a bit. And he's even starting to get her crazy dog to like him. (Sort of.) But will it be enough to get her to agree to a second go at a relationship?
Leo did what Leo did best. He clamped onto the back of Dylan's pants leg and tried to prevent him from getting any closer to Tilly.
"Look, man," he said. "We both love our girl, right?"
Leo stopped growling.
"Right," Dylan said. "So I don't know what your plans are, but I'm just going to remind you that I saw her first. And I'm happy to share her with you, though that offer's for you and you only."
Fan favorite Tilly Adams was back, this time with her own novella to explore her complicated relationship with her former teenage love Dylan Scott. Cue the fireworks, the tears and the happy sighs, because boy did Jill Shalvis do right by this couple.
Tilly shook her head. "I'm too broken for this."
Quinn's smile faded and hugged Tilly tight, nearly suffocating her. "Last I checked, we're all a little bit broken… And yet we still live and breathe. And love."
If you've read Lost and Found Sisters, the first book in this Wildstone series, then you undoubtedly had some kind of reaction to Tilly. That first book was set some ten years prior to this novella, back when Tilly found out she had a sister, Quinn, whom she'd never met, right after they lost their mother. She was in her mid-teens (Quinn was quite a bit older) and let's say she had some issues coping with her loss. My heart went out to Tilly back then, even though she had quite the rotten attitude at times. And it went out to her in this short story, as we got to see more of her thoughts (and Dylan's!) both here in the present day and in flashbacks from ten years ago.
Just as you'd expect from Shalvis's writing, the dialogue between Dylan and Tilly was lively, sexy, and full of all the tension/animosity that was still between them–tension on both their parts, animosity on Tilly's part, due to Dylan up and leaving after some major things happened between them as teens. I think readers will feel empathy for the abusive childhood he endured and the choices he was forced to make. I did love that Dylan rose above his past and became a standup military man. A sexy, honorable guy–just who Tilly deserved. She didn't turn out so bad herself. Still artistic and wanting to help others enjoy art, she made a great teacher, a loving pet-mom, and an even better sister to Quinn, who had some big happenings going on in her life as well…
It's always a blast to sit down with anything written by Jill Shalvis, but The Good Luck Sister will be sure to give readers all the feels, in this novella about family, second chances and new beginnings.
Book Info:

Publication: Published May 1st 2018 | William Morrow Impulse | Wildstone #1.5
This summer, romance blooms again in Wildstone!
After a difficult few years, Tilly Adams is ready for life to start going right. Though she has a case of first day nerves teaching art at the local community college, she knows it isn't anything a few snuggles from her rescue puppy won't cure. Until she sees Dylan Scott again, her one time bff and first love sitting in the front row.
Dylan knows he should've left well enough alone, but when he sees Tilly living her dream, he can't help but make contact. Ten years ago, he left Wildstone and everything in it behind, including Tilly. He had his reasons, but now he wants her back in his life, anyway he can get her.
When Tilly agrees to design the logo for Dylan's new helicopter touring company, it's business only…until she finds herself falling into his arms once again. Can she possibly open her heart back up to the only man who's ever broken it? But soon they're both realizing the truth — love always deserves a second chance.