The Greek's Forbidden Innocent by Annie West is a sexy and enjoyable story where a case of mistaken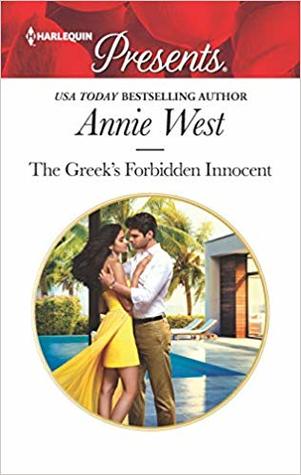 identity leads to a long lasting romance.
Princess Mina of Jeirut is determined to protect her Parisian friend Carissa from a marriage of convenience arranged by Carissa's father to Alexei Katsaros, a wealthy software development entrepreneur. She volunteers to take Carissa's place when Alexei's men come to take Carissa to his remote Caribbean island paradise, hoping she can stave off Alexei long enough for Carissa to elope with her boyfriend. Her ruse works when Alexei mistakes her for Carissa.
Alexei is flummoxed by 'Carissa'. She doesn't seem to be anything like the woman his former employee described. Alexei is furious with Carissa's father who has disappeared and cheated Alexei out of a substantial sum of money and Alexei plans to hold Carissa hostage as bait to induce her father to reappear. But his attraction to Carissa makes things complicated. Suddenly revenge doesn't seem so sweet. But what will happen when he finds out who Carissa really is?
I loved this story! Normally I get annoyed when secrets are held in a story for a long time, but in this case, Mina's caught in a bind with Carissa needing her to hold onto her identity until Carissa can be safely married to her boyfriend and no longer a pawn in any game her father is playing. Mina is caught between being 'Carissa' and also displaying real aspects of her personality, including her love of sculpture and her own royal upbringing. Also she starts to really care for Alexei who is a more complex and interesting man than she'd expected.
Alexei is fascinated by a woman who seems to contradict everything he's heard about her. The island setting is well described and a tropical storm is the impetus for their first sexual experience. From then on their mutual attraction leads to several sexy love scenes and a deepening of the emotional connection between them. As they grow closer, Mina dreads telling him the truth, knowing it will change everything and indeed the secret does eventually come out. But it's not over for this couple and Alexei is the one who must convince Mina to give him a second chance. The writing style is captivating and the romance is convincing. It's a great read!
Book Info:

Publication: Jan 15, 2019 | Harlequin Presents |
The Greek's virgin bride…
…is hiding her royal identity!
While helping her friend escape an arranged marriage, dutiful Princess Mina finds herself captive on enigmatic Alexei Katsaros's luxurious private island! Mina must convince Alexei that she's his future bride, but she doesn't expect their scorching chemistry to be so deliciously overwhelming… And after a night in the Greek's bed, suddenly there's more at stake than just Mina's hidden identity—her heart is at Alexei's mercy, too!