In The Immortal Who Loved Me (Argeneau #21) by Lynsay Sands, Owning a kitchenware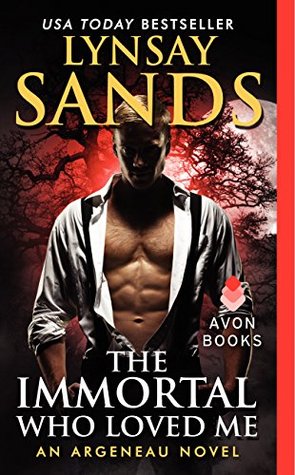 shop has been Sherry Carne's dream for many years and she's finally made that happen. The last thing she expected was to have her customers and employees in danger when some seriously bad-looking dudes terrorize them. Sherry's day keeps getting weirder when she meets a group of people who help her to safety, and as they explain that they are vampires, or immortals. That was hard enough to believe, but then to find out that lawyer Basileios Argeneau is her supposed life mate? How can that possibly be true?
"Just agree to let me turn you."

Her eyes widened incredulously. "But what if you did that and we split up?"

"I am willing to take that chance to keep you safe. I would rather have you alive and immortal and not with me, then dead and never mine," he said grimly.
Basileios Argeneau has spent many millennia alone and awaiting his life mate. He assumed it would most likely be a mortal, not an immortal like himself. So when he is introduced to Sherry, he can feel the connection and cannot read her thoughts like he can with everyone else. But with their lives in turmoil thanks to Leonius Livius, Basil can't get a true read on the other telling signs of being in contact with a life mate. As he helps Sherry understand his world and his people, little by little he is sure he won't be able to live without her if she should turn him down and choose to leave. Will Basil be able to convince her that he–and being an immortal–is worth the risk?
He was staring at her, a softness in his eyes that she'd never seen before. Biting her lip, she tilted her head and then asked, "What?"

"God, I love you Sherry Harlow Carne," he growled, and then kissed her.
Tender and funny, The Immortal Who Loved Me is yet another solid offering in the long running Argeneau series by Lynsay Sands. With the hunt still on for evil Leonius Livius and new life mates Sherry and Basil finding their way, this was certainly an entertaining read.
One would think that by book twenty-one in a paranormal romance series, things would become a bit stale. I didn't find that to be the case here. I thought the writing was still just as fresh, having that nice balance of humor, passion, and suspense I've come to expect from the Argeneau's. The action started off right away, with Leo bursting into Sherry's business and her life, unfortunately. Having she and Basileios find out almost immediately that they were life mates was a great way to get to know who they really were as individuals. And to see how they would handle that information and how things would progress from there.
I got a big kick out of Sherry. She was just so…human. She babbled when she was nervous, she worried about her business and, most importantly, her employees when all hell broke loose. She was just what Basil needed to get him to open up and have some fun, not be the all-work-and-no-play lawyer he had become. Although, he actually had a nice sense of humor when he wanted to let it show. I liked that Basil was always looking out for Sherry's best interest, even if it was to his disadvantage. Plus, the chemistry they had together was incredible. There was such awe and tenderness underneath the new life mate lust they felt. It was really heartwarming to read.
I think paranormal romance fans will enjoy this installment even if this is the first Argeneau novel they've read. Author Lynsay Sands did a great job as always giving us an exciting storyline while not scrimping on the connection between our hero and heroine.
Book Info:

Published February 24th 2015 by Avon |
(Argeneau #21)
A few hours ago, Sherry Carne would have sworn that vampires didn't exist. That's before rogue immortals rampage through her store, leaving bloody chaos (literally) in their wake. The kicker comes when Sherry learns that one of the vamps on the bad guys' trail may be her life mate. Her head says it's impossible. The rest of her takes one look at Basileios Argeneau, and has much more interesting ideas. Whatever Basil expected in a life mate, funny, outspoken Sherry isn't it. But mind-blowing chemistry and instinct don't lie. They tell him something else too – that Sherry's connection to the immortal world goes deeper than she knows. And that she's in the kind of danger only Basil can save her from – if she'll just trust him, now and forever…