The King's Captive Virgin by Natalie Anderson is a sexy and passionate romance with a man used to being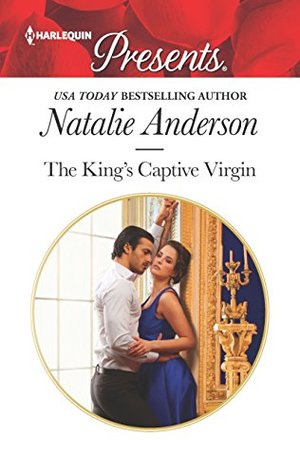 in control discovering a woman who challenges him to want more. The characters were introduced in Princess's Pregnancy Secret (which I enjoyed as well) and I was quite excited to delve into their story!
King Giorgos Nicolaides is understandably worried when his sister, Princess Eleni disappears with businessman Damon Gale from the hospital where she does volunteer work. He's always been very protective of his sister and the marriage he'd arranged for her was supposed to keep her safe, but now she's gone off with another man and he's determined to find out why.
Giorgos knows that Damon's half sister Kassie works at the hospital as a physiotherapist, and that she has had contact with Eleni. He brings her to the palace with the intention of making her reveal what she knows about Eleni and Damon's relationship. He soon finds himself with another dilemma, drawn to the fascinating woman who proclaims her innocence of knowledge of that relationship – and of men in general. When the paparazzi, eager for news of the now newly married couple threaten Kassie's safety, Giorgos whisks her away to his island paradise for her protection. Their attraction leads to a steamy affair, one fully consensual but destined to end in heartbreak unless they change the rules. Will they reveal the true depth of their feelings for each other before it's too late?
I loved this story! Ms. Anderson has the knack of writing characters that are complex and flawed yet likable and charismatic. Giorgos is known for his control and strict rules, but with Kassie he shows a softer, fun side full of laughs and teasing, nothing like his public persona. Their time at his summer house on the island is intimate with plenty of lovemaking but also sharing of personal stories and secrets. Translating that into 'real' life is a challenge but Giorgos is willing to do it for Kassie, though he isn't great at communicating that to her until it's almost too late.
Kassie is a lovely young woman, one who is used to being friendly but reserved. Her relationship with her half brother Damon is new and still fragile. Her mother was Damon's father's mistress whom he visited on limited occasions but Kassie's memories of her mother pining for him have made her determined not to end up as the same kind of woman, hidden away by the man she loves (who didn't love her in return). Kassie has always thought she was frigid because around most men she has no sexual interest so her response to Giorgos surprises her. Her emotional response to him is partly from his sexual prowess but also from discovering the real man he is underneath his kingly facade. Still she is strong enough not to give in to Giorgos's plea to continue their affair in secret when they return home. She makes him face the truth of his feelings (and her own) and they find a way to get their happy ending. If you enjoy sexy contemporary royal romances, you should definitely have this one and its predecessor on your shelf!
Book Info:

Publication: Aug 21, 2018 | Harlequin Presents |
A woman untouched…
Awakened by her king!
Kassie's scandalous family has left her craving a life in the shadows, not the spotlight. Then King Giorgos Nicolaides kidnaps her, demanding information about his missing sister! She knows nothing—but their potent attraction unlocks a desire Kassie never thought possible. A deal is struck—she will help protect his sister's reputation, and Giorgos will introduce Kassie to the decadent pleasure only he can arouse in her…
A sensual romance of innocence awakened…