In The Moonglow Sisters by Lori Wilde, Moonglow Cove, Texas became a haven for young siblings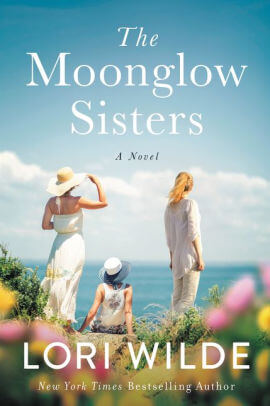 Madison, Shelley, and Gia Clark when they were suddenly orphaned and sent to be raised by a grandmother they had never met before. The town took the girls into their hearts, giving them the love and support they needed to thrive, even dubbing them the Moonglow Sisters. And so life with their grandmother Helen, who owned and ran the family's Moonglow Inn right on the beach, was pretty close to perfect. That is, until years later when a shocking turn of events on oldest sister Maddie's wedding day fractured the bond the three siblings shared with no hope of repairing it anytime soon.
'No more running. It was time to make full amends and put her family back together, no matter how much she had to grovel.'
Five years later, when Gia, the youngest of the siblings, is tasked by her grandmother to get her sisters to return to Moonglow Cove to finish a quilt started on that infamous day years ago, she didn't realize how difficult it would be. Or that their cherished Grammy was not as healthy as she seemed. Getting Maddie back to Texas was doable. But Shelley? Gia's not sure she'll want to return. But once Shelley does make an appearance, it's pretty apparent they've all been going through their own issues over the past five years. And as the one to always play mediator, Gia does her best to mend the divide between them. But as the truth about that disastrous day five years ago comes to light, and even more family secrets sneak out, the Moonglow Sisters have their work cut out for them if they want to become a cohesive unit again.
'Once upon a time they'd been so close. Could they ever be the way they were before? Or would they, one day, end up completely cut off from each other…because they could no longer find common ground?'
A novel about the intricacies of family relationships and finding a way to heal after past hurts, The Moonglow Sisters was a thoughtful, charming piece of women's fiction from Lori Wilde.
'They all loved one another and yet they'd caused each other so much heartache.'
Lori Wilde has been one of my go-to authors for some time when it comes to contemporary romance set in small Texas towns with yummy–er, I mean, interesting cowboys. (lol) So I was quite happy to see she was branching out into women's fiction. The Moonglow Sisters still had that small town feel as well as it being character driven, which I've loved about Wilde's romances, so this was a win for me right out of the gate.
There were a fair amount of characters to get to know so the first few chapters were a little slower, but I quickly figured out who was who and then it became easier to focus on what was happening in the small-ish town. Sisters Maddie, Shelley, and Gia were all over the map, literally, until their beloved grandmother's health crisis brought them all back to Moonglow Cove. Without giving away too much, an incident at Maddie's wedding-that-never-quite-happened five years prior sent the siblings scattering to the wind. There were a lot of hurt feelings and definitely some misunderstandings. It was sad that it was their Grammy's health that brought them back into each other's lives, but I think it's a pretty realistic situation for a lot of families unfortunately.
I ended up liking all three sisters quite a bit. They were all very different in personalities but there was a balance to it when they were getting along. (Which was rare!) Maddie was the oldest and the take-charge sibling–sometimes being bossy to a fault, which affected her personal relationships. Maddie had a rather sad secret she was hiding that explained her behavior when she first arrived in town. Fun-loving Shelley had been through the wringer in the past five years and I'll be honest that I didn't quite know what her shocking secret was until about halfway through the book. And Gia, the peacekeeper, she had a lot of pressure put on her by their Grammy to get her sisters to stick around and cooperate for a bit. Gia also was the one with a blossoming romance that was cute and oh so sweet.
I will warn readers to grab the kleenex for the epilogue. It's told from the Moonglow Sister's grandmother Helen's POV and it had me reduced to tears right from the first couple of paragraphs. *sniffle*
The Moonglow Sisters had just the right balance of quirky, lighthearted scenes and poignant moments to make it a story to remember. Lori Wilde never ceases to delight me with her multidimensional characters and her storylines layered with emotion and complex issues. Definitely recommended.
Book Info:

Publication: Published March 3rd 2020 | by William Morrow Paperbacks |
If you love Jill Shalvis or Susan Mallery, you won't want to miss this newest novel by New York Times bestselling author Lori Wilde, about three sisters, one small town, a wedding, and the summer that changes everything.
Welcome to Moonglow Cove, Texas, a place where your neighbors know your name and the gentle waves of the Gulf of Mexico lap lazily against the sands. It's a magical spot, especially in the summertime…
Once the town was the home of the Clark sisters—brought up by their grandmother at the Moonglow Inn. Nicknamed "The Moonglow Sisters", as children they were inseparable. Then, a wedding-day betrayal tore them apart and they scattered across the globe and away from each other. But the sisters have at last come home…
There's Maddie: smart, sensible, and stubborn. Shelley, who ran off to find her bliss. And Gia, a free-spirit determined to keep the peace. It's her impending wedding that keeps them together…but Gia has a secret, and when her sisters find out all heck is going to break lose!
The Moonglow Sisters continues Lori Wilde's trademark storytelling to create an unforgettable novel of family, betrayal, love, and second chances.