In The One You Want (The Original Heartbreakers #0.5) by Gena Showalter, Kenna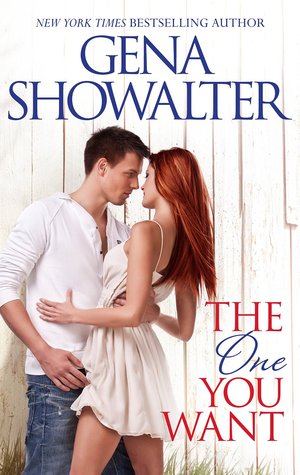 Starr has spent her adult life trying to atone for a bad decision she made as a teenager, and to rise above her mother's romantic drama. But it's not easy to do in teeny-little Strawberry Valley, Oklahoma. So when sexy Dane Michaelson returns back to town, Kenna can't help her body's reaction. If she can just keep her heart out of the mix, she'll be doing fine.
"You do not walk to your car at night, alone, ever again. It's dangerous, and I won't allow you to put yourself in harm's way. If I find out you have, the lecture will become a spanking."
She couldn't help it. She smiled. "Is that what you're into?"
Businessman Dane Michaelson's return to his hometown is strictly due to a family obligation. Once there, however, his thoughts turn to scorching romance. Kenna is an absolute knockout and one of the most genuine women he's ever met. The past their families share is a jumbled up, complicated mess. But Dane is more than willing to look past his commitment issues and try a relationship for the first time ever. Will he regret his decision when it's all said and done?
"Kenna, I am carefree with you. I can laugh and tease. I can relax and enjoy. Do you know how rare that is? I trust you. Have never met anyone with a heart as big as yours."
If the first book (or in this case, novella) normally sets the tone for a series, then we are in for a hot & steamy, emotionally-charged good time with the Original Hearbreakers.
I've enjoyed reading Gena Showalter's paranormal novels over the years and was hoping her writing style would mesh well with the contemporary romance genre in this new series. I thought this was a pretty good starting point. The blend of humor and passion I normally expect was certainly evident. But with this being a short story, the scenes and the backstory were not as detailed as I'm used to. I'm hoping with the upcoming full length books we will delve a bit more into some of the loose ends left here. The dialogue, however, I thought was fun and fit each situation quite well. And the secondary characters seemed to be unique and like they will hold their own in future installments.
Kenna and Dane had a complex background together as kids which meant their initial reunion as adults was awkward. A bit comical, a bit flirty, but awkward. I liked them both once we got to know them better and thought they had great potential as a couple. I wasn't so sure about Kenna's maturity level at first, as she thought in hashtag form initially. But I think it was just part of her quirky personality. I thought it was admirable how Kenna worked hard, was trying to go to school, and took care of her loved ones while attempting to redeem herself in town.
Dane, to me, at first was a typical bachelor businessman. But then when his past came to the forefront, his personality and hang ups were more understandable and he became a much more three-dimensional character. I loved that he tried to change his commitment-phobic ways for Kenna and really opened up emotionally. The 'grand gesture' he made at the end was, yes, over the top…but also uber romantic. I think readers will really love that part! *sigh*
Overall, I think contemporary romance fans and Gena Showalter fans alike will enjoy meeting Kenna, Dane, and the rest of the townsfolk in Strawberry Valley.
Book Info:

Published March 1st 2015 by HQN Books | The Original Heartbreakers #0.5
New York Times bestselling author Gena Showalter introduces the Original Heartbreakers—about sexy bad boys each meeting their match—with a special prequel novella!
In small-town Oklahoma, reputation is everything, and Kenna Starr will do anything to overcome hers. The supposed bad girl is determined to walk the straight and narrow, a seemingly impossible task when Tall, Dark and Sexy shows up…
Rich and powerful, Dane Michaelson is every woman's dream. When he returns to Strawberry Valley after a sixteen-year absence, he is unprepared for the redheaded girl he's never been able to forget. She's all woman now—and he's never wanted anyone more. But to have her, he'll have to break through her defenses… and surrender his own.
* First published in the 2014 anthology, All For You.