The Prince's Forbidden Bride by Rebecca Winters: Princess Donetta Rossiano has to marry, she knows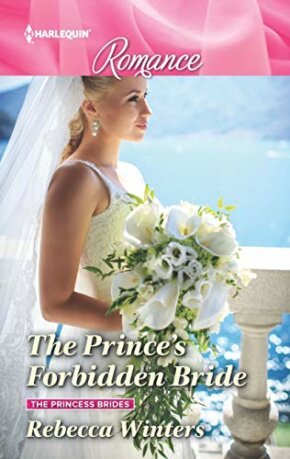 that. The problem is she has been in love with someone since she was ten. She thought he was in love with her as well, but it's been five long years since they have talked. Will she ever actually get over him and be able to move on?
Prince Enrico de Francesca di Montedoro had to put his life on hold when his father became ill. Everything from his personal life had to be stopped and no one could know why, no one was to know that the king was ill or that the Prince had stepped up and in. Time flew by.
Five years is a long time. Can love really survive? Especially in a royal world where your life is not really your own?
This was a hard read. Not only does it deal with the stereotypes and the acceptance of sexism, it is my belief that there wasn't even a true story. It has threads of Cinderella and some of a Mulan, but then the Princess weakens and Ms. Winters has her fall back into the "I'll do anything for love" mentality, even if it means giving up part of herself. This is a disappointing read and unlike most of Ms. Winters books that I've been blessed enough to read.
Book Info:

Publication: Published June 4th 2019 | Harlequin Romance | The Princess Brides
Can a convenient marriage…
…reignite a long-lost love?
In this The Princess Brides story, Princess Donetta will never forget her first and only love—Crown Prince Enrico. Forbidden to marry by their feuding families, Enrico left, letting Donetta believe he never loved her. Years later he's back, offering Donetta his hand in marriage to unite their countries. Donetta feels it's her duty to accept, but on one condition—he give her his heart, too!