The Rebel by Joanne Rock is the start of the Dynasties: Mesa Falls series and is a sexy and entertaining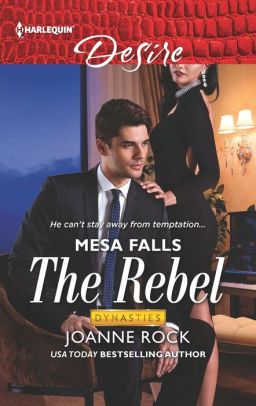 ranch set romance for a businessman and a woman he's always thought of as off limits – until now.
Marcus Salazar, co-owner of Salazar Media is at Mesa Falls retreat waiting on his often infuriating brother Devon when who should show up but Lily Carrington, the company executive who works with Devon and the woman starring in more than one of Marcus's fantasies. She's off limits as far as he's concerned and not just because she's engaged to someone else. Knowing she's there on Devon's behalf since his brother is stuck overseas (or so he says) means Marcus regards her with some suspicion. He and Devon have very different views on where the company should be headed, and he'd planned on hammering out a deal with Devon to get himself full control of the media empire. He doesn't intend to do it through a go-between.
Lily wants to negotiate in good faith on behalf of Devon but her own attraction to Marcus is quite distracting, especially since he's making it clear that if things were different, he would act on those feelings. And when she discovers that her fiance, a long time family friend is more interested in the merger of their two family businesses than their personal relationship, she makes the decision to end their engagement, even knowing it will cause trouble between her and her grandparents who've been counting on the merger. It leaves her free to act on her desires, and that means admitting her own attraction to Marcus. A steamy affair ensues, but can it lead to a happy ever after?
I really enjoyed the start to this very interesting series! The Mesa Falls ranch sounds like a lovely retreat and Marcus and Lily spend some time on the property, horseback riding and at the spa and having gourmet meals – it's a very attractive setting. Marcus and Devon's father Alonzo was a teacher and the owners of the retreat were all students of his, so he used to spend time at this ranch before he passed away. The ranch is also a possible client for Marcus and Devon's company. A few of the ranch owners are introduced in this book though they will have stories of their own.
Besides the romance between Marcus and Lily, which develops at a steady pace with kisses and then more intimate and sexy scenes, there are some mysteries that will be part of the series. Some of the scenes are told from the viewpoint of another character, Regina Flores, who is determined to enact some revenge for a wrong done to her family by Alonzo.
Alonzo had some secrets of his own that his sons never knew about, though a letter that he has left for them at the ranch holds some information that could have serious consequences for their company. Devon and Marcus are forced to acknowledge that they've both made mistakes and must work towards healing their sibling relationship and making their company stronger together. Lily's relationship with her grandparents who raised her is also an important part of the story. Marcus and Lily get their happy ending, and it will be Devon's turn next. The setting, characters and story plot come together well, and I'm looking forward to reading more of this intriguing and enjoyable series!
Book Info:

Publication: Nov 1, 2019 | Harlequin | Dynasties: Mesa Falls #1
He'll take what's his—
including the woman who stands in his way.
Marcus Salazar has come to Mesa Falls to buy out his half brother and gain control of the media empire that was his brainchild. But when COO Lily Carrington shows up, she poses a threat to his plan—and his libido. Not even her engagement of convenience to another man can dim Marcus's desire for her, even as Lily fights for her own future at Salazar Media…and against her attraction to Marcus!