The Rival's Heir by Joss Wood is part of the Billionaires and Babies series but is also linked to the Love in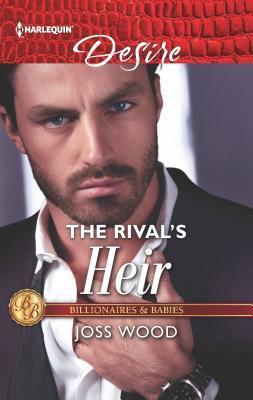 Boston series (Friendship on Fire and Hot Christmas Kisses ), and features two happy endings (!) – one for a couple who find themselves taking care of a baby, and the other for a widowed mom finally ready to move forward with a new man.
Darby Brogan is the competitive type, having grown up with older siblings and the sibling rivalry that made her who she is now. When renowned architect Judah Huntley is looking to hire a local intern for his Boston based project, Darby hopes to be on the short list, though her talents are above an intern pay grade.
At the same time as Judah is trying to get the project organized, he gets an unexpected arrival – his nine month old niece. His ex-girlfriend Carla cheated on him with his brother (ouch) and neither of them is capable at the moment of caring for the little girl. Since the assumption is that Judah is the father, the press won't take notice of him having temporary custody until Carla is back on her feet. But Judah has been there-done that when it comes to taking care of children, having had to take over all the care giving duties of his brother when their mother was incapacitated by her depression. He doesn't plan to ever have kids.
Darby is the opposite -she wants children, but she's infertile and considering going the IVF route to have one of her own, partner or not. Since she happens to be around when baby Jac is delivered and shows an aptitude for caring for the baby Judah offers her a compromise: he'll give her the internship and in return she can help him take care of the baby for a few weeks until she goes back to her mother. But when their little family starts to feel 'real', complete with a smoking hot attraction between Judah and Darby, will they find themselves making new plans for the future?
I really enjoyed this sexy and emotional romance! The story touches on the real life pain of women who are unable to conceive without in-vitro fertilization and the challenges that go along with the procedures. Darby doesn't usually share her personal life with others beyond her family, but once she's involved with Judah and caring for Jac, she opens up about this part of her life. At first, she thinks (like everyone else) that Jac is Judah's daughter, and can't understand why he isn't stepping up to fatherhood the way he should. It's only when she finds out later that Jac is his niece that she understands his initial reluctance to take on the responsibility. As they come to know each other better, they also get intimately involved and share some sexy love scenes. But Darby knows she'll need to guard her heart for when Judah leaves as he doesn't live in Boston and the baby will eventually return to her mother.
While Darby and Judah are working through their issues and bonding over Jac, the romance between her mom Callie and Mason, the coffee shop owner that has been building in the first two Love in Boston series books finally comes to fruition, though not without some challenges. Callie wants to find herself before she commits fully to Mason, and part of that involves traveling and doing all the things she's got on her bucket list. Mason isn't sure that he's ready for too many changes, but he's also got to decide where Callie fits into his life. In the end they find that love with a bit of compromise works wonders! Both couples deserve their happy endings, and I'm hoping this won't be the end of the Brogan family stories. I recommend them all!
Book Info:

Publication: Dec 01, 2018 | Harlequin Desire| Billionaires and Babes
She wants a career and a baby…
Can her sexy boss give her both?
Darby Brogan has goals: single motherhood and a successful career. And she won't be distracted…even if rival architect Judah Huntley is the stuff of fantasies. But when Darby accepts a job with Judah, there are strings—caring for the baby on his doorstep! But when playing house gets hot and heavy, will temporary turn into having it all?