The Secrets We Keep by Kate Hewitt Deeply absorbing, shocking, and emotionally stunning.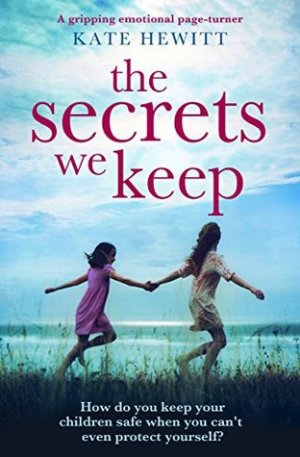 On the surface, Rebecca has the perfect life- Money, handsome husband, and three healthy children. But, she's been rapidly unraveling, coming apart at the seams and in total denial. An embarrassing incident at a company function puts even more strain on her marriage. At her husband's suggestion, Rebecca decides to head out to a lakeside resort with her children, for the summer.
Tessa knows there are things she has buried in her subconscious mind. Whatever those things are, it has caused her husband to harbor resentments, bordering on bitterness. Their marriage is strained to the point that Tessa feels she should pack up the kids and get away for the summer.
Right away, Rebecca and Tessa cross paths, and begin to forge a friendship of sorts, despite coming from vastly different backgrounds.
For Tessa, Rebecca's life seems glamorous and she's instantly awestruck by her lifestyle, and very excited about being invited into Rebecca's exclusive world. As the days of summer pass, the tensions between the wives and their husbands only seems to intensify, while the ladies continue to grow closer to each other.
But, as Rebecca's personal demons continue to manifest themselves in the form of drinking too much and self- inflicted bodily harm, Tessa's role in Rebecca's family shifts. Suddenly, she is presented with the perfect opportunity to live just like Rebecca.
The story is told from the dual first -person perspectives of Tessa and Rebecca. Typically, this dual narrative puts me off instantly, but in this case, it was the perfect way to give the reader the necessary insights that made this story work.
It goes without saying that the character analysis is what drives the story forward. However, I felt like the story almost had a psychological suspense element to it as well. From the beginning the reader understands an emotional gut-punch is coming, which makes the author's decision to slow the pacing down quite frustrating.
However, as the story progresses, despite the agonizing pace, the more absorbing it becomes. I was often torn between the two women, not knowing who to like, who to trust, or if both women are equally sympathetic. I did feel as though one story was stronger than the other, and one was very fleshed out, while the other was underdeveloped. The conclusion was little too abrupt for my taste, but overall, this is a compelling story of life, and the mind's ability to protect us from difficult memories. It's about ups and downs, trials, tragedies, and the love that binds us together through all of it.
I should caution you, however. This is not necessarily the most upbeat novel, and a definite feeling of melancholy follows the reader even after turning the last page. So, be prepared for a realistic conclusion.
However, I was satisfied with the progress the characters made, the work they put into making their relationships work, and the mental toughness they've acquired. I know they will survive, and move forward with a strength and resilience they never knew they had before.

Book Info:

Publication: 9/6/18 | Bookouture |
'Is her life as easy and effortless as it seems from the outside? Or is she feeling lonely, all by herself in that big house, an evening stretching out in front of her just as it is for me?'
When Tessa arrives at the little house by the lake with her two children Ben and Katherine, it is an escape. For all of them. Never mind that the rental house is a bit small – it's theirs for the summer. A place to hide…
Their isolation is disrupted when they meet the family from the big house next door. Three children Charlotte, Zoe and Max and their glamorous mother Rebecca – who seems absolutely determined to invite Tessa in to their lives.
But Rebecca is harbouring a dark secret of her own. One that will put not only her family at risk, but Tessa's too. And when she discovers she has no option but to leave her children for several weeks, Tessa feels like the only person she can trust.
Suddenly Tessa finds herself living a life she could only have dreamed of. Wealth, a large brood of children, and Rebecca's handsome husband Josh visiting at weekends.
But even as powerful bonds are forming between them, secrets have a way of catching up with people. And as the summer comes to an end, who will learn to love again and who will risk losing everything?
A gripping, twisty emotional page turner with a heartbreaking twist, for fans of Jodi Picoult, Emily Bleeker and Diane Chamberlain.