The Seduction of Viscount Vice by Nicola Davidson is the third steamy historical romance novella in the Fallen series, set in a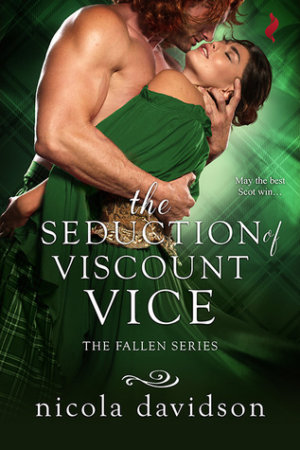 London pleasure club. It is a lusty second chance story, with themes of exhibitionism and playacting taking center stage. Iain 'Vice' Vissen has seen his two club co-owners 'Sin' and 'Devil' find true love, but the woman whom he gave his heart (and body) to as a young man fled an arranged marriage (not theirs) and broke Iain's heart in the process. Thinking her dead (as her parents had announced), he's startled beyond words to discover Mairi MacNair in his club, posing as a footman!
Mairi fled her home with her manservant Ramsey (a gay man), both of them escaping a hideous future. She'd always kept a piece of Iain in her heart but had no choice but to head to France, where they became indebted to their eventual employer Yvette who had a pleasure club of her own. Yvette has moved them all to London, in hopes of starting a new club there. Mairi's dream is to be on stage, so playing the role of male footman to spy on Fallen is all part of her acting practice, though discovering that her ex-lover Iain is one of the owners is a shock to the system. If Yvette's plan succeeds, her club will be in direct competition with Iain's, making Mairi and Iain rivals. Discovering their long lost passion is easy – but will Mairi's secrets ruin their second chance?
This is a fun, and very sexy read, which is not surprising since the setting is a regency sex club! It's not particularly in-depth historically speaking, but the time period is accurately portrayed in terms of dress and culture. Vice is responsible for the erotic plays that are carried out at Fallen and takes much pleasure (in more ways than one) in developing and acting in them. (Pirate themed seductions are particularly well liked by the crowd). As it turns out, his long lost love Mairi also has a penchant for exhibitionism and costumes so they are well matched in that department.
Iain and Mairi's reunion at Fallen leads to several scenes between them where they explore these kinks. But Iain is wary of giving his heart away again for good reason. Plus these two are both stubborn Scots! The conflict in the story leads to some rocky times but those quickly give way to a very happy ending for the couple. I enjoyed the scenes with Devil and Sin and their partners, as well as Iain's younger sister Helena (whom I hope to see get a book of her own!). If you haven't picked up the series yet, the first two are equally enjoyable reads, and I recommend the series for historical romance readers who like to spice things up!
Book Info:

Publication: May 1, 2017 | Entangled Publishing | Fallen #3
Proud Scot and Fallen co-owner, Lord Iain 'Vice' Vissen is dedicated to performing in and producing the pleasure club's hedonistic shows. Until the night he apprehends a rogue footman in their midst and discovers the spy is Lady Mairi MacNair—the woman who long ago broke his heart.
Born an earl's daughter but now a seamstress, Mairi has returned to London to help open a superior pleasure club to Fallen, and finally realize her dream of being the seductive leading lady. But when she discovers her main rival is Iain, the man she loved beyond reason and was forced to abandon, she is soon caught in a web of lies, secrets, and raw, scorching passion that time hasn't dimmed…