The Single Dad's Italian Invitation by Susan Meier: Sophie is being evicted from her condo after her mother has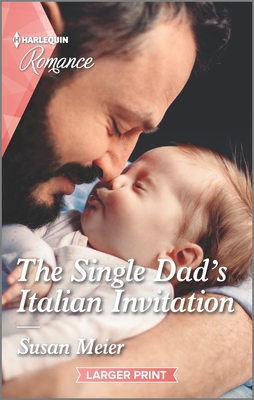 become involved in a huge scandal. Even though Sophie is the innocent bystander, her whole life is being impacted, as she is barely able to afford continuing her education and getting a degree.
Much to her surprise her rescue comes from her wealthy ex-lover, Wyatt. He dumped her three years ago, but now needs her help. He has had a baby girl literally dumped on him by a girlfriend he had never really given another thought to. She is more worried about her career than her daughter. Wyatt really steps up to being a good father. The only problem is he has a demanding business and he needs to go on an important trip to Italy. He knows he can't conduct negotiations with baby Darcy around and his previous attempts with nannies hasn't worked out. His unexpected visit with Sophie ends up being the perfect solution for both of them. Sophie can get away until the heat dies down and Wyatt has someone he trusts with Darcy.
Wyatt is amazed how quickly his baby daughter bonds with Sophie. The three of them arrive in Italy to stay at a beautiful estate by Lake Como. Wyatt quickly becomes frustrated with the very slow negotiations with the present owner of the company he hopes to buy. At the same time he reconnects in subtle ways with Sophie despite having tossed her aside three years ago. He didn't tell her at the time that they split up that his childhood made him very leery of commitments.
Sophie comes to love Darcy more every day, but is afraid her heart will be broken again after this stint in paradise comes to an end. It's also hard for Sophie to stay professional with Wyatt as he shows her all the excellent food and sights of the Lake Como.
I loved how the author slowly revealed the backgrounds of both characters by showing and not just telling. Even though Wyatt tries to protect his heart the reader can see his tender side, especially when it comes to the adorable Darcy.
The setting is just perfect. Even though I've never been to Italy, all the beauty and yummy beauty are brought to vivid life.
The romance has just the right amount of spice without overwhelming the story line. The author does a wonderful job at making book #3 in the series stand on its own. Of course, the reader will want to read the first two to appreciate this very talented writer's skills.
I have read other novels by Susan Meier and this latest encourages me to put her on my must read list.
Book Info:

Publication: April 26, 2022 | Harlequin Romance  | A Billion-Dollar Family #3
In Susan Meier's latest Harlequin Romance, a second chance under the Italian sun may just be on the cards for two ex-lovers…A second chance at loveUnder the Italian sun…
Sophie has learned to rely only on herself. Except now her world is collapsing and she needs an escape route, so an invitation to Lake Como to be a nanny is perfectly timed. The catch? Her boss is her billionaire ex-boyfriend, Wyatt! Sophie's always fiercely guarded her heart, but now she's found herself in the middle of a family—just like she's always craved!