In The Siren (The Original Sinners #1) by Tiffany Reisz, Author Nora Sutherlin has approached Royal House Publishing about the new book she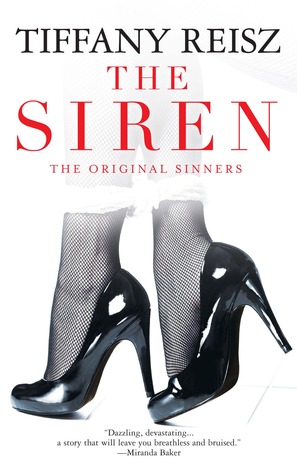 is writing. She wants an editor who will lay it all out there on the table and not be shy in their opinion. In other words, Nora wants an editor who is as brutally honest as she is. When she is paired with Zach Easton, she knows he's the perfect editor to help her turn her erotic love story into something spectacular. If she can get him to agree to work with her. It turns out that Zach is not a fan of Nora's genre. But she's sure with some coaxing, he'll be on board with the project. And maybe some extracurricular activities as well…
"You gotta know, Zach–Nora's not just some smut writer with a wild sex life. She's the motherfucking queen of the Underground. And Kingsley Edge is, obviously, our king."
"And him? What is he?" Zach didn't even want to say Søren's name.
"He's whatever's higher than a king and queen."
"An emperor?" Zach guessed.
Griffin smirked. "A god."
Zach and Nora's tentative working relationship begins to even out while the heat between them builds. The book rewrite is progressing, but Zach is unsure how to handle his attraction to Nora. He realizes that Nora is also keeping a secret from him. Zach is unaware of the relationship she has with Søren and others in the darker parts of the Manhattan nightlife. As they become more involved in each other's day to day lives, Nora offers to show Zach just what wonders pain and pleasure can bring to his life. Will it be too much for the former Cambridge professor? Or will it open his eyes to something he's wanted all along?
'Nora…the siren and the goddess, the ship and the wine-dark sea. She would either save him or end him. Right now, with her words singing in his ears, he didn't really care which.'
The Siren was a wonderful surprise. I went into this thinking it would mainly be about BDSM, and instead found this to be a complex, emotionally astounding love story. Albeit one with a woman torn into pieces over three very different guys, but still…
Don't get me wrong. There is still a heavy dose of BDSM along with the why's and how's, so it may be a bit much for some readers. But to me that wasn't the true focus here. I felt this story was really about the difficult decisions people must make sometimes when they are in love, as well as how complex relationships can get when you love someone who may not be right for you. Or right for them, even. I think that was why I really found the complicated relationship Nora had with Søren, Zach, and Wesley so fascinating. (And Kingsley, for that matter.) All three men were vastly different but loved Nora in their own way. I was quite impressed with how strong she was, with how far she was willing to go, to do what would ultimately be the right thing for the men in her life. Even if it meant heartache on her part.
I really was quite knocked out by Tiffany Reisz's writing style. The prose was intelligent, with quick dialogue that was not only full of double-entendres, but some very poignant messages as well. There was a lot of power play between the characters at times, and that was made evident by the wonderful details Ms. Reisz included in each passage. From a steely gaze, to downcast eyes, you knew where Nora, Wesley, Zach and Søren were emotionally in the scene. Well, as much as you could with Søren, anyway…he was such an enigma. He was one character that I really wanted to dislike, the way he exuded power over Nora. But I found that once I understood their dynamics more, I had a bit of respect for him. I may not be a fan of some of their passionately brutal moments together, but I now get that it was an important part of the game they played and the love they shared.
I think fans of both erotica and truly entangled romance will fall for Nora and the men in her life. I was honestly wow'd by how wrapped up in the storyline I became and just know I'll be checking out the rest of the Original Sinners series before long.
Book Info:

Published July 24th 2012 by Mira | (The Original Sinners #1)
Notorious Nora Sutherlin is famous for her delicious works of erotica, each one more popular with readers than the last. But her latest manuscript is different—more serious, more personal—and she's sure it'll be her breakout book… if it ever sees the light of day.
Zachary Easton holds Nora's fate in his well-manicured hands. The demanding British editor agrees to handle the book on one condition: he wants complete control. Nora must rewrite the entire novel to his exacting standards—in six weeks—or it's no deal.
Nora's grueling writing sessions with Zach are draining… and shockingly arousing. And a dangerous former lover has her wondering which is more torturous—staying away from him… or returning to his bed?
Nora thought she knew everything about being pushed to your limits. But in a world where passion is pain, nothing is ever that simple.