In The Spanish Love Deception by Elena Armas, Catalina Martin is in a BIG bind. Sadly, one of her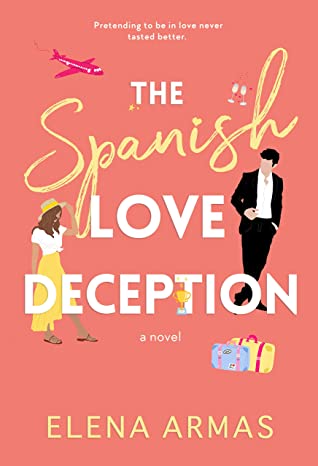 own making, truth be told. But she can't come to terms with the fact that her work nemesis, Aaron Blackford, could be her savior. The (handsome) hulk of a guy makes her eye twitch on a good day. On a bad day, well, let's just say he's lucky Lina doesn't believe in physical violence. Not yet anyway. Although when Aaron overhears her chatting with her best friend Rosie at work, saying how she needs to find a guy who will go with her back to Spain for her sister's wedding? He butts in, saying he'll be her plus one. But Lina's leery of Aaron's true motives considering their antagonistic past.
'I hadn't started this feud between us. So, why? Why was he pretending to offer me help, and why would I humor him by even considering it?'
Out of options and with a family to convince that she actually has a social life–and a boyfriend–Lina eventually caves and takes Aaron up on his offer. Something she has a feeling she's going to regret pretty quickly. She's stunned when he surprises her at every turn, having a lot more depth to his personality than the workaholic robot she might have compared him to once or twice over the past two years. As Lina preps to leave NYC for Spain, she worries everything will blow up on them. That her family will see through her white lies. But as little sparks of attraction begin to blossom between her and Aaron, she wonders if they'll have to fake their relationship after all.
"When I finally kiss you, there won't be any doubt in your mind that it is real."
The Spanish Love Deception was an absolute gem of a debut from Elena Armas. It took everything I love about romantic comedy, enemies-to-lovers romance and added in a Spanish flair to put it over the top in the most entertaining of ways.
'Hours left to board the flight to wedding-doom: twenty-four.
Level of anxiety: reaching emergency status.
Contingency plan: triple-chocolate brownie. A truckload of it.'
I am so in love with Lina and Aarron! *And* with Elena Armas's storytelling. (Check her out on Instagram: @thebibliotheque) What a fun, heartwarming adventure The Spanish Love Deception turned out to be right from the start. I won't spoil all the captivating twists and turns our couple's journey took. But I can say that looks could be deceiving, particularly with Aaron. There was a lot going on in that Clark Kent-like head of his–and in his life–that Lina was not aware of. Things that made me adore him even more for how he held it all together and still kept his promises to everyone. Beneath all that grumbly stoicness, Aaron was a generous, kind hearted guy who was the perfect counterbalance to Lina's outspokenness and her zest for life.
Lina will keep readers on their toes with the tangled up mess she understandably got herself into. I say understandably because once her past is revealed and we learn why she created a fake date to her sister's wedding in her homeland of Spain, I think many people in Lina's shoes would have at least thought of doing the same thing, if not acted on it. I loved the back and forth between her and Aaron. The dialogue was lively and the inclusion of Lina's BFF Rosie–along with other coworkers and, eventually, Lina's family–was a hoot. Armas got the chemistry between our couple spot on. The slow burn, the build up of yummy tension, the longing…and finally the realization of their feelings. Yep. It was swoony and kept me glued to the pages. (Read: much sleep was lost because I couldn't put my kindle down!)
If you're a fan of office romance with just the right blend of humor, heart, and heat, you *need* to pick up The Spanish Love Deception asap. I guarantee you won't regret it. Highly recommended.

Book Info:

Publication: Published February 21st 2021 | Pub: Elena Armas |
A wedding. A trip to Spain. The most infuriating man. And three days of pretending. Or in other words, a plan that will never work.
Catalina Martín, finally, not single. Her family is happy to announce that she will bring her American boyfriend to her sister's wedding. Everyone is invited to come and witness the most magical event of the year.
That would certainly be tomorrow's headline in the local newspaper of the small Spanish town I came from. Or the epitaph on my tombstone, seeing the turn my life had taken in the span of a phone call.
Four weeks wasn't a lot of time to find someone willing to cross the Atlantic–from NYC and all the way to Spain–for a wedding. Let alone, someone eager to play along my charade. But that didn't mean I was desperate enough to bring the 6'4 blue eyed pain in my ass standing before me.
Aaron Blackford. The man whose main occupation was making my blood boil had just offered himself to be my date. Right after inserting his nose in my business, calling me delusional, and calling himself my best option. See? Outrageous. Aggravating. Blood boiling. And much to my total despair, also right. Which left me with a surly and extra large dilemma in my hands. Was it worth the suffering to bring my colleague and bane of my existence as my fake boyfriend to my sister's wedding? Or was I better off coming clean and facing the consequences of my panic induced lie?
Like my abuela would say, que dios nos pille confesados.
The Spanish Love Deception is an enemies-to-lovers, fake-dating romantic comedy. Perfect for those looking for a steamy slow-burn romance with the sweetest Happily Ever After.