In The Texan's Baby by Donna Alward, Lizzie Baron is the eldest child of Brock Baron, she has her sisters and a brother, plus two adopted brothers and a half-brother. While she may be the eldest and is currently the vice president at Baron Oil, her father wants her brother to take over the company, regardless of the fact that he is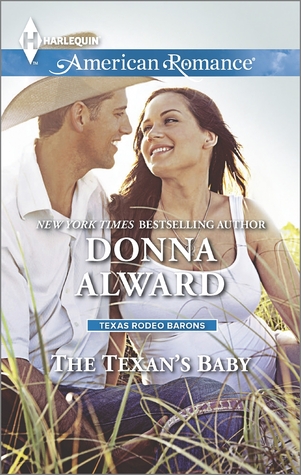 not interested in the business.
After going to see her brother ride at the rodeo, Lizzie needs some time to herself and heads to the bar. She just wants a little time to think, only once there she meets Chris Miller, one of the rodeo riders. One thing leads to another, and the next thing she knows she has had a one-night stand and is pregnant. Condoms are not 100% child proof and Lizzie is not sure she wants to accept it just yet.
Chris Miller has taken a year of absence from his job. He has always done what has been expected from him, but now that he has enough money saved, he wants to take a year doing what he wants before he has to continue living up to the expectations. When he first saw Lizzie, he saw a woman like none other he has met before, and he knew he wanted to get close to her. But waking up alone in his bed with just a first name and an earring as a reminder, was not something he expected. He wants more, but how can he find her without knowing her whole name.
After thinking about it, Lizzie knows that she has to tell Chris that he is going to be a father, but first she must find him. Good thing that she knows people in the rodeo that can give her the info she needs, otherwise she might not have been able to find Chris at all. Lizzie makes the long drive to give Chris the news and is trying to come to some type of arrangement with him, when she receives a call from her stepmother that her father is in the hospital.
Now as her father has to go through some time off from work to recuperate she has to temporarily take her father's place in the company. With that in mind she knows that she cannot tell anyone of her news at the moment or they will try to remove her from her job. Which means that her relationship, or non-relationship as it is, with Chris and their happy news must be kept secret for the time being.
Only Chris takes his responsibilities very seriously and he will not just walk away from his own child. Which means that he has a lot of planning to do, either to find a new job or to get moved closer to Lizzie and their child. Then there is the sparks that still fly between them, but convincing Lizzie to give him a chance is not easy, for she doesn't trust easily and winning her over will take some hard work. But Chris is not afraid of hard work, and this is for his family, so he will woo and charm Lizzie until she gives him a chance.
Well what can I tell you, this was a great read, I loved that Lizzie was so strong and independent, even if sometimes she was a little too extreme on those points. But having a man like Chris work to get her was sure fun to read. I think that is the type of man that many of us would love to have around. But before these two can get their HEA, they will have to face some serious misunderstandings that could just end everything between them forever unless they clear things out. Communication is always important, as Lizzie and Chris find out soon enough. And let me tell you, if you are like me, you will want the rest of the books in this series to be released soon, I cannot wait to know how each of the members of the Baron family find their HEA even after so much pain in their past.
If you want a true romance read that will have you laughing, crying and cheering for them, don't miss The Texan's Baby by Donna Alward.
Book Info:

June 3rd 2014 by Harlequin American Romance Series #1502
Unexpected Consequences
As a powerful Dallas oil executive, planning is what Lizzie Baron does best. But she certainly didn't plan on getting pregnant following one memorable night after a rodeo in Fort Worth. Now she needs to figure out how she's going to raise a baby with a man she barely knows.
Aspiring bronc rider Chris Miller always hoped he'd see Lizzie again, though not quite like this. The pregnancy is a surprise–and so is finding out she's a member of the powerful Baron clan–but the more Chris gets to know Lizzie, the more he realizes he wants to be with her. When Lizzie learns Chris works for a rival company, she feels betrayed. Can two perfect strangers trust each other enough to become the perfect family?