The Trouble with Picket Fences by Teri Wilson is the third book in the Lovestruck, Vermont series. It's the first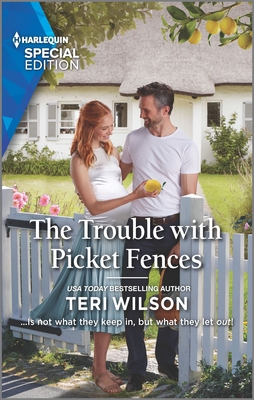 one I have read in the series, but I am eager to read the previous two books after meeting the characters. This was a sweet romance with all the small-town charm you could want. A story that involves a pageant was unique and I do not think I have ever read one before. It was remarkably interesting, and I learned some things I would never associate with a pageant.
Melanie Carlisle was known for her cheery, optimistic personality since she was a runner-up for the Miss America pageant several years ago with the "lemons to lemonade" routine. Her ex-boyfriend of eleven years telling her "crowns and picket fences don't mix" when she told him she wanted children prompted her to break up with him and leave Texas for Lovestruck, Vermont to start over. She bought a boutique and was trying to make a new life for herself and her upcoming baby. Her new friends suggested she host a pageant to meet the community.
Widowed Jason McBride "Cap" was the Captain of the Lovestruck Fire Department (LFD)and had just left his doctors after being diagnosed with NIHL (Noise-Induced-Hearing-Loss). He was worried about it affecting his work performance and he was not sure what he would do if he had to leave LFD. His job was part of his life and his crew was like family so it would be like losing a part of himself if he left the fire department. He was not sure what to tell his crew or his fourteen-year-old son Eli and it was troubling him. He did not feel Lovestruck needed a pageant but was more than willing to work with Melanie and combine the fire department's spring children's clothing drive with the pageant. The project gave him a reason to spend time with Melanie.
This was a fun and sweet romance. I loved the "lemon to lemonade" theme used throughout the book. It turned the book into a cheery and positively delightful book to read. It was a story that will brighten your day and help you look at the bright side of any situation!

Book Info:

Publication: March 30th 2021 | Harlequin Special Edition | Lovestruck, Vermont #3
She could teach him to turn lemons into lemonade
All her life, Melanie Carlisle knew how to succeed in the face of failure. So when she finds herself pregnant–and her ex-boyfriend bows out, claiming he's not the "picket fence type"–Melanie is on her own. Now she has a house–with a picket fence she wants gone. Cap McBride is dealing with his own problems, what with a potentially career-ending hearing loss and his surly teenager. So the last thing he wants to do is get involved with a single pregnant woman. As for fences? The only thing he knows how to do is put them up!
Lovestruck, Vermont
Will this fence make good neighbors into something more in the latest installment of award-winning author Teri Wilson's Lovestruck, Vermont series?