In The Unidentified Redhead (Redhead Series #1) by Alice Clayton, Actress Grace Sheridan is loving her life now that she's back in L.A. She's going to auditions and open mic nights, she's lost weight and looks great, she's getting hit on by twenty-four year old Jack Hamilton, a rising Hollywood star. Wait…what? Yep. What started as flirtatious banter at her BFF Holly's party, turned into a whirlwind romance for thirty-three year old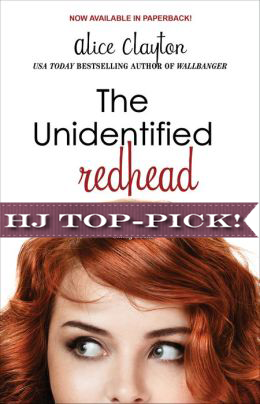 Grace and now she's not sure of anything except that she can't get enough of her British hunk, Jack.
'The caption below the picture said: "New heartthrob Jack Hamilton, caught at the beach with an unidentified redhead. Is this the new lady in his life?"'
Grace is worried she may not be good for Jack's career, what with all the hype for his soon-to-be blockbuster movie getting ready to premier. Holly, who also happens to be his manager, agrees that Grace and Jack should keep things under wraps for now, but Jack isn't so easily swayed. With both of their careers ready to take off, their insane romance may just get even crazier. And hotter. If that's possible…
"Grace?" he asked, still muffled.
"Mmm-hmm?"
"You're thirty-three?" he asked my tummy.
"Yep." The jig was up.
"F**k, you're old," he said, holding me tighter. He knew to restrain me.
"Hating you right now, Hamilton," I said seething.
"Loving you right now, Sheridan." He laughed.
The Unidentified Redhead has made me a bonafide Alice Clayton fan. Seriously. I could not put this book down and found myself laughing so hard a few times that I had tears rolling down my face.
I absolutely adore Alice's writing style. The prose is raucous, sexy, intelligent, and honest. The characters are extremely well developed and very easy to relate to. I felt like I really got to know Grace through this story and have a good sense of her hopes and fears for the future. The secondary characters were equally wonderful as well. Holly and Nick were just as hysterical as Grace, and the addition of Rebecca and Lane, Jack's fellow actors, rounded out the ensemble nicely.
'He gazed down at me, his eyes fixed in unapologetic worship. What had I done to deserve this man?'
Let me say, the pages lit up when Grace and Jack were together. Their chemistry was unbelievable and their dialogue was SO flirty and naughty it was almost closer to erotic romance than it was to contemporary at times. Whew…*fans face* But there are a lot of lovely romantic moments included as well that made me sigh happily. I loved their pet names for each other and the inside jokes that kept recurring throughout the story. And I think we could all use a Hamiltonian Wake-up Call. Just sayin'… (You'll see)
If you have a chance, I highly, highly recommend reading The Unidentified Redhead. It's hysterical, raunchy, sweet, and simply wonderful. I will be reading book two: The Redhead Revealed, before too long! That, I can guarantee.
Book Info:

 HJ Top Pick
Publisher: Gallery Books; Reprint edition (October 15, 2013) | Series: The Redhead
First Published February 16th 2010 by Omnific Publishing
The first in USA TODAY bestselling author Alice Clayton's Redhead series is a playful and erotic romance between an aspiring actress and Hollywood's hottest new leading man.
When Grace Sheridan returns to Los Angeles to become a working actress, it's a second shot at a life-long dream. With some help from her best-friend agent, will that dream become a reality—or at thirty-three, has Grace missed her chance at the big time? And when an unexpected sizzling romance with Jack Hamilton, the entertainment industry's newest "it" boy, threatens to shine an uncomfortable spotlight on her life, how will that affect her career…and his?
Funny, borderline neurotic Grace is perfect in her imperfections, and the sexual chemistry between her and charming yet blissfully unaware Jack is off the charts. With laugh-out-loud dialogue and a super-steamy romance that will get your heart racing, sneaking around in L.A. and dodging the paparazzi has never been so fun.