The Venetian One-Night Baby by Melanie Milburne: Sabrina and Max just get on each other's nerves.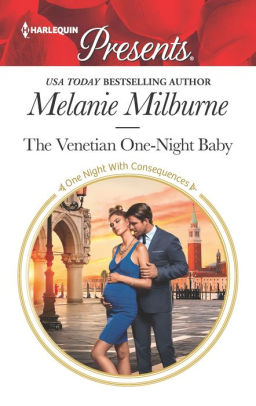 Every time they see each other at family functions they are known to argue as they don't have to do more than show up to be under the other's skin. Their parents are best friends and would love nothing more for them to pair up, which is one reason to avoid each other when possible.
Sabrina is very much looking for a relationship and love at some point and Max is determined to avoid love, commitment, and family at all costs. They might profess to hate each other, but Max does come to Sabrina's rescue while both are in Venice for work. Neither can forget the one kiss they shared nor can they resist the chemistry that sizzles between them. It's very much a case of I don't want to want you for both of them.
'What the hell were you playing at down there? You gave the impression we were sleeping together. What's wrong with you? You know how much I hate you. Why did you—?'
'You don't hate me.' His voice was so calm it made hers sound all the more irrational and childish.
'If I didn't before, I do now.' Sabrina poked him in the chest. 'What was all that about in the lift?'
After experiencing an amazing night together, both try to hold firm to their agreement until Sabrina learns she's pregnant. She never saw herself getting married for any reason besides love, but love is the one thing Max can't or won't offer. The pregnancy definitely brings them together and allows them to really get to know each other. She asks all the questions he would rather avoid and he is really supportive and generous.
'I want my child to have my name. We'll marry as soon as I can arrange it.'
Sabrina pulled out of his hold as if his hands had burned her. 'You don't have to be so old-fashioned about it, Max. I'm not asking you to marry me.'
'I'm not asking you. I'm telling you what's going to happen.'
The Venetian One-Night Baby is a sexy yet endearing enemies-to-lovers story. Melanie Milburne provided conflict, banter, heat, and romance. Fans of Bella Frances and Jennifer Hayward will enjoy The Venetian One-Night Baby.
Book Info:

Publication: February 1st 2019 | Harlequin Presents | One Night With Consequences
It was a sizzling encounter…
Then a baby binds them forever!
A hotel booking mix-up in Venice means wedding-dress designer Sabrina Midhurst must share a room with her nemesis: wealthy, brooding businessman Max Firbank. It's infuriating—until an unexpected night of passion awakens a need Sabrina didn't even know was possible! They've always battled their supercharged attraction, so when Sabrina confesses she's pregnant, she's stunned by Max's demand: that she wear his ring!
Spend one unforgettable night in Venice with this passionate romance!