In Their Christmas Miracle by Barbara Wallace , Grieving widower Thomas Collier has spent the last six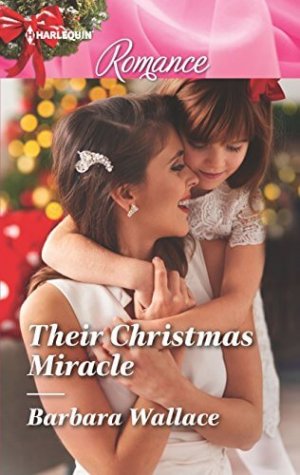 months or so taking care of his beautiful daughter Maddie and working fervently to keep his family's soap business afloat. As the new CEO, he's pulled in a dozen different directions every day. But Thomas is doing his best to devote as much time as possible to Maddie. On a quick business trip to Scotland, he and his brother stumble across a small pub while looking for directions–and it changes his life forever. The waitress is none other than his wife Rosalind, whom everyone was convinced was lost in a car accident. But she is alive, albeit with amnesia.
"We've been given a second chance, Rosie. All I want to do is make you happy."
He kissed her.
"What do you say, Rosie?" he whispered against her lips. "Shall we go back to where we started?"
Thomas's new purpose becomes to help Rosalind regain her memory. And to make a new beginning, full of promise and passion, with the woman who stole his heart once already. But Rosalind isn't so sure she can trust the word of a stranger. Even if he has proof of their life together, she doesn't remember him or her daughter. She's willing to try, though, and gives Thomas through New Year's to give it a go back in London. Feeling like a fish out of water, Rosalind loves reconnecting with her young daughter, but is torn when it comes to Thomas. For she has a very strong attraction to him that can't be denied. But with his attention torn between her and his career, she's not sure if she'll be able to stick around.
"You should know that between now and Christmas, I plan on charming the socks off you. You'll be too enamored by me to even think of leaving."
"Is that so?" She crossed her arms and did her best to look unimpressed.
Their Christmas Miracle was a sweet romance set during Christmas in London, filled with the emotions of a shocking reunion and the rekindling of a relationship. Barbara Wallace added a few twists to the amnesia trope she used for this story. One of which was that our hero and heroine weren't exactly at the best point in their marriage when fate separated them–adding to the guilt Thomas felt for working so many hours as CEO of his family's business before Rosalind's accident. Something that quickly became an issue again once the couple reunited. It would have been a sticking point for me regarding Rosalind's whiny ways had she not realized them on her own. But she did. And I liked that going back into the relationship with fresh eyes after losing her memory gave her the ability to step back and see that how she handled things before might not have been the best way.
It was wonderful to watch Thomas with their precocious daughter Maddie and see how attentive he was. He had a tendency to hold his emotions in and not fully communicate with Rosalind as to why he had to work so many hours–which would have greatly eased their issues–but I think it felt realistic for Thomas as he viewed himself as the protector of his family. The scene where he and Rosalind saw each other for the first time in months was stunning. And I think Wallace did a great job of conveying Thomas's emotional overload, all while revealing how Rosalind didn't remember him and was surprised to find out she had someone out there missing her. Their journey back to being a couple–and a family–was one fraught with tension and people wanting to interfere, but there were some lovely moments filled with wonder, love, and the joy of their miracle, which was made perfect by happening during Christmas.
Book Info:

Publication: Published November 6th 2018 | Harlequin Romance |
Lost: One wife and mother.
Found: Their forever family?
Finding the wife he'd believed was lost to him forever in a remote Scottish village seems like a miracle to wealthy CEO Thomas Collier. Rosalind is suffering from amnesia—she can't remember anything from before her accident, including her husband and their daughter! As Christmas draws near, back in their London penthouse, can Thomas help Rosalind regain her past and embrace the loving future they all deserve?