In Third Son's a Charm (The Survivors #1) by Shana Galen, Ewan Mostyn, the third son of the Earl of Pembroke, has struggled since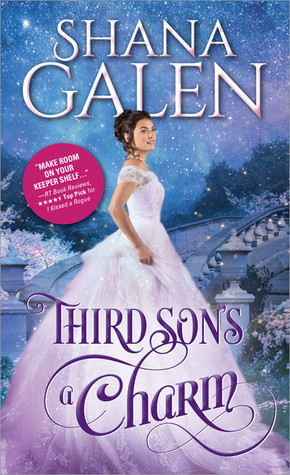 childhood to fit in. Always slow to learn his studies but eventually bigger and tougher than the other lads, he never found his calling until he became a soldier. As part of Draven's Dozen, the men who took on the biggest challenges during the war, Ewan had a purpose and a group of friends to whom he pledged his loyalty. Now back in London, he's faced with a new predicament: Becoming a bodyguard for the Duke of Ridlington's daughter Lady Lorraine. Not only is the young woman headstrong, but she is also determined to wed Francis, a man who Ewan unfortunately knows well. He realizes as he keeps a close eye on Lady Lorraine while she attends balls and operas–as well as plots her next escapade–that he has come to care for her. And he knows that even though he wants to pursue her for himself, she deserves more than a big brute like him.
'He was home. He, who had never belonged, never had a place to call home, belonged here in her arms, his body pressed to hers.'
Lorraine has her mind made up that she's going to marry handsome, charming Francis. But unfortunately her parents don't agree. She's not going to let that stop her or the plans she's made for the future. Although things get thrown off course even further when her father hires a bodyguard. A huge, statuesque man whom she dubs the Viking. Lorrie has to admit that beneath his gruff exterior and monosyllabic responses lies a surprisingly gentle, honest man who tempts her in ways she doesn't want to think about. Shockingly, though, she quickly finds herself drawn more to Ewan than to Francis. She's not sure that she could ever have a future with either man, considering neither is on the list of eligible men Lorrie's parents have made. But when Ewan comes to her rescue yet again, she's not sure she cares what her family thinks. She knows he's the one for her.
'Ewan had no carefully crafted charm, no boyish good looks, but he was true and honest and flawed. And she loved him. It was that simple. She loved him because of his flaws, not in spite of them.'
Third Son's a Charm set off Shana Galen's newest series, The Survivors, in a very positive way and gives the promise of many more exciting stories to come for Regency romance fans.
'Men might call him an idiot, but Ewan was no fool. He knew kissing Lady Lorraine was out of bounds. He was to keep her safe, nothing more.'
I typically have a lot of fun with Shana Galen's books so I was excited to start this latest series. And I wasn't disappointed. I may have had a few issues with the heroine for the first half of the book (we'll get to that) but overall I thought the writing was solid, the plot moved at a perfect pace, and the characters were engaging. And I really liked the premise behind this series. In some ways it's a bit similar to Mary Balogh's Survivor's Club, in that it follows a core group of men (and one woman, in Balogh's series) who have made it back from the war only to find it difficult to assimilate into society. Draven's Dozen is the focus in this series. They were a mix of men with varying talents/skills who went on the most intense, highly dangerous missions. So of course PTSD was an issue for all of them and I'm sure will have a big impact on their individual stories as we go from book to book.
Starting off with Ewan, well, he was a hero I could cheer on right away. The Viking, as Lorraine called him, was the strong & silent type who was thought by most to have more brawn than brains. He had a learning disability that even as an adult gave him problems. It was an interesting twist and something that wasn't well known of at the time. So even though it was frustrating that people treated him as though he was unintelligent, I so enjoyed watching him prove himself to be smart, resourceful, and even witty in his own way. But I think what I really loved about Ewan was how principled he was. He made up his own mind, did what he thought to be the right thing, and he tried not to let others cloud his judgement. Even Lorrie. Although he craved the attention and affection she offered, Ewan didn't want to tarnish her reputation, and I had to admire him for that.
Lady Lorraine, I think, will be the character–other than her beau Francis–who will give readers the most issue. She was young, rather flighty and impetuous, and made some rash decisions that had me almost rolling my eyes. Some of what Lorrie did was amusing but it got a bit much for me at times. And the fact that she swore she wanted to marry Francis but yet was lusting after Ewan? I tried to put it off as her being naive but it came across as melodramatic. Although in the last half of the book, once Lorrie's eyes were opened up to the true nature of Francis's intentions, I did enjoy watching her realize the depth of her feelings for Ewan and how things progressed from there. The other thing I liked was how she doted on her puppy Wellington, aka Welly. It was super cute and Galen did a great job making Welly's antics realistic *and* a part of the story itself which was fun.
With a sub-plot involving Lorraine's parents, a smidgen of suspense regarding recent abductions, and a grand introduction into the unique group of men called Draven's Dozen, Third Son's a Charm kept me entertained and looking forward to what's next.
Book Info:

Publication: Published November 7th 2017 | Sourcebooks Casablanca | The Survivors #1
Ewan Mostyn thinks a job as a duke's daughter's bodyguard will be easy―but Lady Lorraine has a few tricks up her sleeve that spark an undeniable passion…
Fiercely loyal to his friends and comrades, Ewan Mostyn is the toughest in a group of younger sons of nobility who met as soldiers and are now trying desperately to settle back into peaceful Society. Ewan trusts his brawn more than his brains, but when he's offered a job watching the Duke of Ridlington's stubbornly independent daughter, he finds both are challenged.
Lady Lorraine wants none of her father's high-handed ways, and she'll do everything in her power to avoid her distressingly attractive bodyguard―until she lands herself in real trouble. Lorraine begins to see Ewan's protectiveness in a new light, and she can only hope that her stoic guardian will do for her what he's always done―fight for what he wants.