In Tough Love (Ultimate #3) by Lori Foster, Vanity Baker loves the family atmosphere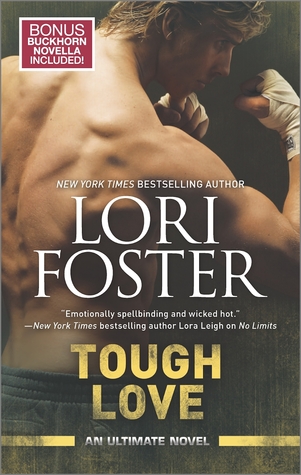 she feels being included with the local group of mixed martial arts guys, but it's fighter Stack "The Wolf" Hannigan who has taken her eye. She knows coming off serious will only push Stack away. So Vanity makes a plan to start off with one extremely sexy night and turn it into more. Things look hopeful until an outside threat puts her and Stack in danger. She worries though that once they find their way to safety, he might not forgive her deception.
'She loved him. More so every minute. Pretty soon she'd have to come clean and admit that she'd seduced him under false pretenses. He'd thought to get uncomplicated sex. But all along, she'd been going for happily ever after.'
Stack has been keeping Vanity on his radar since she showed up at the rec center with her best friend Yvette. Even his fellow fighters know to keep their hands off. He's just not sure if it's is going to be enough when he readily agrees to the beauty's one night only deal. But things get complicated quickly when he finds himself under attack and knows everyone around him isn't safe. Stack and his MMA friends can take care of the threat, but can he do so without losing Vanity in the process?
"Quit keeping score, okay? Let's just play it by ear instead of sticking to rules that never made sense in the first place."

"Hey." She playfully swatted at him. "My rules are what got me a date to the wedding."

"No strings attached, I know. I was an ass."

Clutching her heart, she pretended to faint. "You admitted it!"
A wedding, a no strings attached agreement, family drama, and a ton of pent up passion makes Tough Love one undeniably fun and exciting contemporary romance. Hot. Stuff.
Okay, I'm going to get all trendy here and say I FLOVE this story! Seriously though, the Ultimate series just keeps getting better and hotter with each new addition. For me it's a combination of the intelligent but down-to-earth writing style Lori Foster uses, as well as the incredible brotherhood the MMA guys formed. It reminds me of Laura Kaye's Hard Ink military 'brothers'. This group of guys also love to tease and harass one another, but they would lay down their lives to protect their loved ones and each other. Gotta respect that.
Each of these books can be read as standalones, but I was happy that for those of us who have been following this series, the whole crew of MMA guys (as well as Rowdy and Reese sightings from the Lover Undercover series!) were an integral part of the storyline. Especially Leese. He and Vanity were close platonic friends but it freaked out Stack. But it felt like an honest reaction, not a controlling, over-jealous thing and it was actually kind of comical how that played out with Leese giving Stack a hard time.
I enjoyed how this story focused on family quite a bit. There was a lot going on with Stack's mother, sister and brother-in-law, as well as learning about Vanity's family. The other focus was lies and/or deception. Stack had dealt with that in the past and knew that Vanity had been pretty much in-his-face honest since day one, or so he thought. The fact that their chemistry was insanely hot and their love scenes even hotter made it more complicated as the complete truth came out about their initial 'arrangement'. But don't worry…our lovebirds do finally get their HEA. After some bumps (and bruises) along the way.
Do you love protective, loyal, hunky MMA fighters and the caring, feisty women who know how to keep them in line? If so, then Tough Love is the steamy romance for you!
Book Info:

Publication: August 25th 2015 | by HQN Books | Ultimate #3
She's playing hard to get… to win the MMA fighter of her ultimate fantasies in a sultry new novel from New York Times bestselling author Lori Foster…
Vanity Baker loves a good, clean match, but she's not above playing a little dirty. She's wanted Stack "The Wolf" Hannigan from day one. Seems as though the best way to corral the famously commitment-phobic fighter is to insist on keeping it casual. And her plan works—deliciously well—until Stack's past steps out of the shadows.
Stack learned early to stay free of attachments. But with sexy, forthright Vanity, he's the one always left wanting more. Then his troublemaking family comes back into the picture, threatening everything Stack cares about—Vanity included. Suddenly he realizes they're much more than friends with benefits. He's ready to go to the mat for her…but will it be in time to protect the woman who's tamed him for good?