Trust Fund Fiance is a sexy marriage of convenience romance by Naima Simone, and part of the Texas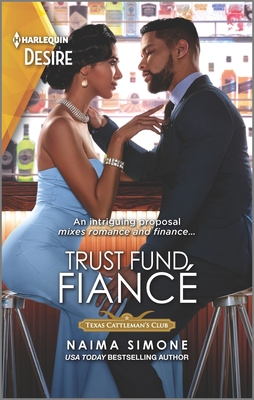 Cattleman's Club: Rags to Riches series.
Reagan Sinclair is tired of the machinations involved in receiving the inheritance of her grandmother's trust fund money. She either has to be a year older, or married and she's ready for the freedom the money will give her to continue the charity work for pregnant teens that she does on the side – a personal project dear to her heart.So when Ezekiel Holloway, a long time friend offers her a marriage of convenience to help her get the money, she leaps on the opportunity. Zeke has his own reasons for wanting a marriage to Reagan, including helping his family overcome a devastating and false scandal. Can their fake romance become something real?
I always enjoy romances by Naima Simone and this is another exciting and sexy story with interesting and complex characters. As part of the Texas Cattleman's Club: Rags to Riches multi-authored series, there are secondary characters and an overall story arc that the author skillfully blends into her own story while still making this easily readable as a standalone romance.
Reagan and Zeke have a long history as friends and it makes it an easy progression to consider a marriage of convenience since they like and respect each other. But there's also a definite attraction that leads to some sexy scenes and the eventual realization that what they have could be even more. Of course there are complications, especially with the scandals that keep rocking Zeke's family and business and the fact that Reagan's parents aren't so keen on her plans. Reagan has a complicated relationship with them due to a teen pregnancy and miscarriage that the family kept hidden from the outside world, and they have issues trusting her judgment even though she's a grown woman. Reagan and Zeke are able to share with each other their past hurts and this helps build the romantic relationship between them. Their happy ending is very satisfying and as always, I'll be keeping my eyes out for more from this author.

Book Info:
Maria Rose| 4 Stars | HJ Recommends | No |
Publication: Sep 01, 2020 | Harlequin Desire | Texas Cattleman's Club: Rags to Riches #4
An intriguing proposal
mixes romance and finance…
His friend needs a fiancé to claim a fortune.
But they both know it's about more than money…
Ezekiel Holloway's proposition could save his friend Reagan Sinclair's inheritance and give her the freedom she craves. But when family scandals force Ezekiel to end their fake engagement, the heiress comes up with a counterproposal—and they elope to Vegas after all! Is there something more than mere convenience at stake here?