Twisted (LOST #2) by Cynthia Edenis a riveting, fast paced, good vs. evil read that took me right into New Orleans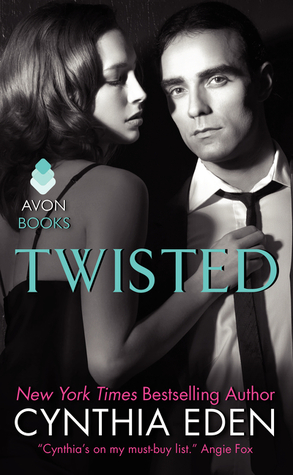 with Emma and Dean.
Dean works with LOST…they find the lost people no one else can. He's in New Orleans to find a missing 16 year old girl. Former FBI, Dean is no longer bound by what felt like the ties he had to tangle through. He will do what it takes to get the job done. He doesn't count on risking is heart though…
Emma is on her own, can read people in a way no one else can, and fits right into New Orleans. She knows all the nooks and crannies. When Dean finds out she's one of the last people to see the young girl he's looking for, Emma will help him…but she needs to be part of it too. An unexpected initial connection and chemistry between them can either complicate things or make things better. As they come together on the search, suddenly Emma becomes a target too. Is she the end goal, or is it more sinister, more Twisted than anyone anticipated? Emma and Dean become much closer even as danger closes in…can they trust each other with everything? Or will it be too late?
I really enjoyed Twisted as much as I enjoyed Broken (LOST #1). Emma is brave, independent, loyal and really cares about people. Happenings in her past that shattered her have also given her the courage to be strong, and I loved her character. I felt like I really got to know Emma, and I like how Cynthia drew on her background through out Twisted in a way very relevant to the plot. Dean is protective, determined, and torn between professional and personal feelings. He sometimes did only what he thought was best, even if Emma didn't think so, and this made him realistic. I liked the dialogue between Emma and Dean, and how their relationship strengthened quickly and suitably for the story. Emma and Dean have both suffered in ways few have, and as different as they are in some ways, this similarity gives them strength individually and as a couple. I felt like it helped bring them together. They are certainly hot together and I couldn't wait to see how this relationship turned out, especially since Emma is a people reader in New Orleans and Dean is a people finder. I liked how Cynthia finished this….you'll have to read it to find out!
The suspenseful part of the plot blends well with the romance. At times horrifying, at times so sad…especially the way the lost ones are the ones no one notices. I felt like this is a realistic part of society that Cynthia made me think about a little bit more when I read Twisted. I felt like it was realistic and believable, because it could happen! Cynthia writes a great mix of good and bad, as good tries to prevail through the shadows the evil casts. Cynthia writes of a twisted mind in a way that really gave me goose bumps, and a look into a mad man's head. I figured out the who, but the why and how this person got there was intriguing and Cynthia kept me very interested as the plot unfolded.
I liked the secondary characters, many of whom we saw in Broken. However, I feel that Twisted can stand solidly on it's own (although I highly recommend Broken also!). I really liked a new secondary character Cynthia introduces us to in Twisted. Jax is someone I can't wait to read more about…I think there is way more to him than meets the eye! I will definitely be reading the third book in the LOST series.
I also loved the New Orleans setting…Cynthia describes it exactly how I picture it, and Emma fit right in there!
I'd highly recommend Twisted to any romantic suspense reader!

Book Info:

Published April 28th 2015 by Avon | (LOST #2)
In the second seductive LOST novel from New York Times bestselling author Cynthia Eden, an obsessed Last Option Search Team agent goes looking for trouble—and finds her in the Big Easy.
Dean Bannon comes to New Orleans for one reason only: to track down a missing sixteen-year-old girl. That's before he meets the drop-dead gorgeous con artist who makes him want to lose his legendary control.
With her past, Emma Castille doesn't claim to be psychic. She just notices things other people don't. Like the fear in a runaway's eyes—or the pain in an ex-FBI agent's heart. Her chemistry with Dean is blistering, but Emma follows her passion . . . not someone else's orders.
Then a madman breaks into Emma's home and leaves a twisted message: You're next. Now Dean refuses to let her out of his sight until he pries every last secret from her full, sexy lips. And suddenly Emma's aching to give him everything he wants.