Tycoon's Forbidden Cinderella by Melanie Milburne is a sensual and passionate romance for a couple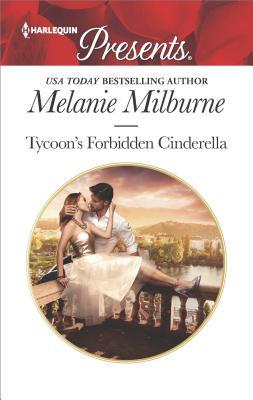 determined to thwart their respective parents' attempt at a third marriage only to find themselves caught up in their own love affair.
Audrey Merrington has grown up on the periphery with her soap opera actress mother Sibella constantly in the limelight. Her mother's marriages to the same man, rock star Harlan Fox, have ended in divorce twice, both ugly affairs. Now she wants to marry him again, and Audrey won't have it. She knows her best hope is to convince her on again off again step-sibling Lucien Fox to join forces with her to prevent it. She just hopes she can keep her attraction to him, now that she's in her mid-twenties and not an impressionable teenager, under wraps.
Lucien already pulled his father out of a serious alcoholic and depressive episode that last time he divorced Sibella. Now that Sibella and his father have disappeared together he is equally determined to prevent marriage number three. Hoping to track them down, he finds Audrey on the same mission. Together they travel to where they suspect the couple has gone. But at the same time, they find that there is a strong attraction between them that's hard to deny. Amid the complicated situation of their parents' relationship and their own trust issues, will they be able to find a happy ending for themselves?
I really enjoyed this story! Though step-sibling romances generally aren't my favorite, the fact that these are two older adults who didn't grow up together and have spent little time together made them more strangers than siblings, and therefore easier to see a sexual relationship develop between them. There are elements of the forced proximity trope when they are trapped together in a cottage at the start of the story in a storm (a place they'd hoped initially to find their parents but had come across each other instead). It forces Lucien to see Audrey as a woman and not a teenager anymore. It's also where they share some of their personal lives and can commiserate on the challenges of living with famous parents.
Once they head off to France on a tip to hunt down their parents before they marry for the third time, the closeness they've developed leads to some sexy and emotional love scenes. Lucien is Audrey's first lover, and once he finds this out, he is gentle and considerate. Audrey finds herself falling for Lucien, but she is also keeping a secret that she knows could destroy their new found trust. It will be up to Lucien to decide if what he's found with Audrey is worth keeping. Fortunately things work out for everyone in the end. Tycoon's Forbidden Cinderella is a sexy and thoroughly enjoyable romance.

Book Info:

Publication: June 19, 2018 | Harlequin Presents |
An illicit temptation… A desire too strong to resist! Love is a weakness that billionaire Lucien Fox refuses to indulge in. But delectable Audrey Merrington tests his formidable control! With their families united by marriage, Audrey has always been utterly off-limits, yet her shy innocence holds an enticing appeal for cynical Lucien. When a scandal forces them together, Lucien proposes a temporary solution to their inconvenient craving–total, delicious surrender!