Untamed Billionaire's Innocent Bride by Caitlin Crews is a sensual romance with a fairy tale theme for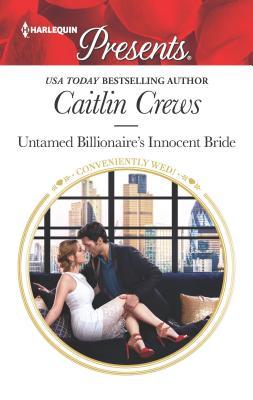 people who learn how to let love in.
Personal assistant Lauren Clarke is used to doing her boss Matteo Combe's bidding though traipsing through the dark forests of Hungary in search of his long lost brother is definitely one of the more questionable tasks she's had to perform. Dominik James has been named in Matteo's mother's will as an equal heir and half brother to Matteo. Tracking him down had been a bit of a challenge, but convincing the dangerous looking stranger to come with her to be introduced to society as a San Giacomo heir is another matter.
Dominik was perfectly fine living his reclusive lifestyle in a cabin of his own making after raising himself up from his orphan roots and making his billionaire fortune.He's known about his true heritage for some time, but since his family hadn't come looking for him, he hadn't gone looking for them either. Lauren's appearance changes that. He's intrigued by this blond woman in her red cloak and wants to muss her straight laced exterior. Lauren's come with an interesting proposal too – a fake marriage to get his 'introduction' to society out of the way with the paparazzi and then a quickie divorce. But Dominik will only agree if he gets a real wedding night. Can their unbridled passion lead to a real happy ending?
I enjoyed this passionate 'red riding hood' themed romance, with Lauren finding her own big bad wolf in the forest (though Dominik's luxurious cabin would make anyone want to get lost in the woods!). The basic premise of the story is simple and the story takes place over a short span of time. Lauren and Dominik make a deal that in reality Dominik doesn't need at all, since he's quite wealthy in his own right and has no need of his new inheritance. But he's attracted to Lauren and willing to do a lot to see where it leads. As a result they share some passionate kisses and eventually some steamy bedroom times.
Lauren and Dominik have abandonment issues, though for opposite reasons. Dominik was given up by his pregnant mother when she was 16, unable to defy her domineering father. He grew up in orphanages and has no desire for love in his life – just good sex, though that changes when he starts to feel more for Lauren, to his dismay. Lauren on the other hand grew up with two parents who divorced when she was young and sent her off to boarding school, leaving her without parental love and affection. Where Dominik fears becoming attached, she finds herself falling for him as he helps her see what kind of future they could have. They get their happy ending after a few bumps in the road, and there is a sweet and sexy epilogue to round things off. This is a sequel of sorts to The Italian's Twin Consequences (Matteo's story) though each can be read as a standalone. I'm looking forward to continuing with Matteo's sister Pia's story, His Two Royal Secrets, next!
Book Info:

Publication: May 21, 2019 | Harlequin Presents | Conveniently Wed
A long-lost billionaire…
A virgin to tame him!
Dedicated personal assistant Lauren Clarke always does as she's asked. Her latest task? To prevent a media scandal, she needs to find reclusive Dominik James—her boss's estranged brother—and convince him to marry her! But in Hungary's darkest forests she discovers more than just an untamed billionaire… Dominik's brooding masculinity awakens Lauren's long-dormant desire. Once they've exchanged their convenient "I do's," will innocent Lauren accept that their hunger can't be denied?