In Vampires Like It Hot (Argeneau #28) by Lynsay Sands, Immortal Raffaele Notte was supposed to be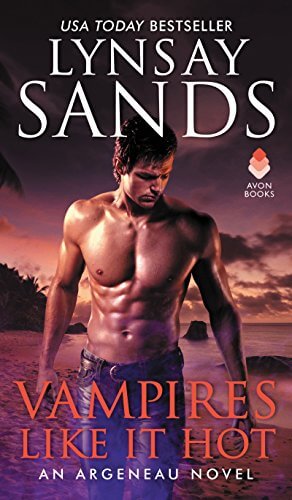 on vacation in the Dominican Republic, watching over his cousin Santo and keeping him relaxed after he suffered at the hands of evil Dr. Dressler. But somehow he ends up rescuing a woman who turns out to be his life mate. The woman he's been waiting centuries for. Things are not as easy as Raff hoped they'd be after finding Jess. Not only is she trying to outrun some rogue vampire pirates, but she apparently is also a possible life mate for their captain, Vasco. Raff is willing to do anything to keep Jess safe–and to win her heart. But as he begins to uncover more about the "vampirates" as she calls them, there's a lot more to their situation than at first glance. And that could complicate matters even further.
'Jess might be a life mate for this particular rogue. The idea infuriated him. She was his, not Vasco's. The pirate couldn't have her, he thought, but knew the choice wasn't his.'
Jess Stewart was happy to vacation in Punta Cana for her cousin's wedding but she's not so happy to have to babysit one of her other cousins, Allison. Which is easier said than done. So when Allison boards a pirate ship to go on a shark feeding tour, Jess knows they're in for trouble. Between her odd attraction to the sexy but foul-mouthed captain, his weird crew, and the strange markings the tourists are sporting, something's not right. She never would've guessed that they were vampires, though. Or that she would jump ship to get free. But that's what Jess does, right before she's saved from being shark bait by a handsome man. Afraid to tell him about the vampirates and sound crazy, she accepts Raffaele's help. Their instant connection is surprising. So is how kind he and his cousins Santo and Zanipolo are. And while she doesn't want to put them in danger as they protect her, she can't seem to make herself leave either.
'Honestly, it was like they were made for each other. She could imagine a life with this man. In fact, she found the idea of life without him rather painful.'
Sweet and sultry, funny and touching, Vampires Like It Hot brought the action level down a notch from previous books, and in a nice change of pace, piled on the emotions instead.
"It does not happen often, but sometimes a situation occurs where one person could be a life mate to two different immortals. It is always a difficult situation, and painful for the one not chosen. But a choice must be made."
I always have a good time reading Lynsay Sands' work. But there's something about the crazy-hot immortals she writes about in this series that never ceases to entertain. This particular book was somewhat different than the last few, in that there weren't as many gory fight scenes involved, plus there was a love triangle between a mortal and two immortals. Sounds interesting, right? And it was. I thought Jess, Raffaele, and Vasco were not only a riot together but it was really cool to watch them try to sort out who was going to win her as a life mate. *And* that not everything was as it seemed. Especially with Vasco, the "vampirate" (lol) and his crew. Although he could be crude and said some cringe-worthy things about Jess–and some that made me outright laugh–I think by the end of the book, readers will be surprised by what we learned about Vasco and how different he was compared to his persona.
Jess turned out to be a fun, levelheaded heroine. She was intelligent and tried to think her way through things logically instead of reacting to them. Which didn't always work when dealing with vampire pirates and a big sexy immortal. But what I really loved was that Jess took her extremely painful past and used it as a stepping stone in her life; moving forward and doing good by becoming a counselor (among other jobs) instead of allowing it to make her bitter. I think both Vasco and Raffaele appreciated her more for that, too. The only downside to Jess was that sometimes she could be almost too independent and put herself at risk–so one of her two suitors would have to come to the rescue. But she was a pretty kickass chick all on her own most of the time.
Raffaele…* swoon* He was what I would call a mix of alpha and beta hero and I fell for him right away. Even though he of course was ancient compared to Jess and had outdated views on things sometimes, Raff was fairly modern. I liked that he didn't go all caveman on her (much) like some immortals in past books have with their potential life mates. He was also very smart and thoughtful, kind, and had an almost geeky side which was so stinking cute. Raff was a worthy opponent when it came to trying to best Vasco for Jess's attention and some of the predicaments they all got into were laugh-out-loud funny, while others were rather poignant.
A nice mix of comedy, romance, and the paranormal–oh, and don't forget pirates!–Vampires Like It Hot was a completely enjoyable good time. I can't wait to see what Sands has in store for Raffaele's cousin Santo up next in The Trouble With Vampires.

Book Info:
Publication: Published September 18th 2018 | Avon |

New York Times bestselling author Lynsay Sands brings the heat in this new Argeneau novel, as one woman is rescued by an irresistible immortal …
"Vampires…"
When Raffaele Notte pulls a barely dressed, disoriented woman from the ocean, the last thing he expects is for her to utter that word. The immortal has come to the island resort to help his cousin, but now, it seems, there are rogue vampires dining on unsuspecting tourists. And he soon realizes that not only is Jess a target, she's also the life mate he's been waiting for…
Vampires are real. Jess would've never believed it until she saw them with her own eyes. She knows she has to get off the island, and her gallant rescuer has offered to help. There's something about Raffaele that's unlike any man she has ever met, and his touch sends pleasure through her that is beyond all imagining. But when Jess discovers who he really is, will she risk life as she knows it for a chance of forever by his side?