Today it is my pleasure to Welcome author
Anna J Stewart
to HJ!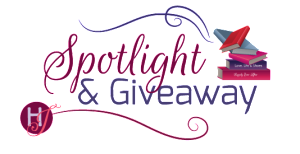 Hi Anna (and others) and welcome to HJ! We're so excited to chat with you about your new release, A SECOND CHANCE FOR LOVE!

Hi there and hello! Great to be here again.

Please summarize the book for the readers here: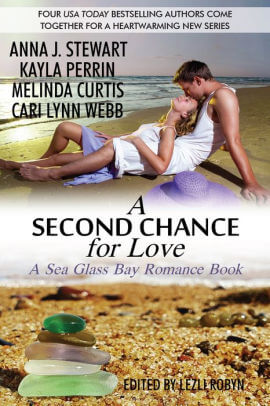 A SECOND CHANCE FOR LOVE is a brand new connected Mother's Day novella anthology that takes place in the California town of Sea Glass Bay. The collection features four girlfriends, all unattached, who find their romantic lives and Mother's Day on a fun collision course.
My story, MOM WANTED, features Claire Bishop, an elementary school art teacher who longs for a family she'll never be able to have, and Sully Vaughn, the town "jobber" who, thanks to his precocious eight year old daughter, Lindie, are about to be parent trapped in some adorable ways.
At its heart, this story, as well as the others in the collection are about family–the family we build for ourselves as well as the families we're born to, community, and traversing this crazy thing we all call life (with a lot of romance thrown in <G>).

Please share your favorite line(s) or quote from this book:
I think most of my favorite lines come from little Lindie (I love writing children). Lindie has taken exception to who she thinks should take care of her after school hours.
"I don't want to stay with Mrs. Filbert from now on. She has creepy animals and she smells funny."
~
"No story." Lindy shoved herself onto her side and squeezed her eyes shut. "I'm mad at you."

"You go right ahead and be mad." (devoted, single fathers just melt my heart)
~
"I'm the one who needs watching. Why don't I get to choose who it is?"
Please share a few Fun facts about this book…
The unifying setting among the four novellas is the town's weekend market. It's where the four friends (Claire, Jazzy, Leah, and Paige) really met (working their respective stalls), and its after the market where they meet at the Tipsy Table for drinks after the weekend's business has concluded.
The town itself is inspired by the Fort Bragg area of California. Sea glass is one of those beautiful creations of nature that we felt lent itself well to romance.
This anthology is actually the first in the Sea Glass Bay romance collection. We'll be returning to the town to meet lots of characters and couples and families as time goes on.
What first attracts your Hero to the Heroine and vice versa?
I tend to write a lot of devoted single dads (cue therapy session here), so anytime I get to show how a father is over the moon about his kid or kids, it's going to be a fun ride for me to take. Sully was no exception, plus making him a "can find anything for any price" kind of guy–a modern day scavenger–was a new twist on a hero for me.
With Claire, so many of my books deal with the families we create for ourselves. Claire is very much alone in the world, but she's built a new family with her friends and her community. Claire and Sully not only fit together, they need each other, even though being together means Sully has to put not only his heart at risk, but also his little girl's. And that's something that takes some convincing.
Did any scene have you blushing, crying or laughing while writing it? And Why?
While Claire is pretty sure she understands how little Lindie's mind works, she does find herself surprised when Lindie takes a new approach to getting what she wants:
"Claire, do you have a moment?"

A stack of her student's origami art projects in hand, Claire glanced up at her classroom door. "Sure, Melanie." Melanie Studdart, Sea Glass Bay Elementary School principal quickly stepped inside and waved Claire over. Only a few years older than Claire, Melanie wore her platinum blonde hair bobbed short and sharp, almost as sharp as her brown eyes that hadn't missed a student's trick in all her years as an educator. "Something wrong?"

"Not wrong, exactly. You know Lindie Vaughn, don't you?"

"Sure. Is she all right?" Panic seized Claire's chest. "I just saw her the other day at the market."

"Oh, she's fine, fine," Melanie quickly assured her. "Mr. Kozwalski has informed me that Lindie has gone on strike."

Claire blinked. "Excuse me?"

"You heard me." Melanie's lips twitched. "She came into school this morning, sat at her desk and pronounced she was on strike. "Mr. Kozwalski was hoping come lunch time she'd give up, but apparently she has made up her mind. When we asked her why she was on strike, she said her father would understand and that she'd only talk to him or to you."

"To me?" Claire could feel something akin to dread circling inside her. "Um, why me?"

"She said you'd understand. She mentioned Mrs. Filbert and her collection of creepies?"

"Ah." The light dawned.
Readers should read this book….
It's a celebration of love and also one unified by the power of Mother's Day (one of those overlooked holidays in the romance world, IMO). If you like community based romances with lots of fun characters, and if you like to see other authors' characters through the eyes of another, this is definitely the book for you. Plus…who wouldn't love to spend some time on the beach?
What are you currently working on? What other releases do you have in the works?
I've recently turned in book 11 of my Butterfly Harbor series for Harlequin Heartwarming. There's only one more to write and I'm already getting a bit sniffly over the prospect of leaving this wonderful town behind. Before that happens tho, Ozzy's story, BUILDING A SURPRISE FAMILY, will be out in late July/early August.
I'm also working on a new romantic suspense (my next will be out in February of 22) and I'm happy to say there will be another collection of Blackwells coming in 2022 as well! This time I'll be writing the first book of the five book series (Melinda Curtis, Amy Vastine, Cari Lynn Webb, and Carol Ross will also be writing again). Lots of stories to tell ahead of me, for sure.

Thanks for blogging at HJ!
Giveaway: 1 – $15 Amazon Gift Card (1 winner)
3 winners to receive first three books of the Butterfly Harbor series (winners' choice of digital format). Titles include: THE BAD BOY OF BUTTERFLY HARBOR, RECIPE FOR REDEMPTION (this became a 2019 UPTV Holiday movie, A CHRISTMAS RECIPE FOR ROMANCE), and A DAD FOR CHARLIE. Open internationally.

To enter Giveaway: Please complete the Rafflecopter form and Post a comment to this Q:

What are some of your favorite go-to reads for small town romance? Favorite authors? Favorite series? I'm always looking for new books to add to my endless TBR pile, er, files, LOL. Chime in!
Excerpt from A SECOND CHANCE FOR LOVE:
Sully stopped briefly, one foot on the walk, the other firmly on the bottom step of her porch. The setting sun caught against those glorious highlights in his hair and the don't-mess-with-me glint in his eye.

Instantly, Claire raised her hands. "I can explain."

"Uh-huh. Is she in there?"

"Yes, she's doing her homework." Claire stepped outside and pulled the door closed. "I've been helping her with her math."

"Well that just fixes everything then, doesn't it?"

Okay, he was more upset than she expected. Actually, she hadn't been able to imagine Sully Vaughn angry at all. He always gave off such a relaxed, easy going, nothing-bothers-me attitude. She should have known little Lindie would be his trigger point.

"We had a situation at school. The principal asked for my help and I agreed. Honestly, Sully, this just sort of happened."

He paused. "What kind of situation?"

"Lindie went on strike."

"Strike? What does that even mean? How does a six-year…" he trailed off, lifted a hand and pinched the bridge of his nose. "Newsies. We watched Newsies the other night and she asked me to explain what a strike was. Who knew she was taking notes?"

Claire did her best not to laugh, but it took ducking her head and pressing her lips together. "She is a bit of a sponge when it comes to facts." When she lifted her gaze to his, she saw the anger begin to fade. "I didn't do this on purpose. I was willing to respect your decision for Lindie to stay with Mrs. Filbert, but she just wasn't having it. She refused to do any schoolwork or participate in any activities until she talked to me, at which time I agreed to talk to you about alternative care options for her."

"So you let her win."

"No." Claire frowned, trying to see this from his perspective. "No. I let her know she was being heard. I've kept my end of the deal. We're talking and, for today, she's with me. But she knows that might not be the case in the future."

He sighed. "Yeah, well, as far as Mrs. Filbert is concerned, she's off the option list. She's convinced Lindie's too much for her."

"Oh." Claire swallowed a bit of guilt. "Yes, well, that might be partly my fault. We stopped for an ice cream after school on our way to Mrs. Filbert's and, well, sugar certainly does have an effect on Lindie, doesn't it?" She'd honestly thought that was an urban myth.

"Actually, no, not normally," Sully said. "Getting her own way, on the other hand does tend to bolster her energy level. Man." He let out a long breath and, after a glance at the door, shifted his attention to the old-fashioned porch swing at the end of the porch. "I'm going to sit for a minute, that okay?"

"Yes, sure, of course. Do you want something to drink?"

"Arsenic with a foxglove chaser would be good."

Claire chuckled. "I can do milk or soda, or I made iced tea this afternoon. Raspberry iced tea."

"That actually sounds really great, thanks."

"Be back in a second." Claire hurried inside, nearly bashing Lindie in the nose with the door when she opened it. "Nosy little miss," she chided and steered the little girl back into the kitchen. "You're supposed to be working with Friday on your addition."

"I got stuck. And I wanted to know what Daddy said."

"He hasn't said anything just yet because he's trying to understand why you're here and not at Mrs. Filbert's."

"Oh." Lindie slid back into her chair, picked up her pencil. "Then I will keep doing math. You can talk to him."
Excerpt. © Reprinted by permission. All rights reserved.


Book Info:
With Mother's Day approaching, four women living in a picturesque coastal town discover a second chance at love when they finally find their happily-ever-after partners in this anthology of contemporary romance novellas.
MOM WANTED
Claire Bishop's life as an art teacher in Sea Glass Bay is full and rewarding, but her heart longs for a family she'll never have. When she agrees to help out widower, Sully Vaughn, by taking care of his daughter after school, Sully is concerned his little girl, Lindie, is growing too attached to her favorite teacher. Sully is trying his best to protect his child from the heartache of loss that nearly destroyed him, but he hasn't taken into account his passion for the dynamic woman—nor Lindie's determination to lay claim to the perfect mom.
FATHER WANTED
Jazzy Dunbar is enjoying life as a single mom, proving that you don't have to have a man to have it all. Jeremiah Caldwell, a good friend, made the perfect sperm donor. He's happy with their "no strings attached" relationship … or is he? He wants to be more than a sometimes-father in baby Caleb's life. Jazzy doesn't want to ruin their friendship by allowing their attraction to flare, but when a serious situation threatens, will Jeremiah be able to prove that they can have love and the perfect family?
HERO WANTED
Single mom Leah Martin needs to find a wedding date for her ex-husband's wedding. Their son, Owen, is going to be the ringbearer and her attendance is required. But this florist has no time to date around the busy Mother's Day holiday, which is why she agrees to let her friends set her up for a blind date. Hank DeLeon's bar shares an alley with Leah's florist shop, which is the perfect location for a restaurant if she's willing to relocate. When he's asked to take her on a blind date, he has to wonder: is this a great chance for a business proposition? Or a once-in-a-lifetime chance at love?
FAMILY WANTED
After a corporate restructuring at her accounting firm, Paige Duffy moved north to Sea Glass Bay and opened a handmade candle booth at the coastal town's popular local craft market. Now her severance is running out and Paige discovers she's pregnant from a one night stand. Charter boat owner, Gavin Cole, lost his grandfather six months ago, promising him he'd finally pursue his dreams of sailing the open ocean. But when Paige tells him that she's pregnant with his child, Gavin must decide what adventure he really wants: the one he's always dreamed of, or the one he never believed possible.
Book Links:  Amazon |


Meet the Author:
USA Today and national bestselling author Anna J Stewart writes sweet to sexy romances for Harlequin and ARC Manor's Caezik Romance. Her sweet Heartwarming books include the Butterfly Harbor series as well as the ongoing Blackwell continuity series. She also writes the Honor Bound series for Harlequin Romantic Suspense and contributes to the bestselling Coltons. A former Golden Heart, Daphne, and National Reader's Choice finalist, Anna loves writing big community stories where family found is always the theme. Since her first published novella with Harlequin in 2014, Anna has released more than forty novels and novellas and hopes to branch out even more thanks to Caezik Romance. Anna lives in Northern California where (at the best times) she loves going to the movies, attending fan conventions, and heading to Disneyland, her favorite place on earth. When she's not writing, she is usually binge-watching her newest TV addiction, re-watching her all-time favorite show, Supernatural, and wrangling two monstrous cats named Rosie and Sherlock.
Website | Facebook | Twitter | Instagram | GoodReads |