Winning Back His Runaway Bride by Jessica Gilmore: Charlotte, who goes by the name Charlie, is in the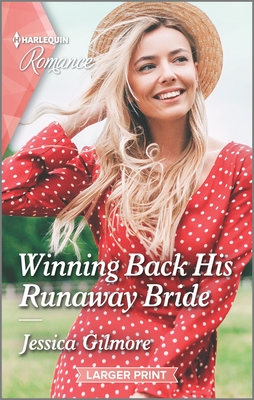 process of divorcing her husband of only a year. Yes, she has all the luxuries she could ever need, but her billionaire husband always puts work first. He makes promises and then breaks them. He even cut their honeymoon short after his grandfather became ill and they never went back to the places they planned to visit.
Just about the time she is about to go a trip with some friends, Charlie gets news that her husband, Matteo, has been seriously injured in a car accident. She goes to the hospital and finds out the crash has not only resulted in some physical injuries, but he has a form of amnesia. Matteo thinks it's just a couple days before their wedding. He has no memories of the past year or that Charlie is divorcing him. The doctors say that his memory will probably come back eventually, but for now he needs to rest and not have any shocks.
Charlie goes with Matteo to one of his homes to help him get healthy. She has to take all digital devices from him to avoid him being upset about what has happened recently. Can Charlie walk away again once Matteo is well or will she fall in love with him all over again?
First of all, I love the name Matteo. It sounds exotic, but at the same time very sexy. At first it is hard to like him since he puts work first, even though he was totally swept away by Charlie's unique style. Unfortunately, it seems there are many men like Matteo. Many end up divorced when they aren't willing to slow down a little.
Charlie often "marches to a different drummer", but comes across as charming. Her talents are slowly revealed and that just adds to her charisma.
Even if you aren't wealthy, it is fun to "travel" along to various locations with the couple. I have never been to Amalfi, but it sounds divine from the author's vivid description. I also learned of a new food item, aranici. You can Google anything these days, so I found out that it is an appetizer made with rice and mozzarella, breaded and quick fried. What's even more exciting, is a restaurant near me has it on their menu. One of the things I love about romance novels is the author have often done exquisite research and I usually learn new things while reading lovely stories with HEA.
You will want to travel along with Charlie and Matteo on their search for a second chance.
Book Info:

Publication: March 9, 2021 | Harlequin Romance |
A wife to remember…
…a marriage to rescue!
When her workaholic billionaire husband is injured in an accident, Charlotte Samuels is shocked to realize he has no memory of their brief whirlwind marriage—or that they are about to divorce! Temporarily moving back in to Matteo's luxurious Italian villa, Charlie must pretend they are still happily married until he is healed. Only, keeping her distance isn't so easy when she's falling in love with her husband all over again…