Today, HJ is pleased to share with you

kc dyer's

new release: 

An Accidental Odyssey

In the novel An Accidental Odyssey, Gia Kostas, a soon-to-be-married food writer from New York City receives an unexpected phone call.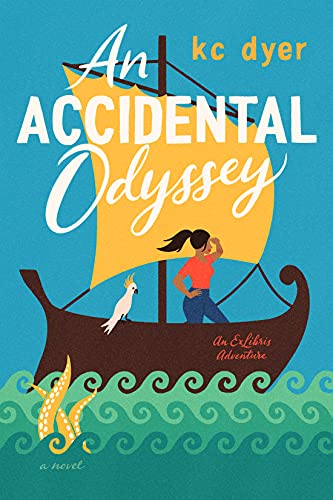 As a result, she suddenly finds herself in a plane enroute to the other side of the world, sparking an epic adventure around the magical, modern-day Mediterranean.

This is the second of my recent novels to revolve around ExLibris Expeditions, a fictional NYC-based company. ExLibris specializes in recreating literary journeys, ripped from the pages of famous stories, for its book-loving clients. Proprietor and CEO Teresa Cipher is an adventurer herself, and along with her multi-talented staff, delights in giving her clients all that they ask for in a journey – and more. I mean, who wouldn't want to tread in the footsteps of a favorite literary hero or heroine, and take a chance at adventure in far-away climes – especially if it offers a shot at new love along the way?

And so, in the spirit of romantic and daring travel, here are a selection of my top five literary journeys – adventures that spring from between the pages of a book, and that can truly sweep you away.

1 One of the oldest novels in the English language is predicated on a journey – a pilgrimage to a famous site of the shrine of Thomas Becket in Canterbury, England. The Canterbury Tales are written in Middle English, and were aimed at an audience from long ago. But even today, on closer examination, they are often hilarious, even rude, and hold the institutions of the time – and those who supported them—up to not-so-subtle ridicule.
These day, the distance between London and Canterbury is a mere sixty miles or so, easily completed in an afternoon's bus ride. And for those who undertake this journey on the ground, there is the magnificence of the Canterbury Cathedral as your reward. Pair that with fresh-baked scones and the famous local cream and jam, and it makes for a journey worth taking, whether in the back of a bus, or in the pages of a book!

2 Around the World in Eighty Days is the story of Phileas Fogg's journey around the entire globe to prove a point – and win a bet. Fogg has little interest in travel, but as he makes his journey, he can't help but be drawn in and delighted by the fascination of far-flung places he had never even imagined before.
Verne's novel became the inspiration for my contemporary romantic comedy, Eighty Days To Elsewhere. In this story, Romy Keene undertakes her journey not on a bet, but in order to save her family's bookstore. I had so much fun turning some of Verne's dated tropes on their head along Romy's journey. Her adventures include racing through limestone tunnels under Paris, flying across Saharan sands and engaging in whaling protests in the icy waters of the North Pacific. A far cry from Fogg lumbering on the back of an elephant through Indian jungles – but no less compelling!

3 Another classic jaunt is one, while ostensibly taken under ground, was truly a journey of the imagination. Alice's Adventures in Wonderland – and later Through the Looking Glass, hasten readers through a world of talking animals, murderous queens and unrestricted drug use – perhaps less common in the children's literature of today! Still, a return to Alice's adventures offer a glimpse into a world where the commonplace, when examined with the right lens, was truly ridiculous. Satire, today, might be more the purview of stand-up comedians, but it is no less valuable a means of skewering the mighty. Alice and her rabbit are definitely worth a return visit!

4 And what about the young, newly married nurse Claire Randall's journey through the Highland standing stones, only to emerge in Jacobean Scotland? Diana Gabaldon's Outlander leads readers on a journey through both space and time as Claire meets and falls in love with highlander Jamie Fraser. The latest sequel in this saga is called Go Tell the Bees that I am Gone, and has just been released.
This story was the inspiration for my romantic comedy Finding Fraser, wherein Emma Sheridan discards her empty life and runs off to Scotland to find her own real-life Jamie Fraser. A journey many readers of the Outlander stories can relate to, I'm sure!

5 And finally, Odysseus's journey home from the Trojan War in Homer's epic The Odyssey has more of a 'happily ever after' than you might expect! After all, Odysseus makes it home to his loving Penelope in the end, and this adventurous love story has lasted more than a millennium.
It also served as a tremendous inspiration for my latest novel, An Accidental Odyssey; a funny, romantic romp across the modern-day Mediterranean. This is a story filled with food and love, buff sirens and even a modern-day giant or two. When a story has characters that battle for the heart of a woman AND a sea monster – how can you not go along for the ride?


Giveaway:

A print copy of AN ACCIDENTAL ODYSSEY by kc dyer
To enter Giveaway: Please complete the Rafflecopter form and

Leave a comment with your thoughts on the book… 
Meet the Author:
kc dyer is the author of Finding Fraser, Eighty Days to Elsewhere and An Accidental Odyssey, among others. You can find her at kcdyer.com