Today it is my pleasure to Welcome author
Katee Robert
to HJ!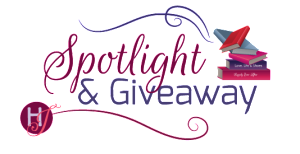 Hi Katee and welcome to HJ! We're so excited to chat with you about your new release, Broderick!

Thank you so much for having me!

To start off, can you please tell us a little bit about this book?: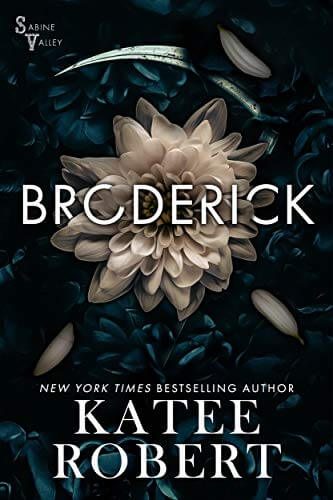 This is the second book in the Sabine Valley, which is a MFF romance between two best friends and the woman they're both drawn to despite themselves.

Please share your favorite lines or quote(s) from this book:
"You can call me by her name if you want. Since you're obviously too much a coward to have closed the deal with her."
"Monroe." On his tongue, my name sounds like a curse. I kind of like it.
"Actually, I have a better idea." I give him a slow, predatory smile. "Maybe I'll say her name instead. I bet her pussy tastes as sweet and innocent as she looks."
What inspired this book?
This is sort of a belated inspiration but the song Slumber Party by Ashnikko really sums up Monroe's vibes.
One of my favorite tropes that I rarely write is the Good Man Gone Feral, and this was the perfect opportunity to explore that.
Last year, I stumbled across the stock photo of two women that was really sexy and intimate and soft, and I knew I had to write them. They didn't fit in with any of the characters I had for the Wicked Villains series, so I crafted Shiloh and Monroe around their description
How did you 'get to know' your main characters? Did they ever surprise you?
I usually find stock photos that fit the vibe I'm going for and then dive in. They 100% surprise me every time, though, since I'm a pantser.
What was your favorite scene to write?
It was the Truth or Dare scene late in the book. Monroe and Broderick, who have previously ben enemies, have decided to work together for the first time to seduce Shiloh properly. It's kind of fun and VERY sexy.
Shiloh turns hazel eyes on Broderick. "Truth or dare?"
"Truth." There's an edge to his tone, a dare all its own.
She gives a small smile, but there's an edge of cruelty to it. "Do you enjoy how you are with Monroe?"
He goes rigid behind me. "I don't understand the question."
"I think you do." Shiloh takes a small drink of her beer. "You are so careful with everyone else around you—with me. With Monroe, you're different than I've ever seen you. Harder. Meaner. You…" She looks away. "You fucked her like you were mad at her. Did you enjoy it?"
I don't mean to hold my breath. I really don't. Obviously Broderick likes how he is with me, even if it torments him at the same time, challenges the role he's stepped into. The good man. The caretaker. There's no room in that role for cruelty, and yet he's cruel to me, especially when it comes to sex.
He finally curses. "Yes. I enjoy the way we fuck." Broderick snags his glass and takes a long drink from it. "Truth or dare, Shiloh."
"What?" She blinks. "It's Monroe's turn."
It's an effort to keep my body relaxed. I might have started this game, but it's rapidly slipping beyond my control. Maybe that should concern me, but there's something magical brewing between the three of us. It's hot and sticky and oh so dangerous. I want to see what happens when this powder keg explodes. I wave a lazy hand through the air. "The previous person can choose whoever they like."
She narrows her eyes, but finally says, "Dare."
"Take off your pants."
What was the most difficult scene to write?
Probably one of the earlier scenes with Shiloh and Broderick. Friends to lovers is not my natural trope to write and navigating their messy emotions was tricky at times.
Monroe's words echo through my mind in really unpleasant way. "She's dangerous."
Shiloh laughs, but not like anything is funny. "So is every other person in this house. So am I. Or did you forget everything I've done since I joined up with you?"
"I haven't forgotten." We all have blood on our hands. Every single one of us. Fighting hasn't been the first course of action, but most of the time it's inevitable. When we were exiled from Sabine Valley, we lost our claim to anything resembling home territory. No matter where we went, we were always the interlopers, always the one that had to be driven off by whoever owned that space. Often violently.
She searches my face. I don't know what my expression is doing, but whatever she's looking for, she doesn't seem to find. "This is a mess."
"You can say that again."
Would you say this book showcases your writing style or is it a departure for you?
I would say it showcases my writing style. Some of the early reviews call it a slow burn, but it's MY version of a slow burn (in that there is literally sex in the second chapter, but the full threesome scene doesn't happen until much later).
What do you want people to take away from reading this book?
I mostly want people to get a nice little escape from reality when they read this book.
What are you currently working on? What other releases do you have planned?
I'm currently working on drafting the third Dark Olympus book. My next release is the first in that series, which is Neon Gods, a Hades and Persephone retelling. After that, there's more Sabine Valley (Cohen and Donovan) and some dessert projects.
Thanks for blogging at HJ!
Giveaway:

A $25 Amazon Gift card
To enter Giveaway: Please complete the Rafflecopter form and Post a comment to this Q:

Do you prefer enemies to lovers or friends to lovers?
Excerpt from Broderick:
"It's entirely possible that I'm a little drunk." Whoops.
Shiloh giggles. Giggles. "It's entirely possible that I am, too." She grins at me, firmly back in the present. "Well, go on. Can you beat that toast?"
"Of course I can." I lift my glass and hold her gaze. "To the kisses we've snatched, and vice versa."
We take the shots and Shiloh sets hers down with a clink. "Monroe, you've got a positively wicked mouth."
"I know." I grin at her. "I'd love to show it to you sometime."
Pink steals across Shiloh's face. "You're Broderick's Bride."
"That's not a no." I reach up and brush my thumb over her skin, alcohol and lust making me even bolder than normal. The pink beneath her skin gets more intense. "I bet you blush all over your body, don't you?"
"Monroe," she says it like she's pleading with me, but she leans in a little, pressing her cheek into the palm of my hand. "Bride."
"You know as well as I do that this handfasting doesn't mean a damn thing beyond politics." I try to keep the bitterness out of my tone, but alcohol loosens my tongue too thoroughly.
"Still…"
I can't stop staring at her mouth. I hadn't mean to actually get tipsy—or even to get her tipsy. I simply thought a change of pace would be enough to get things rolling. Apparently I underestimated tequila. Too late to go back now. "I would really like to kiss you."
"We shouldn't." She licks her lips. "But, uh, I'd really like you to kiss me. Just this once."
Just this once? Over my dead body.
"Hey, Grandmother." I speak without looking away from Shiloh's pretty face. "You have somewhere around here where we can have a private conversation?
The old woman snorts. "Don't try to butter me up now, blondie."
I dig out my wallet and throw far too much cash onto the bar, alcohol and desire making my hands clumsy. "How about now?"
She eyes the cash and jerks her thumb toward and tiny door in the back corner. "Employee bathroom. Key is on a hook next to the door. Do not fuck up my space."
"Yes, ma'am." I grab Shiloh's hand. "Just this once," I lie.
"Just this once." She lets me tow her around the bar and back to the narrow door. I find the key and unlock it and then we're through. The room is tiny, barely large for a toilet, a sink, and a mirror. It's perfect.
Shiloh pulls the door shut behind her. She blinks those big eyes at me. "This changes nothing."
"Of course." Another lie. I know myself well enough to recognize that one taste of this woman won't be nearly enough. Knowing that touching her will drive Broderick out of his fucking mind is only part of the attraction. The truth is that she's grown on me and I want to find out if I was right that first night; if she tastes as sweet as she looks.
Shiloh doesn't hesitate. She sinks her fingers into my hair and kisses me. She tastes like tequila and goes to my head twice as fast. I grab her hips and push her back against the door. It's supposed to be a smooth move, but I stagger a little and she ends up straddling my thigh.
Well, this works even better.
I nip her bottom lip, loving the way she shivers as she starts rocking against my leg. There are too many layers between us. I start to go to my knees, but she tightens her grip on my hair. "No."
"No?" My voice is on the far side of raspy.
"The pants stay on." She drags in a shuddering breath. "They stay buttoned."
"Okay, love. They stay on and buttoned." I drag my hands down her back, enjoying the way her lean muscles flex in response, and grab her ass. She's smaller through the breasts and hips than I am, but not by much. I haven't seen Shiloh fight, but from the way she moves and how deceptively muscular she is, I bet she's a scrapper. "Do you really think I need to touch your skin to make you come?"
"No?"
I pause. "Is that an answer to my question or are you telling me to stop?"
"Don't stop." Shiloh gives a breathless laugh. "What I'm saying is… Prove it."
I grin against her lips. "With pleasure." I grip her ass and pull her closer, guiding her hips in a slow, grinding motion. She catches her breath and her head bumps the door, her eyes sliding shut. I take the opportunity to kiss up the length of her throat. Her skin is so fucking soft, it drives me out of my damned mind. I want to kiss her everywhere, to taste her, to…
I can't focus. This is less seduction than it is a frenzy. Shiloh's exhales shudder out and then her hands are back in my hair, tugging my mouth up to meet hers. She rolls her body against mine, fucking my leg in a sexy writhing motion. I might be guiding her hips, but she's the one who angles my face for a deeper kiss. She bites my bottom lip hard enough to sting. "Don't stop."
"Never." I release one hip and skate my hand up her side to cup her breast. It's so, so tempting to delve beneath the soft fabric of her tank top, but I manage to resist. Barely. Instead, I pluck lightly at her nipple, teasing it to a hard peak through her thin bra.
She bucks a little. "Harder."
The pretty little thing likes a dose pain with her pleasure. Of course she does. I'm quickly coming to the realization that Shiloh is a delight in every way. When I finally get her naked and in my bed, I have no doubt she'll delight and surprise me there, too. I pinch her nipple, hard, and kiss her to muffle her moan.
She grinds down harder on my thigh, rocking frantically. Our kiss goes messy and then she's coming with the sweetest little whimper I've ever heard. I nearly orgasm myself just from that sound alone.
Shiloh slumps back against the door and blinks those big eyes at me. "Whoa."
"Told you so." I press a quick kiss to her lips, but I can read the doubt clouding her face well enough to know not to press the situation now. I smooth my thumb over her skin, but my lipstick is everywhere. "Let's get you cleaned up."
"But—" She closes her eyes and exhales slowly. "Right. You're right. Our ride will be here soon."
I grab some paper towels and stick them beneath the facet. Shiloh starts to reach for them, but I shake my head. "Let me." Thought I expect her to argue, she holds perfectly still as I clean up the worst of it. Without some soap or makeup remover, I can't fully get rid of the red staining her mouth and neck, but I'm good with that. I like seeing my mark on her, even one so temporary as this. My mouth is just as much a loss cause. No one looking at us will have any doubt about what we've been up to.
Good.
Except it doesn't really feel like a plot coming together as we stare at each other. I wasn't thinking about anything but making her come…and now I want to do it again as soon as humanly possible.
Patience. I can exhibit some patience. In theory.
So, instead, of kissing Shiloh again, I reach around her body and pull the door open. "Let's go."
I wasn't thinking beyond getting in her pants after that second shot. I really wasn't. But when we walk out of the bathroom, the first thing I see is Broderick fucking Paine standing at the bar. His gaze swings to us, jumping from my mouth to Shiloh's and then to her neck. The control in his expression flickers and the true fury he directs my way makes my pussy clench.
"Oh fuck," Shiloh whispers.
Excerpt. © Reprinted by permission. All rights reserved.


Book Info:
Seven Brothers. Seven Brides. A revenge seven years in the making.
I never wanted any part of my family's revenge, but no one asked my opinion when my oldest brother handed out the Brides during Lammas. Now I'm saddled with Monroe, heir to the Amazon faction. She's as deadly as she is wild, and the opposite of the woman I really want. Shiloh. My best friend.
The night Monroe and I consummate our handfasting is like nothing I've experienced before. It's dark and brutal and intoxicating in a way I'm not prepared for. Which means it can never happen again.
But now, every time I turn around, I find Monroe and Shiloh together. She's spitefully seducing my best friend, the woman I love, and there's not a damn thing I can do about it.
I can't have one without the other, but letting Monroe close means I might lose myself completely.
Content warning: history of child abuse (physical)
Book Links: Amazon | B&N | iTunes | Kobo | Google |


Meet the Author:
Katee Robert is a New York Times and USA Today bestselling author of contemporary romance and romantic suspense. Entertainment Weekly calls her writing "unspeakably hot." Her books have sold over a million copies. She lives in the Pacific Northwest with her husband, children, a cat who thinks he's a dog, and two Great Danes who think they're lap dogs.
Website | Facebook | Twitter | Instagram | GoodReads |