Today it is my pleasure to Welcome author
Jennie Marts
to HJ!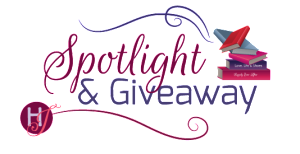 Hi Jennie and welcome to HJ! We're so excited to chat with you about your new release, Every Bit a Cowboy: Creedence Horse Rescue Book 4!

Hi there! I'm Jennie Marts and I'm so excited to be here! I love this site and have found so many new and fun books to read here. I'm excited to introduce you to Carley and Knox, the hero and heroine in my new book, Every Bit a Cowboy. It's the fifth book in the award-winning Creedence Horse Rescue series. If you like books with hot cowboys, witty banter, and lots of fun animal antics, then this book is for you! And I think Knox Garrison is the swoony cowboy who will become your next new book boyfriend!

Please summarize the book for the readers here: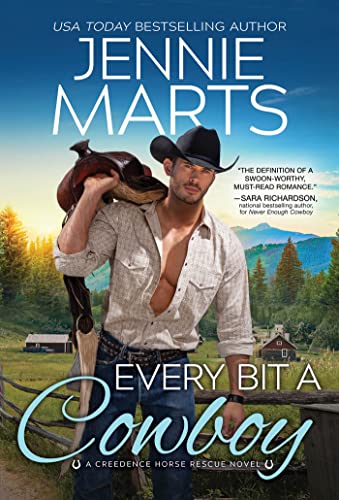 Divorced hairdresser, Carley Chapman, has no time for or interest in a romantic relationship. She's been there, done that, and walked away with her self-confidence in tatters. Then Knox Garrison walks into her life. Sure, the cute cowboy is fun to flirt with, but that's all. That is, until her smarmy ex comes back into her life, acting like he wants to take over her salon and win her back.
Sheriff deputy, Knox Garrison, has been crushing on the gorgeous hairdresser, and he hopes offering to help her move might score him a date. He's good at fixing things, but when he tries to protect her by accidentally telling her no-good ex that he and Carley are engaged, he's not sure if he fixed something or made it ten times worse.
Now Carley has a fake fiancé, a flooded salon, and feelings for the cute deputy that are anything but phony. But can she risk her heart again?

Please share your favorite line(s) or quote from this book:
There is a part in the story where Knox stops by the ranch where Carley is doing the hair of a bridal party. When he walks in, one of the bridesmaids mistakes him for a stripper, and this is one of my favorite scenes of the book. Everybody's favorite aunt, Aunt Sassy, the eighty-something spunky character who is in all the books in the series, shows up after the fact and is so disappointed that she missed the stripper, and this is one of my favorite lines of the book…
"What?" Aunt Sassy asked from behind them as she pushed through the door of the bunkhouse. "You all got a stripper? I didn't know you were getting a stripper. I would've skipped my dentist appointment entirely and come straight here if I'd known. Did he start yet?" She snapped open her handbag. "I know I have some cash in here. Do I need one-dollar bills, or do you think he has change?"
Please share a few Fun facts about this book…
I wrote this book during one of the craziest times of my life—during a complete home renovation! We completely gutted our entire main level (kitchen and living room) down to the studs and knocked out the whole front of our house to add on an additional thirteen feet. And we lived there while we did it! It was during winter and the whole front part of our house was open so there was very little heat, and we had no kitchen beyond a refrigerator (no sink even) for over two months, and we had different workers at the house every day. We did the kitchen ourselves and put in 26 IKEA cabinets, which started as 311 separate boxes in our garage! (Building 26 IKEA cabinets is a true test to your marriage-lol!). I was in the last half of the book and hardly ever left the house, but one of the workers brought us the ultimate gift and gave my son and I Covid. There was one day when I couldn't stop crying and my husband came home and said, 'pack a bag and your laptop, I'm sending you to a hotel" (best husband ever!!!), and I spent three glorious days in a hotel room with a soft bed, plenty of heat, tucked into the sofa, and wrote like mad. It was a nutty time last year, but I'm happy to say that my husband and I are still married (lol) and we now have a beautifully remodeled home, a gorgeous fireplace and addition, and an amazing kitchen. And the book did get finished and I absolutely love it!
What first attracts your Hero to the Heroine and vice versa?
Carley and Knox met in the last book, NEVER ENOUGH COWBOY, when Knox accidentally sprays Carley, who was wearing a white dress, with the hose and completely douses her. They start out just flirting with each other, Knox is already smitten, but after a bad marriage, Carley is wary of trusting anyone with her heart. But Knox just keeps showing up whenever she needs him and expecting nothing in return. And he makes her laugh.
Did any scene have you blushing, crying or laughing while writing it? And Why?
I had a lot of fun with one part where Knox and Carley get caught by her grandmother-in-law while they are making out in the laundry room of the bunkhouse right after they finish moving her in. Here's a little bit from that scene:
She really should stop this before it went even further. If he kept kissing her like he'd been doing, more clothes than just his shirt were bound to come off. Her brain kept trying to convince her that was a bad idea, but her body was overruling its objections as his lips found hers again.
Then she was lost, enraptured by the feel of his arms as he pulled her close and the press of his hungry lips as they slanted against hers.
She froze mid-kiss, pulling away as she heard the distinctive creak of the front door opening followed by an elderly female voice calling down the hallway. "Yoo-hoo. Anybody home?"
Carley's eyes went wide. "It's Evelyn," she whispered, adjusting her shirt as she hopped off the dryer.
"Oh, shoot. Do you think she knows I'm here?" he whispered back.
"Yes, your truck's outside," she said quietly before raising her voice. "Be out in a minute."
"It's gonna take me more than a minute to be presentable to Miss Evelyn," he said.
Carley held back a giggle as she slid past him. "I'll distract her while you…get yourself together."
"Good. I'll just take a quick cold shower and try to solve some algebraic equations in my head."
"Algebraic equations? I thought guys always thought about hockey stats or something else equally boring."
"Not me. And hockey stats aren't boring. I love hockey. But I hate algebra. Thinking about cleaning out the moldy food in the refrigerator sometimes helps too."
She made a face. "You're weird. Hot. But still weird…" She peered down at his dilemma, which hadn't lessened in the least. "Whatever it takes. Miss Evelyn might not have the best eyesight in the world, but there's no way she'll miss that."
His lips curved into a sexy grin that had her stomach swirling and her lady parts yearning for another ride on the dryer. "Thank you. I'm taking that as a compliment."
"Oh my gosh." She laughed as she playfully swatted his arm. "X equals Y plus nine squared to the root of seven…"
He raised an eyebrow. "Did you even take algebra?"
She laughed. "Yes, and that's exactly how I remember it, a bunch of letters with random math-sounding words and numbers in between."
"Okay, okay." He laughed with her as he scooted out of her way. "I'll try to do some actual mathematical equations and be out in a sec."
She took a deep breath then smoothed her hair and exited the laundry room. "Evelyn, hi," she said to the woman standing in her kitchen.
"The door was open, so I let myself in. Hope that's okay." She held a Pyrex casserole dish, and the cat had left the sofa and was weaving around Evelyn's ankles, leaving a trail of yellow and white hair on the woman's pant legs.
"Of course. I'm always happy to see you, but what are you doing here?"
"I knew Bryn was out of town, so I wanted to welcome you to your new home by bringing you a hot dish. But it seems like you already have one of those," she said, nodding toward the hallway where Knox was coming out of the laundry room and pulling his T-shirt over his head.
Warmth flooded Carley's cheeks. "It's not what you think."
"Whatever you say, dear," Evelyn said, gazing at Carley with an impish grin that told her she knew exactly what to think.
"Really, his shirt just got wet, and we threw it in the dryer," she sputtered.
"Of course it did. What other reason would he have for taking his shirt off?"
Readers should read this book….
because Knox Garrison is one of the swooniest cowboy they will ever meet. I love a good fake relationship and Carley and Knox are such a great couple. The book is so much fun, but it's also heart-breaking at times with some of the rescue animals and with Carley's self-doubt, but Knox is always there to build her back up again. It's sexy and sweet, steamy and swoony, and I think readers are just going to fall in love with it.
What are you currently working on? What other releases do you have in the works?
I've got a new release coming out this summer that is a cozy mystery with Crooked Lane Books. It's called TAKE THE HONEY AND RUN, and it's a beekeeping mystery where a single mom mystery writer returns to her hometown and stumbles upon the dead body of the mayor and her beekeeping granny is the prime suspect. She finds herself in several sticky situations as she races to find the real culprit before her grandmother ends up bee-hind bars. It's a lot of fun, and I had a great time getting to write another mystery.
I just finished a fun novella for an anthology, WEDDING TAILS, an anthology where every story features a wedding and a dog. My story is set at Elle and Brody's wedding (from WHEN A COWBOY LOVES A WOMAN) and introduces readers to Ford Lassiter, a sullen cowboy who doesn't trust love, and Elizabeth Cole, a curvy tax accountant who is searching for the courage to make some changes in her life. They spent a super sexy weekend together and their story is the start of a new series I'm working on called Lassiter Ranch. This series is about three abandoned cowboys, born in heartbreak and bonded by brotherhood, who are brought together by the fierce love of the grandparents who took them in and the ranch that's the only home they've ever known. Half-brothers, Ford, Dodge, and Chevy, are named after the pickups their no-good fathers drove away from them in. The first book, LOVE AT FIRST COWBOY, is available for preorder now.

Thanks for blogging at HJ!
Giveaway:

I will be giving away a ten dollar Amazon gift card and a Kindle ebook copy of A Cowboy State of Mind, the first book in the Creedence Horse Rescue series.
To enter Giveaway: Please complete the Rafflecopter form and Post a comment to this Q:

In this story, Knox loves fixing things and he often accepts payment for his work in the form of a box of Twinkies. He knows they aren't good for him, but he just loves the yellow cream-filled cakes. I am that way with Crunchy Cheetos. I know they are processed and who even knows what kind of food they are, but I just LOVE them. Confession time—do you have any fun treat that you know is awful, but you just love it anyway?
Excerpt from Every Bit a Cowboy: Creedence Horse Rescue Book 4:
It would be easy—the easiest thing in the world to fall into his arms and lose herself in Knox Garrison for an afternoon. But the hard part would come afterwards, when she backed away, which she knew she would. She just couldn't let herself trust that any man—no matter how good he seemed—would stick around. And not destroy her again.
An afternoon with Knox might be worth the risk.
The room suddenly seemed to have shrunk in size as Knox came around to her side of the bed. He reached for one of the pillowcases on the nightstand behind her, and she sucked in a quick breath as his arm brushed against her hip. As if it had a mind of its own, her hand raised up and came within an inch of touching his chest. Hovering in the air, it was as if an electric force field were holding it there, so close to touching him, her hand wanting to bridge the distance while her mind kept it at bay.
"Could I get a pillow for this?" Knox asked, peering down at her.
He was so close. She could see the tiny flecks of gold in his deep brown eyes, and she just wanted to sink into their gaze.
"Could I?" he asked, his voice low, as he leaned just a tad closer.
Could he what? Kiss her? Toss her onto the bed and have his way with her?
Before she could answer, she jerked as a sound came from the kitchen. "What was that?"
His lips curved into a sexy smile. "Dang. I know my heart's pounding pretty hard, but I didn't think you could actually hear it."
She cocked an eyebrow. "Really?"
His grin turned sheepish. "Yeah, even I heard how corny that sounded."
A hushed slide followed by a scrape of wood sounded, and she gripped his arm. "See, there it is again," she whispered. "I told you I heard something."
His brow furrowed, and he tilted his head toward the door as if that could help him to hear better.
Another whoosh followed by a thump.
"Sounds like someone's here," Knox said, already moving toward the door. His hand went to his hip as if reaching for his service weapon. But he wasn't in uniform, and she caught the motion of his fingers as they flexed closed then opened again. "You expecting anyone?"
"No."
"Stay here," he said, just as she took his hand and squeezed it in a death grip.
"No way. I'm coming with you. What if it's a serial killer?"
He looked down at their hands, and she swore she caught the ghost of a smile pull at the corners of his lips before another whoosh sounded and his expression turned guarded. He cautiously approached the doorway then slowly moved his head around the frame, his muscles tense.
The tension left his shoulders, and he let out a chuckle. Tilting his head toward the door, he said, "You were almost right. It's not quite a serial killer, but you could call him a cereal sniper because it looks like he's trying to take off with your Lucky Charms."
"What?" She peered around him and the door frame to see a black and white billy goat in her kitchen, his teeth clamped onto one of the flaps of her open pantry box as he systematically pulled it toward the screen door they'd propped open earlier when they'd been bringing stuff in. The goat would take a few steps back and then pull the box toward him, sliding it over the hardwood and making the whooshing and thumping sounds they'd been hearing.
Carley stepped into the hallway. "Hey, let go of that." She'd met Otis before, the ornery goat trying to abscond with her Lucky Charms. "And don't think I don't see you two as well." She pointed to Shamus, the mini-horse Bryn had rescued earlier that year, standing in the doorway, and Tiny, the pig, on the porch behind him, innocently watching as if she had nothing to do with the moving box heist.
Otis ignored her, and instead doubled his efforts as he tugged the box closer to the door.
"Oh, no, you don't," she said, hurrying down the hall and grabbing the other side of the box. "You wanna give me a hand here, Deputy?" she called back to Knox.
He laughed as he followed her into the kitchen. "I'm not sure what the right move is here. Do I try to help you get the box away from him or do I try to get him to drop the box?"
"I'm not sure, either. You're the one trained for crisis situations."
"I don't think I've ever had a goat crisis before."
"This is Otis, he's always sneaking around trying to steal stuff, especially if it's edible."
"Oh yeah, I've heard the story of how Ethan rescued your half-naked sister from the hay loft after Otis had stolen her skirt."
"That's nothing. My friend Nora was all the way naked when she had a tug-of-war with him over her towel after she'd just gotten out of the shower."
"Half-naked? All the way naked? Dang, now I feel like I'm getting the short end of the stick in this goat battle." He reached for her edge of the box. "I'll spot you if you want to strip down to your undies real quick. We don't want to buck the trend."
"Nice try, buster. But not a chance."
He arched one eyebrow. "Would you consider at least taking your top off?"
She had to laugh. "Would you?"
"Heck, yes."
"You goofball," she said, still laughing. "Just help me save this box."
"You sure?" he asked, reaching for the bottom of his shirt. "I'll do it." Before he could pull it off, Otis must have sensed a break in their concentration and given one more massive pull at his side of the box. The cardboard ripped, sending Pasta-roni and cake mixes toppling out and the six-pack of soda that had been precariously perched on the edge of the box sliding off the side. It crashed to the hardwood, and the top of one of the cans burst open and soda shot out, spraying directly at Knox's chest.
The soda spray must have frightened Otis because he let go of the flap and took a step back. Never one to give up a fight, he snatched up a box of vanilla cake mix and made a mad dash out the door.
Carley fell back on her bottom, laughing as Knox waved his arms in an attempt to try to fend off the last sprays of the pop.
"Should I go after him?" he asked, as the soda can fizzled out.
Carley shook her head. "Oh, let him have it. It's not like he can actually make the cake."
"Right? You mean because he doesn't have vegetable oil and three eggs?"
She laughed again. "I was thinking because he doesn't have an oven. But you make a valid point too."
"Man, this stuff is sticky." He pulled his wet shirt away from his chest then offered her another one of his flirty grins. "I think you're gonna get your request because I've gotta take this shirt off."
Excerpt. © Reprinted by permission. All rights reserved.


Book Info:
There's nothing quite like a cowboy.
No matter how swoony the cute cowboy is, romance is the last thing on Carley Chapman's mind. But it's hard to ignore Knox Garrison and the spark of attraction she feels every time he's near. When a water line break floods her building, she's forced to move her salon out to the Horse Rescue ranch, and Knox shows up to help. But things get even more complicated when Carley's no-good ex comes sniffing around and Knox "fixes" the problem by telling him they're engaged…
"Filled with humor, heart and real love." —Michelle Major, USA Today bestselling author
Book Links:  Amazon | B&N | iTunes | kobo | Google |


Meet the Author:
Jennie Marts is the USA TODAY Best-selling author of award-winning books filled with love, laughter, and always a happily ever after. Readers call her books "laugh out loud" funny and the "perfect mix of romance, humor, and steam." Fic Central claimed one of her books was "the most fun I've had reading in years."
She is living her own happily ever after in the mountains of Colorado with her husband, two dogs, and a parakeet who loves to tweet to the oldies. She's addicted to Diet Coke, adores Cheetos, and believes you can't have too many books, shoes, or friends.
Her books range from western romance to cozy mysteries but they all have the charm and appeal of quirky small town life. She loves genre-mashups like adding romance to her Page Turners cozy mysteries and creating the hockey-playing cowboys in the Cowboys of Creedence. The same small town community comes to life with more animal antics in her latest Creedence Horse Rescue series. And her sassy heroines and hunky heroes carry over in her heartwarming, feel good romances from Hallmark Publishing.
Jennie loves to hear from readers. Follow her on Facebook at Jennie Marts Books, or Twitter at @JennieMarts. Visit her at www.jenniemarts.com and sign up for her newsletter to keep up with the latest news and releases.
Website | Facebook | Twitter | Instagram | GoodReads |