Today, HJ is pleased to share with you

Marie Force's

new release: 

Fatal Accusation

A deadly serious affair…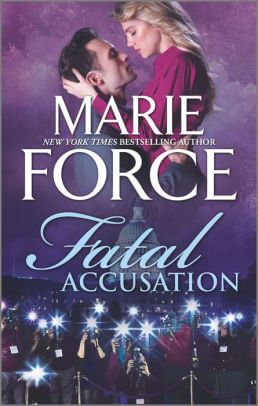 The story breaks as Metro PD lieutenant Sam Holland attends a dinner party with her husband, Vice President Nick Cappuano: President Nelson is accused of having an affair. More shocking still, campaign staffer Tara Weber claims the president fathered her newborn son—while the First Lady was undergoing secret cancer treatment.

When a high-profile murder case hits Sam's desk, she's shocked to uncover a connection to the presidential scandal. With the department caught up in its own internal scandals, and the chief's job hanging by a thread, Sam questions who she can trust as her team uncovers information that clouds an already-murky case. And with calls for the president to resign getting louder by the minute, Sam needs to close this case before she finds herself living at 1600 Pennsylvania Avenue…
Enjoy an exclusive excerpt from Fatal Accusation 
Nick dropped the morning papers on the table.
"I'm almost afraid to look," Sam said.
"I'm completely afraid to look." Nick flipped open the Washington Star, which boasted the banner headline Nelson Acknowledges Affair, Denies Fathering Child.
"Ugh," Sam said.
"That about sums it up."
Sam stood over his shoulder as they read the salacious details about the president's affair with the campaign staffer.
"Sources tell the Star that the affair began during the campaign, during which time the president and Ms. Weber were near-constant companions."
Reading the words out loud, Sam felt her stomach start to ache again as the ramifications compounded. Nelson had barely hung on after his son was charged in a series of politically motivated murders, and now this…
"The affair is bad enough," Nick said, "but when word gets out that it happened while his wife had cancer? People will never forgive him for that."
"They don't have to forgive him. They just need to keep him around for three more years."
"Which is a big ask after this."
That didn't help Sam's stomach. "What're your people saying?"
"I haven't looked yet."
"Are you in denial?"
He looked up at her. "Aren't you?"
"Hell, yes. I can't believe this is happening so soon after the other thing. I mean how much scandal can one administration handle? Not to mention the fuel he's giving the opposition for the next election cycle. Look at them, they'll say, they elected a president—twice—whose son was a murderer and who cheated on his wife at her lowest moment."
Sam liked to think that the next election cycle wouldn't be their problem, but with Nick as the heir apparent, it was still very much their concern. Or his concern, she should say. She tried to stay detached from the realities of his role as vice president. Not that she didn't fully support him. She did, but she supported him from inside a comfortable bubble that kept her insulated from the possibility that he might have to become president at any moment.
Sam's phone rang with a call from Darren Tabor, a reporter with the Washington Star who'd become a friend of sorts over the years.
She took the call. "Morning."
"Morning. Have you seen the paper?"
"Looking at it now."
"You could make my day, my life and my career with a comment from yourself and/or the vice president about your feelings on the latest Nelson scandal."
"It makes me sad, Darren."
"What does?"
"That after all this time, it seems you don't know me at all." Sam had to force herself not to crack up at her own joke.
"Sam! Come on! It's the story of the year, and you guys certainly have a stake in it."
She met Nick's gaze and held it. "That may be true, but I can assure you that I speak for the vice president when I tell you we'll have no comment about it now or ever."
Her husband gave a subtle nod of approval.
"How can you say that? If Nelson has to resign—"
"Darren, listen to me. We're well aware of what could happen, but we're not going to speculate publicly. And that's not for attribution."
"You're killing me Sam."
"No, I'm not, because I wouldn't want to have to deal with the paperwork that would involve."
His frustrated growl came through the phone loud and clear.
"Have a good day, Darren."
"Yeah, you too."
Sam closed her phone with the satisfying slap that kept her firmly in the 3G while the rest of the world had long ago moved on. "That went rather well, if I do say so myself."
Nick laughed. "You missed your calling as a political spokesperson, my love."
Sam rolled her eyes. "That is the last job I could ever do. I don't possess an ounce of diplomacy or restraint."
"And that's why I love you so much."
Raising a brow in his direction, she said, "That's why?"
"One of so many reasons, I can't count them all."
"And that, right there, is why you're the politician. You always have the perfect line at the ready."
"Only when I'm discussing my gorgeous, sexy, non-politically-correct wife."
"You're good, Mr. Vice President. I gotta give you that."
His shit-eating grin made him sexier than he already was, if that was possible.
Excerpt. ©Marie Force. Posted by arrangement with the publisher. All rights reserved.


Giveaway:

One (1) print copy of FATAL ACCUSATION by Marie Force (limited to North American Entrants)
To enter Giveaway: Please complete the Rafflecopter form and post a comment to this Q:

What did you think of the excerpt spotlighted here? Leave a comment with your thoughts on the book…
Meet the Author:
Author Bio
Marie Force is the New York Times bestselling author of contemporary romance, romantic suspense, historical romance and erotic romance. Her series include the indie-published Gansett Island, Treading Water, Butler, Vermont and Quantum Series as well as the Fatal Series from Harlequin Books.
Her books have sold more than 9 million copies worldwide, have been translated into more than a dozen languages and have appeared on the New York Times bestseller list 30 times. She is also a USA Today and Wall Street Journal bestseller, a Speigel bestseller in Germany, a frequent speaker and publishing workshop presenter.
Her goals in life are simple—to finish raising two happy, healthy, productive young adults, to keep writing books for as long as she possibly can and to never be on a flight that makes the news.
Social Media Links
Website: http://marieforce.com/
Facebook: https://www.facebook.com/MarieForceAuthor
Twitter: https://twitter.com/MarieForce
Instagram: https://www.instagram.com/marieforceauthor/
Goodreads: https://www.goodreads.com/author/show/1508588.Marie_Force
Buy Links
Amazon: https://www.amazon.com/dp/1335041516
Barnes & Noble: https://www.barnesandnoble.com/w/fatal-accusation-marie-force/1130031954
iTunes: https://books.apple.com/us/book/fatal-accusation/id1447495428
Kobo: https://www.kobo.com/us/en/ebook/fatal-accusation-1
Google: https://play.google.com/store/books/details/Marie_Force_Fatal_Accusation?id=_rqADwAAQBAJ