Today, HJ is pleased to share with you

Kate McCarthy's

new release: 

Fighting Absolution

At fifteen, Jamie Murphy finds herself broken and alone, convinced she doesn't need anyone.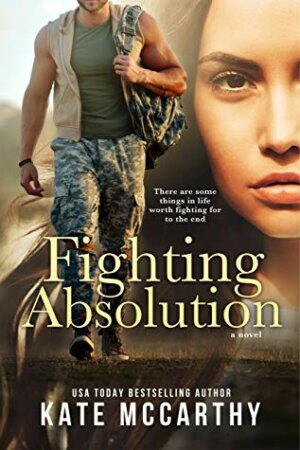 Until she does.

Bear is the boy behind the fence, the one who was there for her when no one else was.

Until he's not.

Left with nothing, Jamie joins the army hoping it will give her purpose. The last thing she expects is the best friend from her past to reappear in the dusty plains of a war-torn country. No longer the boy she once knew, Bear is now a man: big, bearded, and SAS—one of the army's elite.

Soon Jamie finds herself not only fighting against her enemies, but her feelings for a man who left her once before. Can she risk losing him all over again?

Fighting Absolution is a friends to lovers romance and features characters from Fighting Redemption, but is written as a standalone.
Enjoy an exclusive excerpt from Fighting Absolution 
I tug my shirt over my head and toss it to the floor. I'm switching out my jeans for gym shorts when my phone dings. I tug them on and grab my phone from the counter.
Little Warrior: I can't sleep. I should probably get a workout in, but I can't seem to move. Tell me about that house you were saving for?
A heavy sigh escapes me. I hate the thought of her stuck there. It leaves me feeling helpless, which is the absolute worst. If my emails or messages help bring even the smallest smile to her face, then it's got to be better than nothing … right?
I take a seat out on the tiny balcony of my lodgings at the barracks. There's room for two craptastic little chairs. They're white, plastic, and have seen better days, having been stuck outside in the elements for well over a year. I take a seat in one, the sun hitting my bare chest as I kick my legs up on the railing and cross them at the ankles.
Bear: It's going to cost me a bit, this house.
Little Warrior: Why's that?
Bear: Because I want to live by the beach. My bedroom has to have a balcony that overlooks the ocean. I want to lie in bed at night with the doors wide open while I listen to the waves crash against the shore.
Little Warrior: You like the beach?
Bear: Yeah. I've never told anyone this, but sometimes I'll grab a towel and go crash on the beach at night. It helps me sleep. Don't know why. It gets a bit cold in the early hours, but nothing beats waking to the hazy pink and orange across the horizon. I want to be able to do that every day without getting sand stuck in my crack.
Little Warrior: Poor little Bear, getting a bum rash from sleeping on the beach.
Bear: Careful. You cracked a joke. Isn't that your quota for the year?
Little Warrior: Ha!
She laughed. It makes me feel like I've achieved something important.
Bear: So this house has to have at least five bedrooms. And it doesn't have to be some impressive mansion. Just a home. I don't need to compete with the neighbours on either side of me. My dick is plenty big enough.
Little Warrior: Five?!?! That seems a little excessive.
Bear: I want kids. Lots of 'em. I haven't told anyone this before either, but I want to be a dad. So bad.
I want to find a girl and fall in love. I want to know what it feels like to look at someone knowing I could never live without them. I want to get married. I want to watch her walk down the aisle towards me, my heart busting from my chest at the knowledge she was mine. I want to feel my babies growing inside her belly, and watch them grow with her by my side. I want to fill that house by the beach with all their little personalities. Take them camping. Teach them about the Earth, and life, and what it means to be a good person. I want it all.
Excerpt. ©Kate McCarthy. Posted by arrangement with the publisher. All rights reserved.


Giveaway:

One signed paperback copy of Fighting Absolution by Kate McCarthy
To enter Giveaway: Please complete the Rafflecopter form and post a comment to this Q:

What did you think of the excerpt spotlighted here? Leave a comment with your thoughts on the book…
Meet the Author:
Kate is the USA Today Bestselling Author of The End Game and Goodreads Nominee for Best Contemporary Romance Fighting Redemption, and the Give Me series.
When she's not plotting or writing, she works as a financial officer.
Kate has two mini me's (both bookworms to her delight), three Dachshunds named Petie, Maximus and Thor, and a fish named Cash (who unfortunately suffers resting bitch face). She lives in Brisbane, Australia and decided to miraculously stop ageing at 30.
Connect with Kate:
Facebook: https://www.facebook.com/KateMcCarthyAuthor
Twitter: https://twitter.com/KMacinOz
Instagram: https://www.instagram.com/authorkatemccarthy/
Website: https://katemccarthy.net/
Download your copy today or read FREE in Kindle Unlimited!
Amazon: https://amzn.to/2YkqAtT
Amazon Worldwide: mybook.to/FightingAbsolution
Add to Goodreads: http://bit.ly/2NZNUco