Today, HJ is pleased to share with you

Jodi Ellen Malpas's

new release: 

Gentleman Sinner

Fall in love with a mysterious and tortured hero in this #1 New York Times bestselling author's steamy, suspenseful romance about a British alpha and the one woman who may be able to save him — as long as he can protect her from his dark past.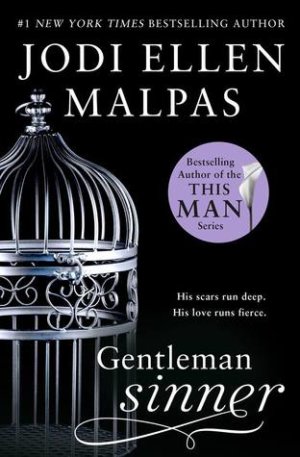 Izzy White knows of the darkness in this world. After all, she escaped it long ago. Determined not to let her past beat her, Izzy has a secure, stable life with a job she loves in nursing. But one act of kindness will completely upend everything she's so carefully built-putting her right back in the crosshairs of danger she's been so desperate to avoid.

When Theo Kane shows up like a knight in shining armor, Izzy can't help thinking she's been saved from one threat and exposed to another. His imposing physique, the harsh lines of his face, and the wariness of everyone who comes close are just a few clues to Theo Kane's notorious reputation. The man is positively terrifying. But with Izzy, he's tender and a complete gentleman, and her fascination with the mysterious beast of a man becomes too powerful for her to walk away.

As Theo's demons come to light, running becomes even more impossible. And yet staying together could doom them both.
Enjoy an exclusive excerpt from Gentleman Sinner 
My steps slow as I'm hit with opulence of ridiculous proportions. And the atmosphere. I'm not imagining it. Theo's presence is hanging heavy in the air, and I haven't even laid eyes on him yet. My weak legs give a little, my hand reaching for a nearby table that's decorated with an elaborate flower arrangement.
"The lounge is this way." Callum walks off, and I have to take a few moments to pull myself together before I follow him. When we arrive in the extensive seating area, the atmosphere thickens further, telling me Theo is nearer now. "Have a seat," Callum instructs, and I do, quickly, needing to sit down and take a breath. "Mr. Kane will be with you in a moment." He leaves, closing the door behind him.
Mr. Kane? Seriously. They're supposed to be friends. I place my hands in my lap, willing my heart to slow before I pass out. And I find myself laughing out loud at the thought of Theo walking in and finding me facedown on the floor. I stand, fidgety, and then I sit back down and cross one leg over the other. Then I swap legs, unable to get comfy. I sit forward, then to the side, ruffing up my hair and smacking my lips together.
Where is he? I stare at the door, getting progressively more restless while I wait. He demands I be here, and then leaves me waiting? What makes him think his time is more valuable than mine? Suddenly irritated, I stand and pull my dress down, set on going to find Callum to tell him that I'm out of here, but as I turn to collect my purse from the couch, something across the room catches my eye.
And there goes my world again, turning up on its head. He's leaning against the doorframe across the room—big and gorgeous, and with a dimpled smile. His gray trousers have to be custom tailored for those long legs, and a navy shirt fits perfectly across his chest, his sleeves rolled up to reveal some pretty spectacular forearms.
I force my eyes up, feeling my breathing going to shit. "You've been there the whole time, haven't you?" I ask, feeling a little stupid that he's just watched me fidget and faff all over the sofa. And I actually laughed out loud. To myself. I want to curl into a ball of embarrassment and hide.
He pushes away from the doorframe and strolls over to me, his eyes dancing playfully. I swear, the closer he gets, the harder the pressure of the air seems to squeeze, pushing every thought from my mind, except for those of him. Just him. "I enjoy watching you."
Yes, apparently. "Watching me squirm nervously all over your posh couch?" A blush colors my cheeks, and I drop my gaze to the carpet.
"Mostly I wished I wasn't admiring the back of you, though it was still extremely enjoyable." His finger comes up slowly and rests under my chin, lifting my head. The explosion of desire within me nearly puts me on my arse. I've never felt anything like it. I don't enjoy a man's touch. I don't welcome it. I usually simply endure it. Yet Theo…? He smiles knowingly. "But this." His eyes roam all over my face, eventually dropping to my parted lips. "This is a vision of perfect beauty."
I feel my cheeks heat even more. "Thank you." I have no idea what to say, nor where such reverent words have come from. The softness of them defies the hardness of his appearance.
"May I kiss you?"
I don't even need to think about it. Just the fact that he's asked eases me. "Yes."
He drops his mouth to mine, stripping me of breath, and when he takes my hands and places them on his shoulders, pulling me in, I mold against him, surrendering to his inexorable tongue, meeting his soft circular motions, proving he is right. I won't fight him. I'm intoxicated, being lifted to heights I've imagined time and again as he claims my mouth with a gentle but persistent force. He tastes out of this world, smells fresh and clean, and as I feared, I'm putty in his hands, accepting and drunk on pleasure. His lips move across mine like a well-rehearsed, slow, sensual dance. My tummy twists and knots, my mind scattering. The sheer size of him holding me in place only adds to the gratification coursing through me.
Safe. I've never felt so safe before, and that alone is an alien sensation that I might find hard to let go of. Add the crazy ecstasy of his talented mouth, and I'm destined to be held a slave by Theo Kane for as long as he commands it.
Excerpt. ©Jodi Ellen Malpas. Posted by arrangement with the publisher. All rights reserved.


Giveaway:

Print copy of GENTLEMAN SINNER by Jodi Ellen Malpas
To enter Giveaway: Please complete the Rafflecopter form and post a comment to this Q:

What did you think of the excerpt spotlighted here? Leave a comment with your thoughts on the book…
Meet the Author: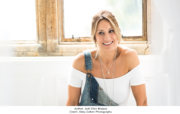 Jodi Ellen Malpas was born and raised in the Midlands town of Northampton, UK, where she lives with her family. Working for the family construction business fulltime and with the prospect of taking it over once her father retired, she tried to ignore the lingering idea of writing a novel until it became impossible. She finally found the time and courage to release her creative streak and in October 2012 self-published This Man as an e-book. She took a chance on a story with some intense characters, notably Mr. Jesse Ward, the Lord of the Manor, and sparked incredible reactions from women all over the world. Two months later, Jodi made the decision to give up her day job to concentrate on her new and very unexpected career in writing.
Follow Jodi Ellen Malpas on Social Media: Website | Facebook | Twitter | Instagram