Today, HJ is pleased to share with you

Robin Bielman's

new release: 

Heartthrob

He likes a challenge…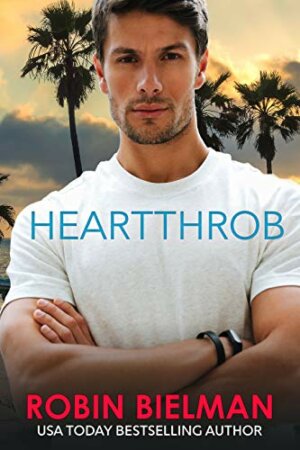 Here's the deal: I'm the best center fielder in the major leagues. I'm also the guy who cost his team the championship game and acted very unsportsmanlike. So, when the team hires a social media manager to repair the damage to my reputation, I don't argue. But then I meet Chloe Conrad, and I suddenly understand what people mean when they say they have an instant connection to someone. Which means I'm in serious trouble. Chloe's a smart, sexy distraction I can't afford, but one date can't hurt, right? Only she turns me down. And just like that, it's game on.

She's sworn off love…

Finn Auprince is the hottest player in the major leagues. Look up "It Factor" in the dictionary and there's his handsome face. He's also my biggest client and I don't care how easy it is to talk to him or how fun it is to manage his social media accounts, I will not give in to his charms. Then one drunken night, I tell him about my curse: all my previous boyfriends have found their soul mates while dating me. One more heartbreak, and I'll never recover. But Finn doesn't believe in curses—he believes in me. Professionally and personally. He sets out to prove the universe isn't against me, and that his one true love isn't waiting around the next corner.

The problem is…can we play the game of love and both come out on top?
Enjoy an exclusive excerpt from Heartthrob 
Chloe
I'm in love. Intense dark eyes. Soft scruff. Lips that can't get enough of me. I could get used to this kind of attention. I can't stop smiling and kissing him back. Billy is freaking adorable. He also makes me laugh out loud. My stomach muscles are getting a serious workout from the nonstop giggling. Not to mention my cheeks hurt from grinning so hard. That he's kissed at least four other women in this room is no matter.
"If you have a goat on your back, stay in tabletop."
Billy the goat (I know, right?) freezes, his ears perk up like he understands the yoga instructor, and then he pivots and hops onto Jillian's back before she changes pose.
I laugh. Again.
Goat yoga is the bomb.
When Jillian's sister said she wanted to throw Jilly's bachelorette party here, I thought, That's a weird idea for celebrating the bride-to-be. But this is the perfect place for my lifelong friend. Jillian loves animals. And yoga. We arrived last night, had a delicious farm-to-table dinner, stayed up late talking and laughing, slept in this morning, went horseback riding and apple picking, and now this.
"I think I may need a pet goat," Jillian says from beside me.
We're in a picture-perfect red barn on a piece of beautiful property about an hour outside of Los Angeles. There's sawdust on the floor, haystacks around the perimeter, and a happy hour set up near the barn door for when we're done with the whole baa-mah-stay thing. That's goat talk for "namaste." I inwardly chuckle even though I'm not sure that's exactly the sound a goat makes. Sheep baa. Goats more like bleat, but it's close enough to crack me up.
We continue to stretch and move through different body postures while Billy and two other baby goats roam around the small barn. The cute distractions make it difficult to relax, but that's what the wine is for afterward.
"Let's move to a belly-down backbend next," our teacher instructs.
I watch our group out of the corner of my eye so I can copy their pose. This is only my second time doing yoga. Jillian dragged me to a class once and not only did I lose my balance a hundred times, I was so sore the next day I could barely move. Hiking is more my speed. Running. Basically, I like to stay vertical.
Instead of stretching like everyone else when I lie on my stomach, I cross my arms and put my head down atop them. For one, I need a breather. And two, no amount of baby goat cuteness is enough to take my mind of Finn. Memories of him are exhausting.
It was bad enough I couldn't stop thinking about him after the car accident. I spent my entire weekend daydreaming and fantasizing about rounding the bases with him. And I don't mean the ones on the baseball diamond. Which granted, helped with the crushing blow Leo had delivered. Finn's decency and sense of humor were exactly what my bruised ego had needed, so in a weird way the fender-bender had been a stroke of luck.
But then to find out we'd be working together on the biggest assignment of my career, with only twenty-four hours to wrap my head around it, turned my life upside down all over again. The last thing I'd wanted was to see him a second time, much less spend three months together.
It doesn't matter that I'd mentally crossed him off my favorites list. Finn, up close and personal, is dangerous. I can deny all I want that I'm not intrigued by him, but the truth is I like him. A secret part of me liked him even when he had badmouthed my dad. Standing up for something you believe in is hot.
Loving on a puppy is damn near explosive.
He's just a work assignment. He's not to be trusted, flirted with, or admired.
Tiny hooves press into my shoulder blades, a nose tickles the back of my neck. I close my eyes, grateful for the intrusion on my thoughts, as the instructor says, "And lastly, let's move to meditation pose."
I would, but a baby goat is doing a tap dance on my back. It's soothing and funny at the same time.
"Go ahead and gently move into position regardless of the goats."
I'm pretty sure the prompt is directed at me so I press up until my cute friend hops down. Then I follow suit, sitting and crossing my legs. There is no place for Finn or Leo in this barn. Today is about friendship and love.
We finish the class with Billy in my lap. My wild berry shampoo is obviously a goat magnet.
"That was so fun," Jillian says, jumping to her feet and then picking up her mat. Her energy level is one of the things I love about her. "Now who's ready for a glass of wine?"
Mats in hands, the eight of us make our way to a linen-covered banquet table while our instructor gathers up the baby goats and escorts them somewhere else for their own reward, I'm guessing. A server is ready to pour us glasses of wine after we each fill a plate of fancy finger foods. Stepping outside the barn, a large round table under an umbrella is set with napkins, silverware, and goblets of water. The sun is mid-surrender behind the mountains. The air is cool. The closest neighbor is at least a mile away. It's pretty wonderful, and Jillian's grin tells me she thinks so, too.
Talk immediately turns to weddings. Here's the thing, out of the eight of us, I'm the only single girl. Four are already married and three will be in the next few months.
"I love that you're going to walk down the aisle to an Alabama Shakes song," Jillian says to Naomi. "Your wedding should be uniquely you. You'll never regret a decision you make from the heart."
"Right?" Naomi says.
"Once a decision is made, I don't go back on it," Gina says. "Otherwise I'll drive myself—and Geoff crazy."
"Your gut instinct is always the best one," Jillian's sister, Michelle, says.
"Unless it's your fiancé's," Naomi teases. "Then it's up for discussion."
Everyone laughs.
"Hey," Jillian says under her breath, her knee knocking mine under the table. "Sorry about all the wedding talk."
"It's okay. I'm excited for you guys."
"I know you are, but you don't have to hear about it 24/7. Especially after…" She trails off, catching herself. She consoled me for hours after my breakup with Leo, insisting he was never good enough for me. After she said I'd dodged a bullet, I told her I didn't want to think or talk about him ever again. Good thing she can't read my mind.
Her attention shifts away from me when her phone pings with a text. "It's Robert." Her eyes bug out of her head. "Oh my God. He says he has a surprise for me and he's on his way to pick me up." She turns her whole body to scrutinize me. "What's going on?"
I glance over her shoulder at Michelle. "What's going on…" I start. "…is your fiancé has planned a pre-wedding getaway for the two of you," Michelle finishes.
Robert is whisking his bride-to-be away to The Surfeit Hotel. The luxury boutique hotel has only been open for nine months and it's booked for like the next two years, but Robert works for Auprince Holdings, the corporation behind the hotel, and was able to snag a couple of nights in one of their suites.
And yes, that Auprince. Finn's younger brother, Drew, owns the hotel, his first independent venture, and he's succeeding wildly according to news reports.
"You guys…" Jillian looks around the table.
The gang offers smiles and "have funs" and then the sound of a car coming up the dirt road has Michelle and me getting to our feet.
"We packed a bag for you," I say. "It's in my trunk. Come on."
Jillian hugs everyone goodbye. Last is her sister. "I love you, Shel. Thank you for everything."
"You're gonna love me even more when you see what we packed." Michelle and I share a conspiratorial look. Let's just say the two of us did some shopping at the Hustler Hollywood store.
"You guys are the best," Jillian says before she and I round the barn to my car. As the matron and maid of honor, Michelle and I do make a good team. The sound of tires crunching on gravel gets louder. Robert's car comes into view.
My best friend and Robert have been together for four years. They met at a bar the night we were celebrating Jilly's twenty-first birthday. They'd gotten into a playful and drunken discussion about the benefits of jalapeño juice and that was it. Robert told her he was going to marry her one day. I open the trunk to pull out the small duffel.
"Hey, gorgeous." Robert wraps his arms around his fiancée from behind and kisses her cheek. "Surprise."
She spins to kiss his face and hug him.
I patiently wait for them to break apart by studying the side of the barn. The wood planks are more a rust color than red. There's a round dent in one, the impression about the size of a baseball. I glance around the property. Definitely enough room for a game of catch.
"Hey, Chloe," Robert says once they've come up for air. "Thanks for the assist." He takes Jillian's bag out of my hands.
"You're welcome. Have a great time."
"Give us a second?" Jillian says to her fiancé.
"Sure." He returns to his car, gets inside.
Jilly wraps me in a hug. "Thank you. This was so much fun. I loved every second of it."
"You're welcome." I'd max out my credit card over and over again for Jillian. She's been the one constant in my life since before my mom died. The one friend who kept in touch when I was homeschooled and traveled with my dad during baseball season.
"I'll text you tomorrow."
"No, you won't. Enjoy your getaway and text me when you get home."
"Fine."
I put my hands on her upper arms, turn her around, and then give her a small nudge. "I'll see you later."
Jillian waves over her shoulder on her way to Robert's car, her diamond engagement ring catching the last rays of sunlight and sparkling. "Bye!" Her smile is contagious and the corners of my mouth turn up in response. I keep it there until the car pulls away and I look down at my bare left hand.

The next morning, I walk into the kitchen to find my dad plating blueberry pancakes. It's our Sunday morning ritual. Mom made them when I was young and we keep to the tradition whenever we're both at home. The smell of batter and warm berries brings back memories I'm grateful for. "Good morning, sweet pea," Dad says.
"Hi, Dad. How are you feeling today?" I grab my ceramic baseball mug out of the cupboard—it's extra-large and I need the additional ounces today—then pour myself some coffee.
"Good."
I note his face appears relaxed, but "good" is always his standard answer. It's frustrating more than reassuring. The man is annoyingly stoic. He hates for me to worry about him. Three months ago he experienced severe headaches, jaw pain, and scalp tenderness. He had to beg off umping a game, something he'd never done before. A trip to the doctor and many tests later, he was diagnosed with a type of vasculitis known as giant cell arteritis. The condition causes inflammation of the arteries in his head, especially around his temples. We hoped it would improve without treatment but the flare-ups continued, indicating his condition is chronic. Last week he scared the crap out of me when he had an adverse reaction to his medication. I'd rushed him to the ER, fighting tears the entire drive. I don't want him to worry about me either.
Thankfully, he was helped quickly and easily, his meds were changed, and I'd only been an hour late to my meeting at Landsharks's stadium.
Dad playfully bumps my side when I turn to open the fridge. "How are you?" he asks.
"Good." Two can play this game. I take out the vanilla creamer. I am good. Mostly.
"Glad to hear it."
We sit at the square pine table. The kitchen is the largest room in our quaint three-bedroom house. With a TV on the counter and a bay window above the sink that overlooks our backyard garden, we spend most of our time here. Or at least I do, working on my laptop or phone from this very spot. I pour the creamer into my cup. Once my coffee is sufficiently blond and sweetened, I take a sip.
Dad cuts into his pancakes. I watch him eat a few bites before digging into my own. I like when he has an appetite. He's lost fifteen pounds over the past few months. Further complications from his disease can include blurred or double vision or even blindness. I push away the unwelcome fear.
"What's on your agenda today?" I ask.
"Carol and Ron invited me over to watch the Chargers play the 49ers." Jillian's parents are the closest thing we have to family besides my aunt Becky who lives in New Jersey.
"How much did you and Ron bet this time?"
"Fifty bucks says my Chargers will crush his team."
"Want me to drive you over there?"
Dad's eyes, the same flaxen color as my own, narrow. "No thanks. I told you I'm good."
"Just thought I'd offer."
He sighs. "And I appreciate it, but I promised you I'd ask for help if I need it, and I'll keep that promise."
"I know. It's just sometimes…" I'm still scared to death about letting him out of my sight.
His hand covers mine. "I will never let you down, sweet pea. Not if I can help it."
I nod and get out of my chair to hug him. He gave me his shoulder to cry on after Leo broke up with me. He listened to me prattle on about Finn and how excited I am to have this assignment. (I left out the part about how goose bumps have found a brand-new path over my skin whenever Finn smiles at me.)
And he's right—he's the one man I can always count on no matter what, so I'm not about to doubt him or myself right now.
Excerpt. ©Robin Bielman. Posted by arrangement with the publisher. All rights reserved.


Giveaway:

Tule tote, copy of ebook Heartthrob by Robin Bielman, Tule swag
To enter Giveaway: Please complete the Rafflecopter form and post a comment to this Q:

What did you think of the excerpt spotlighted here? Leave a comment with your thoughts on the book…
Meet the Author: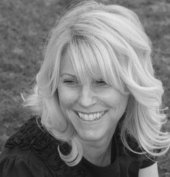 Robin Bielman is the USA Today bestselling author of over fifteen novels. When not attached to her laptop, she loves to read, go to the beach, frequent coffee shops, and spend time with her husband and two sons.
Her fondness for swoon-worthy heroes who flirt and stumble upon the girl they can't live without jumpstarts most of her story ideas. She writes with a steady stream of caffeine nearby and the best dog on the planet, Harry, by her side. She also dreams of traveling to faraway places and loves to connect with readers. To keep in touch, sign up for her newsletter on her website! www.robinbielman.com
Tule Bookshop — Amazon — Barnes & Noble — Apple Books — Kobo — Amazon UK