Today it is my pleasure to Welcome author
Anna Sugden
to HJ!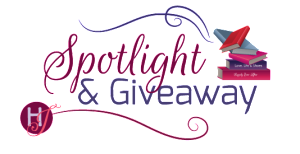 Hi Anna and welcome to HJ! We're so excited to chat with you about your new release, Hot on the Ice!

Hi Sara, all the fabulous HJ team and your great readers! It's fab to be back.

Please summarize the book a la Twitter style for the readers here: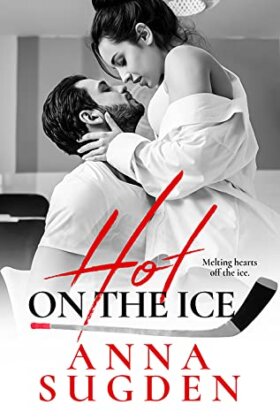 Can Dockers defenseman Dante 'Fire-Man' Taylor get out of the penalty box with the woman he once loved, by helping her save her bespoke chocolates business? #notsmoothskating

Please share the opening lines of this book:
"A hundred bucks says I sign more autographs than you bozos this afternoon."
"In your dreams, Flood." Dante "Fire-Man" Taylor cuffed the back of his best friend's head, while his fellow Newark Dockers teammates gave Flood—Noah Ferranti's—boast the respect it deserved—hoots of derision. "Besides, it's the photos—especially with hot women—that really
count."
"Either way, I'll wipe the floor with your ass." Noah ran a comb through his damp hair before grinning at his reflection in the mirror. "They can't resist this handsome face."
"You mean they feel sorry for your butt-ugliness," Dante scoffed. "Or they think they're posing with one of the zombies from that popular TV show."
Noah flipped him off. "At least I'm not the grandmas' favorite."
Please share a few Fun facts about this book…
Researching a book about a chocolatier is a lot of readers' (and authors') dream come true, but I'm like Lily – more of a savoury girl. Pass the hot, buttered popcorn!
Researching a book about a hot hockey player is as much fun as you might think …all those pictures for inspiration!
The Dockers have a unique, designed-by-me jersey logo (you can see it on my website).
Newark, the home of the Dockers, is also where M&Ms were first made.
The team's name is a tribute to the dock workers of nearby Port Elizabeth.
What first attracts your Hero to the Heroine and vice versa?
Because this is a second chance romance, Dante and Lily have been through the initial stages of physical attraction and pupply love before. This time, although the attraction is most definitely still there, there is an emotional layer beneath it all when they meet up again at the Fan Fest. Dante sees Lily as a summery beacon, light and sunny, amidst the dark colours of the hockey fans' jersies. Lily sees Dante as a delicious, dangerous temptation.

Using just 5 words, how would you describe Hero and Heroine's love affair?
Temptation
Delicious
Sensual
Smouldering
Emotional.

The First Kiss…
Before he could second-guess the wisdom of what he was doing, he drew Lily to him.
Then Dante dipped his head and kissed her.
His mind froze, focusing only on the amazing sensations flooding through him. On her lips, so warm and soft. On how good this felt. And how she tasted even better.
Desire drove him to want to take the kiss deeper. But he deliberately kept it light, letting Lily dictate how far, how fast, she wanted to go.
Her arms crept up around his neck. Her lips parted.
Dante didn't hesitate, gratefully accepting her invitation.
His arms tightened around her. Man, had he missed the feel of her luscious body against his.
A horn blared, followed by the sound of a revving engine and screeching tires, breaking through the haze of desire.
Job done. Hopefully, message received and understood.
He knew he should stop there but didn't want to. Who knew when…if…he'd get the chance again?
Instead, he lingered. Savored.
Until Lily pulled away slowly.
He sensed her regret at ending the kiss, which matched his own, as she brushed her mouth over his a couple of times before finally moving back.
Dante debated trying for more, but decided not to push his luck.
Should he apologize? She'd clearly enjoyed the kiss. Her face was flushed, her breathing uneven. Still, he hadn't given her a choice. And that wasn't what he'd meant by "friends."
Without revealing too much, what is your favorite scene in the book?
The chocolate-tasting scene. I had such fun writing this!
A smudge of pink frosting at the corner of Lily's mouth drew Dante's gaze.
He wanted to lick it off. As good as the cupcakes and cookies were, he doubted they'd beat the taste of Lily herself.
His mind created an image of a tasting session where the delicacy on offer was the woman beside him. Only, she was laid out on the marble worktop, as he nibbled his way down her body.
His jeans tightened uncomfortably, as he hardened. Definitely not the kind of thoughts to have when he was trying to take things slowly.
If your book was optioned for a movie, what scene would be absolutely crucial to include?
It's a tough choice between the chocolate-tasting scene and the New Year's Eve charity ball at midnight. Probably the latter, because it has a little bit of everything … like the 5 words you asked for earlier! Plus, you know, great outfits with cool shoes and hot guys in tuxes 🙂
Slowly, reluctantly, Lily moved out of Dante's arms, but he kept her hand tightly in his, as they moved to the edge of the dance floor.
Around them, people started to show off their moves. While many of the male guests were classic "dad dancers," most of the Dockers had really good rhythm.
"We spend our lives on a razor-thin blade, on ice, trying to thread the needle through a pack of skaters who are out to get you," Dante said loftily, when she mentioned her surprise.
She realized she'd never seen Dante dance. "You included?"
He grinned and did a little shimmy with his hips. "Come with me and I'll show you."
Mimicking his action but adding her own flair, she grinned. "Bring it on."
Readers should read this book …
if they like an emotionally satisfying story which features a strong, independent woman, a hot, but flawed man and a fun supporting cast of characters … including Dante's brothers of the ice.
What are you currently working on? What other releases do you have planned?
The second book in this series, which features Noah and Jessie. I'm having a blast torturing them! I also plan to have a Dockers short story in the not-too-distant future to share with readers.
Thanks for blogging at HJ!
Giveaway:

An ebook of Hot on the Ice and a bar of Cadbury's chocolate, from England!
To enter Giveaway: Please complete the Rafflecopter form and Post a comment to this Q:

Are you a sweet or a savoury person? What is your go-to treat?
Excerpt from Hot on the Ice:
"Would you look at this," Amy called from the window, interrupting Lily's increasingly heated thoughts. "He's picking you up in a stretch limo."
Lily dashed over to join her friend. Sure enough, a ridiculously long car was easing up to the front of their house.
"Fire-Man's going all out to impress you and make this a special night."
Strangely, that only made Lily more nervous.
Her heart double-thunked when the driver opened the door and Dante stepped casually out of the limo. Her mouth went dry as he straightened and walked up the path to the cottage.
Dante's dinner suit looked like it had been tailored for him. He wore a wing-collared white shirt, a bow tie and vest in a deep red that matched her dress, and polished black brogues.
"He cleans up nicely," Amy said admiringly. "Definitely not a cute penguin."
When the doorbell rang, Lily felt a moment of panic.
"Are you sure you don't want me to stay? New Year's Eve alone isn't much fun."
"Are you kidding? A night to myself, with no orders to worry about? I plan to chill in front of the TV, eat popcorn, and watch back-to-back Hallmark movies."
That sounded pretty appealing.
"Oh no." Amy held up a hand. "You're off to a magical evening, where you'll be the belle of the ball." She softened her voice, understanding in her eyes. "You'll have a wonderful time."
Lily nodded, although she didn't move.
"I want the full scoop when you get back tomorrow."
Amy made a shooing motion as the doorbell chimed again. "Go answer the door. And try not to look like you're about to have a root canal."
Lily grabbed her evening clutch and headed for the stairs.
"Wait."
She turned back to look at her friend.
"Haven't you forgotten something?" Amy looked pointedly down at Lily's feet.
Which were bare.
Lily dashed back into the bedroom, slipped on her shoes, then hoisted the skirt of her dress and hurried downstairs as the doorbell rang once more. Smoothing the dress one last time with both palms, she opened the door.
"Hi." She managed a half smile.
"Hey. You look…"
Her nerves vanished as Dante's words trailed off. His gaze wandered slowly over her, from head to toe, then back up again. Admiration shone in his eyes.
"Amazing," he finished, with a reverential note in his voice.
Excerpts. © Reprinted by permission. All rights reserved.

Book Info:
Lily Eddison is on the way to making it–her personalized, gourmet chocolates are in high demand. She has it all going on…until her landlord pulls the rug out from under her. Now she needs investors but the last person she expects or wants to save the day is the oh-so-hot, but arrogant, pro-hockey player Dante "Fireman" Taylor.
Hockey is Dante's life and as the Dockers' star defensemen, he has no time for love. An opportunity to invest in Lily's dream is just business, even though he can't stop thinking about the gorgeous chocolatier. Despite his reluctance to be in a relationship, Dante and Lily move from partners to friends to lovers and he's all in… Until an obsessive fan's revenge tanks their romance and it's dead on the ice.
Great hockey players know they have to take more shots on goal to score a hat trick and Dante gives it his all to prove to Lily that off the ice, she's the only one for him.
Book Links: Amazon | B&N | iTunes | Goodreads |


Meet the Author:
Award-winning author, Anna Sugden, enjoys reading novels and watching films with happy endings. She also loves hockey and football, where she prefers a happy ending for her teams. When she's not researching hockey players — for her books 😉 — she enjoys craft projects, collecting penguins, memorabilia and great shoes.
Website | Facebook | Twitter | Instagram