Today it is my pleasure to feature the 

One True Pairing show

!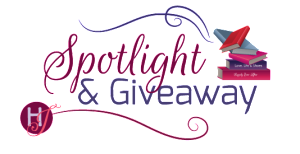 Hi Marissa & Erica and welcome to HJ! We're so excited to chat with you about your new show. One True Pairing!

One True Pairing show brief: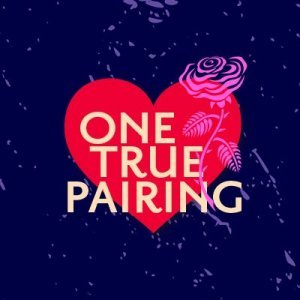 Pop culture, juicy romance and hilarious conversations come together in the recently Cosmopolitan featured One True Pairing podcast!

Join Erica Martirano and Marissa Sangiacomo as they talk romance and revisit their favorite couples from across TV, movies, books, and pop culture. From Prince Harry and Meghan Markle to Ross and Rachel, this roller coaster of bad boys, break-ups, and HEAs (Happily Ever Afters) combines love, feminism, sex, and relationships with the gossip you love.

Can you introduce yourselves and tell me how you got into romance?
Marissa: I'm Marissa Sangiacomo and I'm a marketing manager at St. Martin's Press where I work on romance and commercial women's fiction. I've loved romance novels ever since I was young and would share books with my mom. The ironic thing is that she would flag the sex scenes with post its and tell me to skip them, which just highlighted them for me. I was really drawn to the romances because I loved fairy tales and it was a natural progression from fairy tales to romance for me.

Erica: I'm Erica Martiano. I'm a senior associate director of marketing for St. Martin's Press where I work on a variety of women's fiction, health and wellness, and celebrity nonfiction. But I miss working on romance desperately! I started reading romance as a young girl stealing my mom's historicals when she wasn't looking. Where Marissa, you told your mom you were taking her books, I just took them. Sometimes while she was reading them, which would really tick her off. I was also the type of kid that would dog-ear pages, so not only was I taking her romance novels, she would know I took them. But similarly my mom loved her romance books and reading in general. I started with historicals. Dirty historicals, which is probably why I still love dirty romances.

So what is the show about?

Erica: One True Pairing is a podcast about love, romance, and couples. Every other week, we chat about either an individual couple, like Prince Harry and Meghan Markle, or about a series or universe, like the Marvel Universe. We also have romance writers, like Laurelin Paige, Kayti McGee and of course, Alexis Daria, on to talk about our favorite romance couples.
Marissa: And we really try to dig deep into these couples–we do a lot of research on the couples and we try to pull out themes. Why do people love this couple? What does our love of them say about society as a whole? We really want to look critically at the couples, with a little bit of gossip thrown in for good measure.

Episode brief:

This week Erica and Marissa have romance author (and RITA winner for Best First Book!) Alexis Daria back on for a full episode. What's a RITA? Think Oscars, but make it Romance Novels. The crew looks at their faves in all the categories and talk a little bit about what the RITAs mean for the romance community as a whole. Listen here!



Your show comments on pop culture couples in the same way my blog comments on romance couples. Do you think podcasting has changed the romance commentary?
Erica: I think podcasts have made a safe space for romance readers. Just like how My Favorite Murder created a safe space for people to talk about true crime, podcasts like ours create a safe space for people to talk about romance and couples they love without feeling like people are, for lack of a better term, shitting all over their passions.
Marissa: Yeah, and you have someone in your ear who's saying things you agree with so it feels more like a friendship where sometimes I think on the internet it can feel aggressive and mean.
What romance are you reading at the moment and why should we ship the couple?
Erica: I ship the book I just finished reading so hard. It's Silver Bastard by Joanna Wylde. Becca and Puck are awesome! He saves her from a life of biker prostitution. She slams a pot of hot coffee over someone's head to protect him in a bar fight. They're wonderful and I definitely ship them. It's such a great book.
Marissa:  I'm going to go with Tara Sivec because I love her and her new book, Kiss the Girl in the Naughty Princess Club series, is coming out soon. It's about three ladies who start an at-home stripping business. They are all vaguely like princesses–the main character is named Ariel and she's with a guy named Eric. So, Ariel and Eric, like The Little Mermaid. It's so fun and adorable. She also has a mouth like a sailor, so I doubly love her.

I love the idea of the internet acting as this connecting factor between not only different types of romances but different types of media. Do you think that all these new spaces and media to find romance in is taking romance lovers away from books? Do you think people are leaving the romance novel community in favor other media?
Marissa: I don't think other media limit romance audiences because it's really the same audience. It's almost as if romance readers are saying, "Duh, we've been doing this forever and now you're catching on." And maybe some people who have never read romance are just now finding the genre, but I think it's less existing readers leaving romance novels and more TV and movie lovers discovering romance. Romance readers have always been on top of it.
Erica: Pun intended. But I agree–there have been so many people reading romance for years and now other people are coming to it and us hardcore fans are like, "where the hell have you been?" But we're happy to have you!

What's coming up for the podcast during Romance Awareness Month? What do we have to look forward to and where can we find you?
Both: We have so much coming up. Like we said earlier, we have an episode dropping every Wednesday in August. You can listen to those on Apple, Stitcher, Spotify, or whatever podcast platform your prefer. You can follow us on Twitter @OTP_Pod. We love interacting with our listeners so please do tweet at us!

Thank you so much for coming on and I'll be sure to listen!

Thanks for blogging at HJ!
Sweepstakes: In honor of Romance Awareness Month, One True Pairing podcast is giving away 5 grand prizepacks featuring some fabulous romances! You can enter for your chance to win an amazing romance book bundle from One True Pairing here!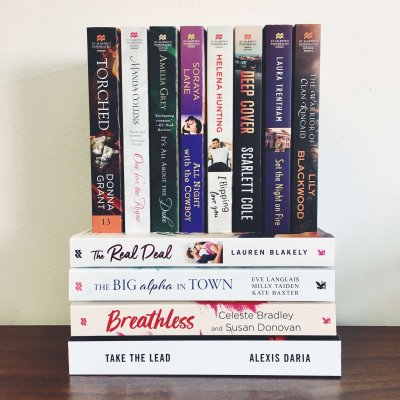 Enter for a chance to win:
– Take the Lead by Alexis Daria
– Breathless by Celeste Bradley and Susan Donovan
– The Big Alpha in Town by Eve Langlais, Milly Taiden, and Kate Baxter
– The Real Deal by Lauren Blakely
– The Warrior of Clan Kincaid by Lily Blackwood
– Set the Night on Fire by Laura Trentham
– Deep Cover by Scarlett Cole
– I Flipping Love You by Helena Hunting
– All Night with the Cowboy by Soraya Lane
– It's All About the Duke by Amelia Grey
– One for the Rogue by Manda Collins
– Torched by Donna Grant

Note that the sweeps begins on 7/23 at 12AM and ends on 7/31 at 11:59PM.