Today, HJ is pleased to share with you

Colleen Hoover's

new release: 

Regretting You

From #1 New York Times bestselling author of It Ends with Us comes a poignant novel about family, first love, grief, and betrayal that will touch the hearts of both mothers and daughters.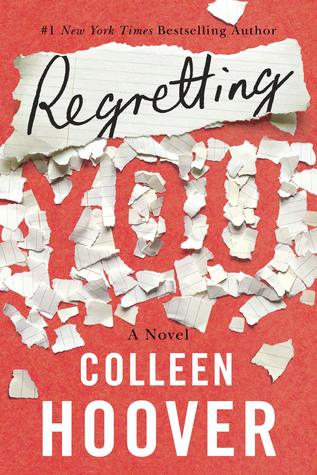 Morgan Grant and her sixteen-year-old daughter, Clara, would like nothing more than to be nothing alike.

Morgan is determined to prevent her daughter from making the same mistakes she did. By getting pregnant and married way too young, Morgan put her own dreams on hold. Clara doesn't want to follow in her mother's footsteps. Her predictable mother doesn't have a spontaneous bone in her body.

With warring personalities and conflicting goals, Morgan and Clara find it increasingly difficult to coexist. The only person who can bring peace to the household is Chris—Morgan's husband, Clara's father, and the family anchor. But that peace is shattered when Chris is involved in a tragic and questionable accident. The heartbreaking and long-lasting consequences will reach far beyond just Morgan and Clara.

While struggling to rebuild everything that crashed around them, Morgan finds comfort in the last person she expects to, and Clara turns to the one boy she's been forbidden to see. With each passing day, new secrets, resentment, and misunderstandings make mother and daughter fall further apart. So far apart, it might be impossible for them to ever fall back together.
Enjoy an exclusive excerpt from Regretting You 
Miller's hand slides to the back of my head, and he pulls me to his mouth, still grinning. It's a sweet kiss at first, much like the one I gave him inside. But then his tongue slips past my lips and touches mine, and the sweetness is gone.

This just got serious.

I respond with an almost embarrassing hunger, pulling him closer, wanting him and his kiss to take away the last few droplets of grief that are still swimming around inside of me. My hands are in Miller's hair now, and one of his hands is sliding down my back.

I've never felt anything so good and perfect before. I can actually feel the dread building inside of me, knowing this kiss will eventually come to an end.

He grips my waist and guides me closer so that I'm straddling him. Our new position makes him groan, and his groan makes me kiss him even deeper. I can't get enough. He tastes like coffee rather than suckers, but I don't mind because I actually love the taste of coffee now.

His fingers graze the skin of my lower back, and I'm amazed at how such a small touch can cause such a consequential reaction. I tear my mouth from his, afraid of that feeling. That intensity. It's new to me, and I feel somewhat jarred by it.

Miller pulls me to him, burying his face against my neck. My arms are wrapped around him, and my cheek is pressed against the top of his head. I can feel his breaths falling in heavy, heated waves against my neck.

He sighs, wrapping his arms more tightly around me. "That's more along the lines of the kind of first kiss I was expecting."

I laugh. "Oh yeah? You like that one better than the sweet one I gave you?"

He shakes his head and puts a little separation between us so that he can look at me. "No, I loved the sweet kiss too."

I smile and press my lips gently against his so that I can give him another sweet kiss.

He sighs against my mouth and kisses me back, no tongue, just soft lips and a gentle release of air. He peeks over my shoulder, glancing at his radio, and then leans back against the seat.

"You're late for curfew." He says it sort of with dread, like he wishes we could stay in his truck all night.

"How late?"

"It's fifteen after."

"Well, crap."

Miller slides me off of him and then exits the truck. I open my door to get out, and then Miller laces his fingers through mine as he walks me to my car. He opens the door for me, resting an arm on the top of my doorframe. We kiss one more time before I take a seat in my car.

I cannot believe how much I'm feeling right now. Before I showed up here today, I lived without Miller in my life perfectly fine. Now I feel like every minute I spend without him is going to be torture.

"Night, Clara."

"Good night."

He stares at me for a moment without shutting my door. Then he just groans. "Tomorrow seems so far away now."

I love the way he put exactly how I'm feeling into the perfect string of words. He closes my door and backs away a few steps. But he doesn't stop watching me, and he doesn't return to his truck until I'm out of the parking lot and on my way home.
Excerpt. ©Colleen Hoover. Posted by arrangement with the publisher. All rights reserved.


Giveaway:

A digital copy of Colleen Hoover's REGRETTING YOU
To enter Giveaway: Please complete the Rafflecopter form and post a comment to this Q:

What did you think of the excerpt spotlighted here? Leave a comment with your thoughts on the book…
Meet the Author:
Colleen Hoover is the #1 New York Times bestselling author of several novels, including the bestselling women's fiction novel It Ends with Us and the bestselling psychological thriller Verity. She has won the Goodreads Choice Award for Best Romance three years in a row—for Confess (2015), It Ends with Us (2016), and Without Merit (2017). Confess was adapted into a seven-episode online series. In 2015, Hoover and her family founded the Bookworm Box, a bookstore and monthly subscription service that offers signed novels donated by authors. All profits go to various charities each month to help those in need. Hoover lives in Texas with her husband and their three boys.
Social Media Links
Website: http://www.colleenhoover.com/
Facebook: https://www.facebook.com/AuthorColleenHoover/
Twitter: https://twitter.com/colleenhoover
Goodreads: https://www.goodreads.com/author/show/5430144.Colleen_Hoover