Today, HJ is pleased to share with you

Kandi Steiner's

new release: 

Ritual

Hey there, thanks for having me!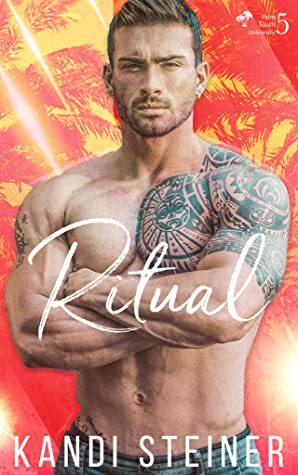 Written like your favorite drama television show, the Palm South University series has been called "a mix of Greek meets Gossip Girl with a dash of Friends." Follow seven college students as they maneuver unrequited love, teacher/student romance, the tangles of "no strings" relationships, love triangles and more. Each "season" has six "episodes," and just like when your favorite show hits Netflix, you can read just one episode at a time or binge the entire thing. With the perfect mix of angst, emotional romance, and romantic comedy, the Palm South University series is your next guilty addiction.
Drama. Lies. Sex.
Welcome to Palm South University.
The weather isn't the only thing heating up in South Florida. At a school where fraternities and sororities don't exactly play by the rules, relationships are bound to be tested. Parties and sex are definitely key ingredients in the Palm South recipe, but what happens when family issues, secret lives, and unrequited love get tossed in the mix?
Follow Cassie, Bear, Jess, Skyler, Erin, Ashlei, and Adam as they tackle college at a small, private beach town university. Written in television drama form, each episode of this serial will pull you deeper and deeper into the world of PSU.
Where the sun is hot and the clothes are scarce, anything can happen.
Enjoy an exclusive excerpt from Ritual 
As I'm packing my notebook into my purse, a shadow steps between me and the overhead fluorescent light, and I pause, letting my eyes slowly crawl up to Gavin's waiting face.

I hadn't noticed last week how tall he was, but as I stand, my eyes only coming to the base of his neck, I realize it. He's very tall. And very lean. And very… dark. It isn't just his hair or his clothes, but the way he stands, the hidden storm in his eyes, the lines in his face that somehow seem to hold more history than that of an old and tired man.

His skin is a golden brown, almost olive, like he's from the Mediterranean, and since he's not wearing a hat this week, I can see that his hair is a deep, rustic brown. It's short, but a little untidy, with ends sticking up here and there. And just like last week, he's dressed in dark, distressed jeans and a black t-shirt that says Thy Art is Murder on it.

"Hi," he says when I shrug my purse over my shoulder.

I swallow. "Hi."

"I wanted to apologize."

"Oh," I say, sweeping my hair behind one ear and over my shoulder.

"Yeah. So… this is me. Apologizing."

"You're doing great."

"I'm really very good. At practically everything. It's a curse."

I smile, and a quiet moment passes between us, with him staring at me and me checking the time on my watch.

"Seriously," he says when I meet his gaze again, shoving his hands in his pockets like they'll betray him if he leaves them dangling free. "Last week… I was a bit prickly. I didn't want to be here, and I… I don't really know why I attacked you like I did, but I'm sorry."

"It's okay," I assure him. "Really. I didn't think it was an attack at all. And, I get it. I didn't want to be here the first few times I came, either."

"And now?"

At that, I sigh, shrugging a little as I look around the room at the fellow misfit toys. "Now, I worry less about what I want, and more about what I need."

When our eyes meet again, there's an understanding there — one unlike any I've ever felt before. It's the kind of universal tug at my heart, at my soul, that makes me feel like I'm tethered to a stranger. Like somehow, there's a piece of me in them, and a piece of them in me.

After a minute, Gavin nods, and then without another word, he brushes past me and toward the door.

I stand for a second, face screwing up in a bit of confusion at the abrupt exit. But when I shake my head and turn to head for the door myself, I nearly run into Gavin where he's stopped and turned around.

I manage to put the brakes on before I run straight into his chest, but we're still a little too close for two people who just met when he looks down the crooked bridge of his nose at me and asks, "Would you like to have dinner with me?"

My eyes shoot open wide.

"Next week," he says when I don't answer. "After group. We can go wherever you want, unless it's Italian or Indian food because I hate both."

I bite my lip against the laugh that comes from me then, because it's both unexpected and absolutely lovely. I forgot what it feels like, to laugh like that, to feel joy fizzing in your chest like champagne bubbles.

At the sight of my smile, the side of Gavin's lips tug up, too, until he's wearing a shy smirk that somehow fits him perfectly.

"Sure," I say.

I debate offering him my number, but I don't have the chance. As soon as I agree, his smile ticks up a bit more, and then he nods at me, turns, and rushes out the door.

And I stand there in his dust, still a little sad from earlier, a little confused from our interaction, and a little something else, too.

Though I can't quite put my finger on what.
Excerpt. ©Kandi Steiner. Posted by arrangement with the publisher. All rights reserved.


Giveaway:

1 Paperback copy of RITUAL, US only
To enter Giveaway: Please complete the Rafflecopter form and post a comment to this Q:

What did you think of the excerpt spotlighted here? Leave a comment with your thoughts on the book…
Meet the Author:
Kandi Steiner is a bestselling author and whiskey connoisseur living in Tampa, FL. Best known for writing "emotional rollercoaster" stories, she loves bringing flawed characters to life and writing about real, raw romance — in all its forms. No two Kandi Steiner books are the same, and if you're a lover of angsty, emotional, and inspirational reads, she's your gal.
An alumna of the University of Central Florida, Kandi graduated with a double major in Creative Writing and Advertising/PR with a minor in Women's Studies. She started writing back in the 4th grade after reading the first Harry Potter installment. In 6th grade, she wrote and edited her own newspaper and distributed to her classmates. Eventually, the principal caught on and the newspaper was quickly halted, though Kandi tried fighting for her "freedom of press." She took particular interest in writing romance after college, as she has always been a die hard hopeless romantic, and likes to highlight all the challenges of love as well as the triumphs.
When Kandi isn't writing, you can find her reading books of all kinds, talking with her extremely vocal cat, and spending time with her friends and family. She enjoys live music, traveling, anything heavy in carbs, beach days, movie marathons, craft beer and sweet wine — not necessarily in that order.
NEWSLETTER: bit.ly/NewsletterKS
INSTAGRAM: instagram.com/kandisteiner
FACEBOOK: facebook.com/kandisteiner
FACEBOOK READER GROUP (Kandiland): facebook.com/groups/kandischasers
TWITTER: twitter.com/kandisteiner
GOODREADS: bit.ly/KSteinerGoodreads
BOOKBUB: bit.ly/KSteinerBookBub
WEBSITE: www.kandisteiner.com
Buy: 
Amazon: https://amzn.to/2P8y9xX
Amazon Worldwide: mybook.to/RitualPSU5KS
Add to Goodreads: http://bit.ly/2vLkJBm