Today, HJ is pleased to share with you

Julia London's

new release: 

The Charmer in Chaps

A Texas Prince Meets His Match…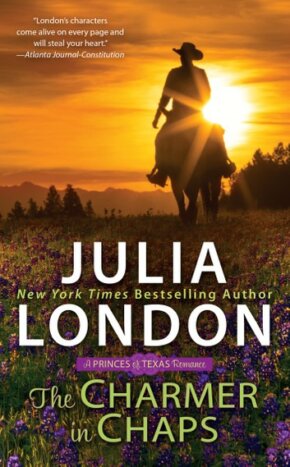 Cimarron County knows the youngest son of the fabled Prince family as a womanizing hell-raiser, but Luca has changed and he intends to prove it. There's just one problem—a woman with sparkling eyes and more fight than a barnyard cat.

After a childhood of living in foster homes, Ella Kendall has exactly three things to her name: A dog, a pig, and the rundown house she just inherited. Luca may not remember her from high school, but she definitely remembers him. He is as seductive as he was then, but Ella isn't about to fall for his flirting. She recognizes a playboy cowboy when she sees one.

Luca knows Ella has learned the hard way to trust no one but herself. Yet the closer he gets to Ella, the more he wants to be the only one she leans on. Because Ella is the only woman for him, and he wants to be the man who finally gives her the home she truly deserves.
Enjoy an exclusive excerpt from The Charmer in Chaps: 
The blush in her cheeks turned to sunburn. "You're doing it," she managed to whisper. "You're doing it right now. You're playing me."
"Nope. Just clarifying expectations for purposes of friendship."
"You're so good at playing people you don't even know you're doing it," she whispered.
He smiled lopsidedly again as if that amused him. "That's not what I'm good at, Ella," he said, and his eyes raked down her body, to the vee of her T-shirt just before he bent his head and touched his mouth to hers.
His kiss was so soft, so ethereal, that she had to grab his wrist to keep from toppling over. He teased her with his tongue, and she tipped right into some very serious sexual desire. Oh, but this kiss was so much better than the senior dance kiss. He kissed her so tenderly, and yet it was electrifying. It felt as if he was scarcely touching her, but he was touching her in all the right ways, and she was on fire, sizzling and breathless in her skin. He was luring her in, enticing her to some magical place that Ella very much wanted to go. Right now. This instant.
He moved her back, pushing her up against the screen door. He braced one hand against it and leaned into her as he slid his other hand down her arm, to her waist, and around to her hip. He was kissing her in the way she'd fantasized he would kiss her, with sex bombs detonating and rainbows and glitter falling in her.
The kiss rattled her to her core, threw her off her game, made her feel all fuzzy and giddy. When he lifted his head, he smiled seductively. He knew how good he was. "Now that was a kiss, Ella Kendall."
She was going to swoon all over the porch, right here, right now, and she didn't care if he saw it. She looked at his lips, remembering the feel of them on hers, and imagined being an impassioned kind of woman who took what she wanted, because she wanted him to kiss her again, and she was so close to reaching for him and going for it—but her phone rang and destroyed the moment. She turned her head, spotting her phone on the railing.
"What do you say, Ella?" Luca asked. "Can we start over and be friends?"
She hesitated. She glanced at him sidelong. "I'll think about it."
Luca suddenly smiled, and that single, lopsided, sexy smile was probably the nail in her armor's coffin. "I'll give you a call," he said.
"You don't have my number, player."
"Then I guess I'll have to show up when you're least expecting it, scaredy-cat."
He was playing her like a violin! She put out her hand. "Give me your phone."
He handed it to her, no questions asked. She tapped her number into his phone and gave it back to him.
He was still smiling, but his eyes had gone soft, and Ella was seriously on the verge of melting into an embarrassing puddle of delighted goo. "See you soon," he said, and twined his fingers very lightly with hers for the briefest of moments. It was a small touch, hardly a touch at all, and yet it set off a million little electric shocks through her.
The next thing she knew, he'd vaulted off the porch and was in his Sombra. It drove away without any sound but the crunch of tires as he turned the wheel.
Ella was still breathing hard. When she couldn't see his car anymore, she climbed over the shiplap, grabbed her phone, and saw she'd missed a call from Stacy. She punched the button to call her back.
Stacy was going to die.
Excerpt. ©Julia London. Posted by arrangement with the publisher. All rights reserved.


Giveaway:

US only for one Paperback copy of THE CHARMER IN CHAPS  by Julia London
To enter Giveaway: Please complete the Rafflecopter form and post a comment to this Q:

What did you think of the excerpt spotlighted here? Leave a comment with your thoughts on the book…
Meet the Author:
Julia London is the New York Times, USA Today, and Publishers Weekly bestselling author of numerous romance novels and women's fiction. She is also the recipient of the RT Bookclub Award for Best Historical Romance and a six-time finalist for the prestigious RITA award for excellence in romantic fiction.