Today, HJ is pleased to share with you

Emma Hart's

new release: 

The Girl Next Door

One accidental pregnancy. One fake husband. What can go wrong?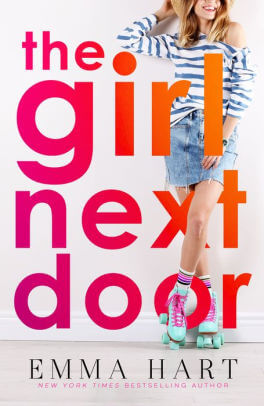 There's nothing like starting your Monday morning with a positive pregnancy test.
Trust me, I know. Because I'm looking at one right now.
All I can think is: Oh, hell. My grandmother is going to kill me.
This might just send her to an early grave, so there's only one option—pretending the father is my new husband.
If only he'd agree to fake it.
Kai Connors was supposed to be nothing more than a one-night stand. A long, dirty, one-night stand fueled by one too many tequila shots, where the only promise was to never speak of it again.
But if my unfairly sexy next-door neighbor gets his way, this fake marriage could turn out to be very, very real…
Enjoy an exclusive excerpt from The Girl Next Door 
THE GIRL NEXT DOOR TEASER!

"If you insist on waking up at this ungodly hour," I said, lying back down. "I'm hungry."

He laughed from his perch on the end of the bed. "I see how this fake marriage is going to work."

"If you wake me up early, you have to feed me. Besides, the baby is hungry. It told me."

"Ivy, the baby is the size of a pea. I doubt it's telling you anything."

"How do you know how big it is?"

"It's this novel idea called the Internet—you can search and find out anything you want to know. And some things you don't."

"Very funny. I want some toast. Please. On setting three with lots of butter."

"Setting three? So you want it toasted for three minutes?"

I frowned. "Is that what the numbers are for?"

"Yeah. They're a timer."

"Huh. I never knew that," I mused. Which was ridiculous, because wasn't it so obvious?

"I read it on the internet," Kai said flippantly. "You should try it sometime."

Scoffing, I said, "I use the internet. Mostly to diagnose myself with deadly diseases and watch cat videos, but I use it."
Excerpt. ©Emma Hart. Posted by arrangement with the publisher. All rights reserved.


Giveaway:

ARC giveaway of The Girl Next Door by Emma Hart
To enter Giveaway: Please complete the Rafflecopter form and post a comment to this Q:

What did you think of the excerpt spotlighted here? Leave a comment with your thoughts on the book…
Meet the Author:
Emma Hart is the New York Times and USA Today bestselling author of over thirty novels and has been translated into several different languages.
She is a mother, wife, lover of wine, Pink Goddess, and valiant rescuer of wild baby hedgehogs.
Emma prides herself on her realistic, snarky smut, with comebacks that would make a PMS-ing teenage girl proud.
Yes, really. She's that sarcastic.
Keep up to date on her releases by following her on Amazon or signing up at http://emmahart.net/newsletter

The Girl Next Door Pre-order →
Amazon US → https://amzn.to/38MlSGV
Amazon UK → https://amzn.to/37zPqYd
Apple Books → https://emmahart.pub/tgndapple
Nook → https://emmahart.pub/tgndnook
Kobo → https://emmahart.pub/tgndkobo

Read The One-Night Stand Next Door for FREE →
Amazon US → https://amzn.to/3e8d1Sc
Amazon UK → https://amzn.to/2ZYweRs
Apple Books → https://emmahart.pub/TONSNDapple
Nook → https://emmahart.pub/TONSNDnook
Kobo → https://emmahart.pub/TONSNDkobo